IEEE Providence Section 100th Anniversary Celebration
---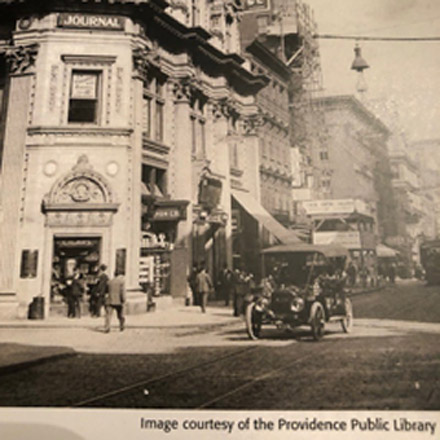 In thinking about the beginnings and the history of the IEEE, we can scarcely imagine, today, a world without electricity. But we can imagine the enthusiasm, the excitement, and the eagerness of Americans in the nineteenth century for electricity. By the late eighteen-hundreds uses for electricity were rapidly expanding. Many in the field of electrical engineering could see the need for an organization to act as a clearing house both for the encouragement of research and for the coordination of applications. It was on May 13, 1884, in New York City, that The American Institute of Electrical Engineers (AIEE), the forerunner of IEEE, was established. The AIEE's first technical meeting was held at the Franklin Institute, during the International Electrical Exhibition of 1884 (October 7th - 8th). AIEE had a major role in defining the burgeoning electrical industry. Its primary interests were light and power systems, wire communications, and electrical standards. As membership grew, it established various committees to accommodate the challenge of increasing specialization.
In 1920 electrical engineers from the City of Providence, Brown University, Narragansett Electric, as well as other local institutions petitioned the AIEE for a charter to establish Providence Section. The charter was granted on March 12, 1920.
The accompanying photo depicts a scene in Providence, RI during the 1920s.
The cost of the event including the buffet is as follows:
Member and one guest, $30.00 each
Non-members, $35.00
You can register as follows:
(1) Online – be aware that PayPal will not let you use your non-PayPal credit card unless you give PayPal your email address first
(2) By selecting "pay later" (pay at the door) when you register online. Payment by cash or check
The total number of attendees for the event shall not exceed the legal capacity of the room.
Video recording may be used during the event.
---
Date and Time
Location
Hosts
Registration
---
Date: 22 Oct 2022
Time: 06:00 PM to 10:00 PM
All times are (UTC-05:00) Eastern Time (US & Canada)
Add Event to Calendar
Starts 12 September 2022 01:00 AM
Ends 22 October 2022 03:00 PM
All times are (UTC-05:00) Eastern Time (US & Canada)
Admission fee

?
---
---
Agenda
6:00 PM – 7:00 PM: Welcome reception. Cash Bar.
7:00 PM – 8:00 PM: Dinner buffet (Prime Rib, Salmon, Mixed Field Green Salad. Mashed Potatoes, Vegetable de jour,
Fresh Rolls, Coffee or Tea, Apple Crisp individually).
8:00 PM Program:
Welcome by Anthony Ruocco, Ph.D., Providence Section Chair
Guest Remarks
Presentation of the Providence Section Centennial Banner.
Speakers:
David Clarke, Providence Section Historian. Chair, 100th Anniversary Celebration Committee
Title of Talk: Providence Section Founding Fathers
Robert S. C. Munier, Vice President, Marine Facilities and Operations, Woods Hole Oceanographic Institution

Closing by Anthony Ruocco, Ph.D., Providence Section Chair
---