Amateur Radio: Get Started!
---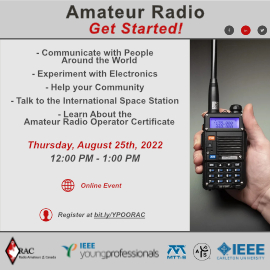 Hey, we are hosting this talk on how to get started with Amateur Radio presented by Roger Egan and Harrie Jones from the Ottawa Amateur Radio Club! If you are interested in:
- Communicating with people around the world
- Experimenting with electronics
- Helping your community
- Talking to the International Space Station
- Learning about the Amateur Radio Operator Certificate
---
Date and Time
Location
Hosts
Registration
---
Date: 25 Aug 2022
Time: 12:00 PM to 01:00 PM
All times are (GMT-05:00) Canada/Eastern
Add Event to Calendar
Online Event https://www.eventbrite.ca/e/amateur-radio-get-started-tickets-404801471097
https://oarc.net

Co-sponsored by

Ottawa Amateur Radio Club
---
Speakers
Biography:
As Director of Sales at Lagois, by listening to your needs, my role initially is to understand what you are looking for, answer your questions, explain what we can offer, and discuss how we would work together to be sure that collectively we are a good fit.
Biography:
An independent, dynamic, hardworking, and innovative broadcast engineer with over 32 years of experience in the media and communication industry. Expertise includes studio work, audio, video, computers and networking, live remote broadcasts, transmitters, satellite communications, building management, budgeting and forecasting. Ability to lead and mentor junior staff.
---