Engineering Leadership: How to Drive your Team to Deliver Products without Driving them Nuts!
---
---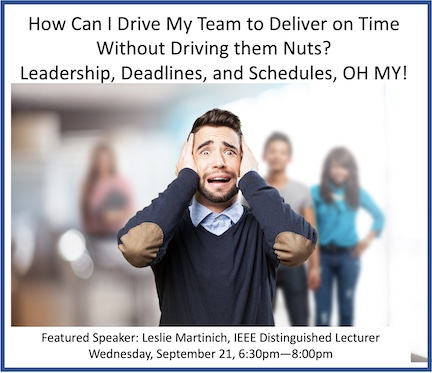 Is your team struggling to meet scheduled milestones and due dates? Trying to deliver innovative products? Or dealing with difficult people? If you answered "yes" to any of those questions, you should take advantage of our talk by Distinguished Lecturer Leslie Martinich. Companies and organizations around the world have asked her to work with them to deliver innovations, and she will be giving a public --- and FREE ---- talk here in Austin on September 21.
Join us for this fast-paced talk, and learn the behaviors that will lead to greater success in delivering innovative products.
---
Date and Time
Location
Hosts
Registration
---
Date: 21 Sep 2022
Time: 06:30 PM to 08:30 PM
All times are (GMT-06:00) CST6CDT
Add Event to Calendar
University of Texas at Austin
2501 Speedway
AUSTIN, Texas
United States 78712

Building:

EER 3.646

Room Number:

Park in San Jacinto Garage
---
Co-sponsored by

IEEE CTS Chapters: Communications Society, Signal Processing, Consumer Technology, Computer Society and Engineering and Medical Biology
Starts 30 August 2022 12:10 PM
Ends 21 September 2022 04:30 PM
All times are (GMT-06:00) CST6CDT
No Admission Charge
---
Speakers
Topic:
How to Drive Your Team to Deliver on Time without Driving them Nuts: Leadership, Deadlines, and Schedules, oh my
Leading stellar engineers is not the same as leading ordinary engineers. Learn the differences, and learn how to lead your team to produce brilliant results.
Leaders have the opportunity to work with some very talented employees. And some of those talented employees might be prima donnas. How can you lead teams with highly gifted people to deliver game-changing results (or even just plain awesome results)?
In this fast-paced talk, you'll learn why "the difference between not-so-great leaders and great leaders is the ability to manage stars." And you'll get some tips on just how to do that!
Many leaders, when faced with slipping project schedules, want to tweak the schedule, hire a herd of consultants. Or they blame the difficult star performer for being disruptive, and they want to know how to "fix" him or her. Learn why neither of these is the right approach.
Leadership skills will define your career. Those who practice the skills defined in this lecture take their careers to the highest levels.
Biography:
Leslie Martinich is an IEEE Distinguished Lecturer who works with leaders around the globe who want to improve their ability to deliver innovative products.
Address:Texas, United States
---
Agenda
6:30 PM: Introductions and networking
6:45 PM: Talk and QA
8:00 PM: Adjourn
---