iGeek
---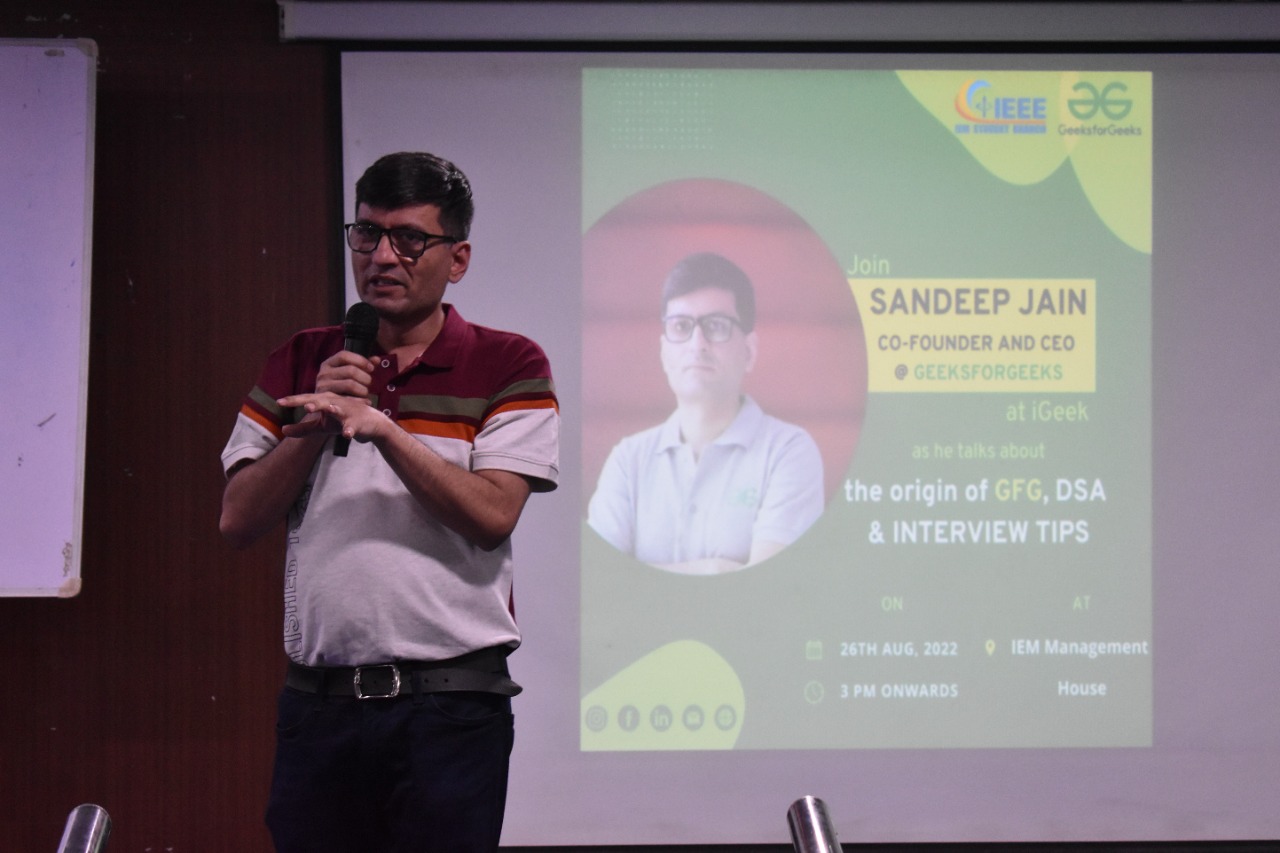 IEEE IEM Student Branch organized " iGEEK" on the 26th of August from 3:00 pm at the CII Auditorium at IEM Management Campus.
Sandeep Jain, CEO and Co-Founder of GeeksforGeeks and notable alumni of IIT Roorkee was the speaker for the event and thereby excitement among the students was at its peak! The auditorium was packed with almost 500 attendees with every one of them eagerly waiting to witness the very tech sensation!
He warmly greeted all the attendees followed by a short introduction about his early life, challenges he faced, his inspiration for starting GeeksforGeeks, and elucidated his career on this platform!

He discussed in depth several topics like
▫️The importance of Data Structures and Algorithms in the field of computer science.
▫️The importance of learning programming languages like C, C++, Java, and Python
▫️The tips to excel and gain proficiency in them.
▫️Placement questions on DSA by companies like Google, Microsoft, etc.
By the end of his exciting and interactive speech, we had an exciting Q&A session! He clarified every one of them in great depth!
It was an interactive, exciting, and enriching session and the wait for iGEEK was finally over!
Thus iGEEK turned out to be a massive success with the enthusiastic participation of all the attendees, volunteers and student branch members!
We are looking forward to more such exciting sessions!
---
Date and Time
Location
Hosts
Registration
---
Date: 26 Aug 2022
Time: 03:00 PM to 05:00 PM
All times are (UTC+05:30) Chennai
Add Event to Calendar
D -1, Street Number 13, EP Block, Sector V, Bidhannagar, Kolkata, West Bengal 700091
Kolkata, West Bengal
India

Building:

IEM Management House
---
Starts 19 August 2022 06:00 PM
Ends 25 August 2022 06:00 PM
All times are (UTC+05:30) Chennai
No Admission Charge
---
Speakers

Sandeep Jain
Topic:
Origin of GeeksforGeeks, DSA and Interview Tips
Biography:
CEO and Co-Founder of GeeksforGeeks
---