Curso de Power BI Básico - Avanzado
---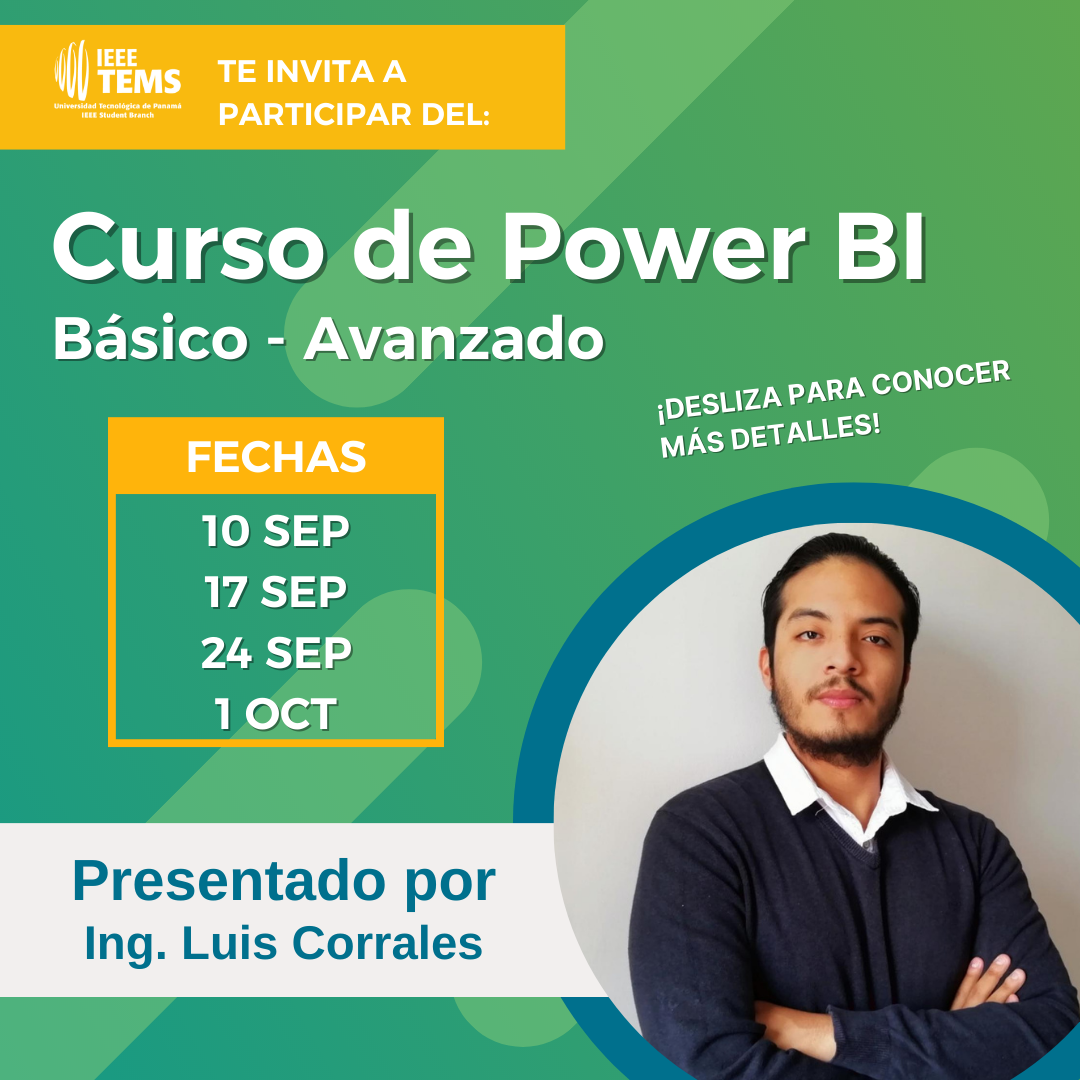 El capítulo estudiantil IEEE TEMS (Technology and Engineering Management Society) UTP te invita al Curso Básico - Avanzado compuesto de 4 sesiones virtuales de 2 horas (4:00 a 6:00 p.m.) cada una sobre "Power BI" dictado por el Ing. Luis Corrales, quien nos acompañará los días 10, 17, 24 de septiembre y cerramos el 1 de octubre de 2022.
---
Date and Time
Location
Hosts
Registration
---
Date: 10 Sep 2022
Time: 04:00 PM to 06:00 PM
All times are (UTC-06:00) Central America
Add Event to Calendar
Evento de pago virtual a realizarse mediante la plataforma Microsoft Teams.
Los precios se desglosan de la siguiente manera:
Estudiante de la Universidad Tecnológica de Panamá: $65.00
Estudiantes externos: $80.00
Estudiantes con membresía IEEE: $50.00
Estudiantes voluntarios IEEE: $55.00
Profesionales IEEE: $100.00
Profesionales: $120.00
---
Speakers
Topic:
Curso de Power BI Básico - Avanzando
Biography:
Bachiller de la carrera de Ingeniería Industrial, con diplomatura en Supply Chain Management, cuenta con más de 3 años de experiencia en el sector logístico trabajando en empresas del rubro Retail, Consumo Masivo, Venta de bienes de capital y Operador Logístico. Experto en implementaciones de mejora en procesos de almacén, adecuación de sistemas ERP y gestión de proyectos. Manejo avanzado de Excel, ERP e inglés.
Email:
Address:Lima Perú, , Lima, Peru
---