CHARLA: Simulaciones Computacionales para entender el cerebro
---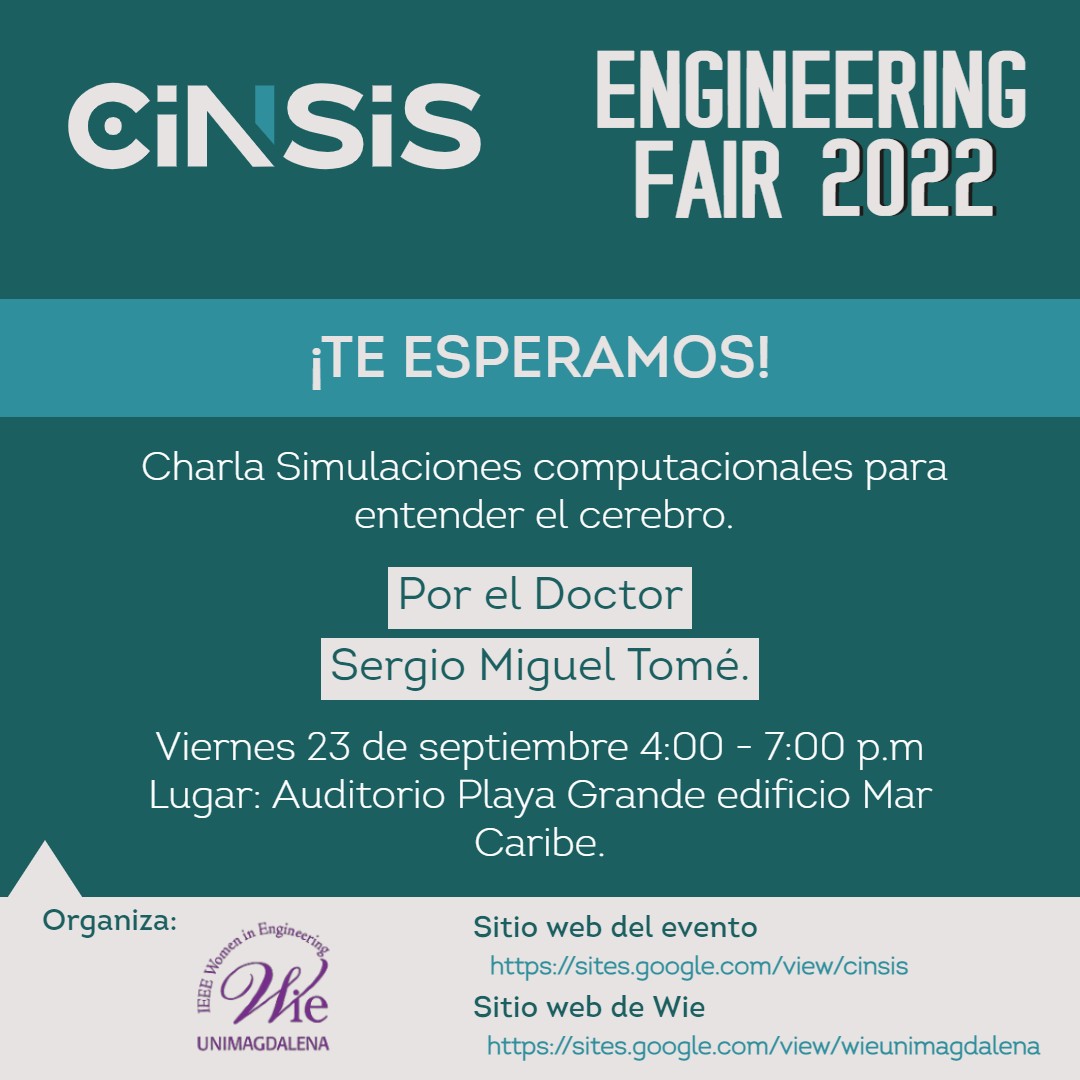 En el marco del evento CINSIS - ENGINEERING FAIR tendremos la charla a cargo de nuestro invitado internacional el Doctor Sergio Miguel Tomé, siendo así una experiencia magistral con tema científico.
---
Date and Time
Location
Hosts
Registration
---
Date: 23 Sep 2022
Time: 04:00 PM to 07:00 PM
All times are (UTC-05:00) Bogota
Add Event to Calendar
Transmisión por redes sociales en Facebook.
https://facebook.com/wieunimagdalena
https://facebook.com/cinsisunimag
Universidad del Magdalena
Santa Marta, Magdalena
Colombia

Building:

Auditorio Playa Grande Edificio Mar Caribe
---
Starts 05 September 2022 02:25 PM
Ends 23 September 2022 04:00 PM
All times are (UTC-05:00) Bogota
No Admission Charge
---
Speakers
Sergio Miguel Tomé
Topic:
Simulaciones computacionales para entender el cerebro
Biography:
Dr. Sergio Miguel Tomé comenzó su carrera académica estudiando Ingeniería Técnica en Informática de Sistemas en la Universidad de Castilla la Mancha que después continuó con los estudios de Ingeniería informática también en la Universidad de Castilla la Mancha. Posteriormente realizó el Máster en Sistema Inteligentes y el Máster en Neurociencia en la Universidad de Salamanca. Realizó su doctorado en Informática y Automática por la Universidad de Salamanca con mención de internacionalidad con estancias en la Escuela de Medicina de la Universidad de Nueva York con el profesor Rodolfo Llinás y en el Kurt Gödel Research Center for Mathematical Logic de Viena. Actualmente, es investigador de la Universidad de Salamanca donde desarrolla el proyecto HESSP (Hippocampus Extracellular Simulator Project) que fue seleccionado por la UE en las acciones Marie-Curie Global Fellowship para recibir financiación para su realización.
Address:Spain
---