Advanced Manufacturing Processes: Development and Applications
---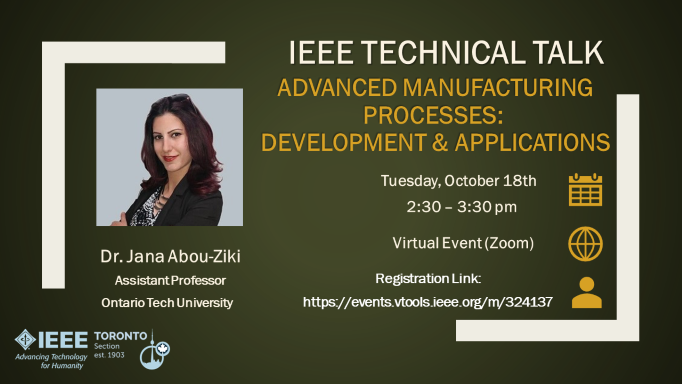 Join the IEEE Toronto Instrumentation & Measurement – Robotics & Automation Joint Chapter for a talk on Advanced Manufacturing, presented by Dr. Jana Abou-Ziki.
Tuesday, October 18, 2022 @ 2:30 – 3:30 PM
Abstract: The manufacturing industry has witnessed a tremendous development over the past decade. The demand for miniaturisation as well as rapid and smart manufacturing has resulted in developing novel processes for precision micromanufacturing for variety of applications ranging from aerospace to automotive to biomedical, electronics and optical.
Dr. Abou-Ziki's talk will introduce the development of advanced nonconventional manufacturing methods while discussing some corresponding applications.
---
Date and Time
Location
Hosts
Registration
---
Date: 18 Oct 2022
Time: 02:30 PM to 03:30 PM
All times are (UTC-05:00) Eastern Time (US & Canada)
Add Event to Calendar
Starts 14 September 2022 11:55 PM
Ends 17 October 2022 11:55 PM
All times are (UTC-05:00) Eastern Time (US & Canada)
No Admission Charge
---
Speakers

Dr. Jana Abou-Ziki, PhD, PEng
Biography:
Dr. Jana Abou-Ziki has been an Assistant Professor at Ontario Tech University in Oshawa, Ontario since 2018. Dr. Abou-Ziki's research involves developing rapid prototyping methods for precision manufacturing and surface engineering of ceramics and metals for variety of applications. She also works on developing metal electroforming and plating processes. Prior to joining Ontario Tech, she was a lecturer at Laurentian University for three years. Dr. Abou-Ziki obtained her doctorate degree in 2014 from Concordia University (Montreal). Her research developed the knowledge about an electrochemical glass micro-manufacturing technique called Spark assisted Chemical Engraving (SACE), and as a result this technique was transferred to industry. Dr. Abou-Ziki's research has been published in several journals and conferences, as well as in books and book chapters.
---