IEEE Day 2022 | DL Talk by Prof. Mario Lanza | KAUST, Saudi Arabia
---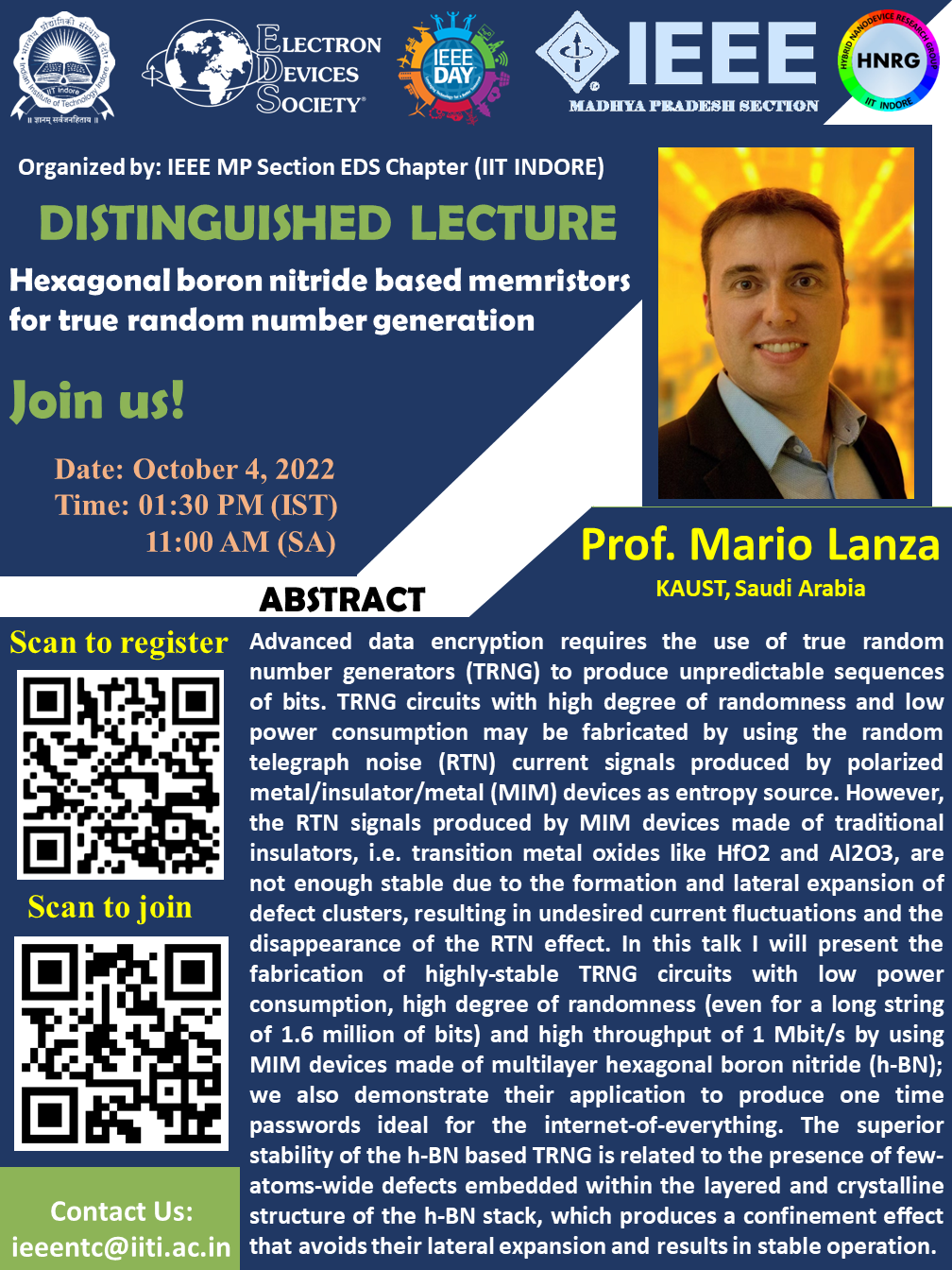 Greetings from IEEE MP Section, EDS Chapter
Title of the talk:
"Hexagonal boron nitride-based memristors for true random number generation
"
Speaker:
Prof. Mario Lanza

Materials Science and Engineering program, Physical Science and Engineering Division
King Abdullah University of Science and Technology (KAUST), Thuwal 23955-6900, Saudi Arabia.
Date:
October 4
, 2022 (Tuesday)
Time:
01:30 PM IST
Register here: https://forms.gle/GQtHmWYuzToAPbEp7
or Scan QR
* E-certificates will be issued to registered participants only
Join the event
WebEx Link: Click Here
Please find the attached flyer of the event, or visit https://ieee.ntc.iiti.ac.in/ for more details.
---
Date and Time
Location
Hosts
Registration
---
Date: 04 Oct 2022
Time: 01:30 PM to 02:30 PM
All times are (UTC+05:30) Chennai
Add Event to Calendar
Google Registration Form: https://forms.gle/GQtHmWYuzToAPbEp7
302/ POD 1A Silicon Building
Indian Institute of Technology, Indore, Khandwa Road, Simrol
Indore, Madhya Pradesh
India 453552

Building:

Silicon Building

Room Number:

POD-1E/302
---
Co-sponsored by

1. Pfeiffer vacuum, 2. Jagatek corporation, 3. Rudrakasha Technologies, 4. Excel Instruments, 5. Streamline, 6. Sinsil International, 7. Optimized Solution
---
Speakers

Prof. Mario Lanza
of King Abdullah University of Science and Technology (KAUST), Saudi Arabia
Topic:
Hexagonal boron nitride based memristors for true random number generation
Abstract of Talk : Advanced data encryption requires the use of true random number generators (TRNG) to produce unpredictable sequences of bits. TRNG circuits with high degree of randomness and low power consumption may be fabricated by using the random telegraph noise (RTN) current signals produced by polarized metal/insulator/metal (MIM) devices as entropy source. However, the RTN signals produced by MIM devices made of traditional insulators, i.e. transition metal oxides like HfO2 and Al2O3, are not enough stable due to the formation and lateral expansion of defect clusters, resulting in undesired current fluctuations and the disappearance of the RTN effect. In this talk I will present the fabrication of highly-stable TRNG circuits with low power consumption, high degree of randomness (even for a long string of 1.6 million of bits) and high throughput of 1 Mbit/s by using MIM devices made of multilayer hexagonal boron nitride (h-BN); we also demonstrate their application to produce one time passwords ideal for the internet-of-everything. The superior stability of the h-BN based TRNG is related to the presence of few-atoms-wide defects embedded within the layered and crystalline structure of the h-BN stack, which produces a confinement effect that avoids their lateral expansion and results in stable operation.
Biography:
Biography: Mario Lanza got the PhD in Electronic Engineering in 2010 at Universitat Autonoma de Barcelona. After postdocs at Peking University and Stanford University, in October 2013 he joined Soochow University as Associate Professor, and after 3.5 years he promoted to Full Professor. In October 2020 he moved to the King Abdullah University of Science and Technology (KAUST), where he is currently an Associate Professor in Materials Science and Engineering. Prof. Lanza has published over 158 research articles (including two Science and five Nature Electronics) and has registered four patents (one of them granted with 1 million USD). He is a Distinguished Lecturer of the Electron Devices Society (IEEE-EDS), and has received multiple funding projects (EU, NSFC, MOST) and international awards (Young 1000 Talent, Marie Curie, Elsevier YIA, Wiley Rising Star).
Address:Saudi Arabia
---