IEEE Day Celebration and 17th Webinar: AI for Cyber Security
---
---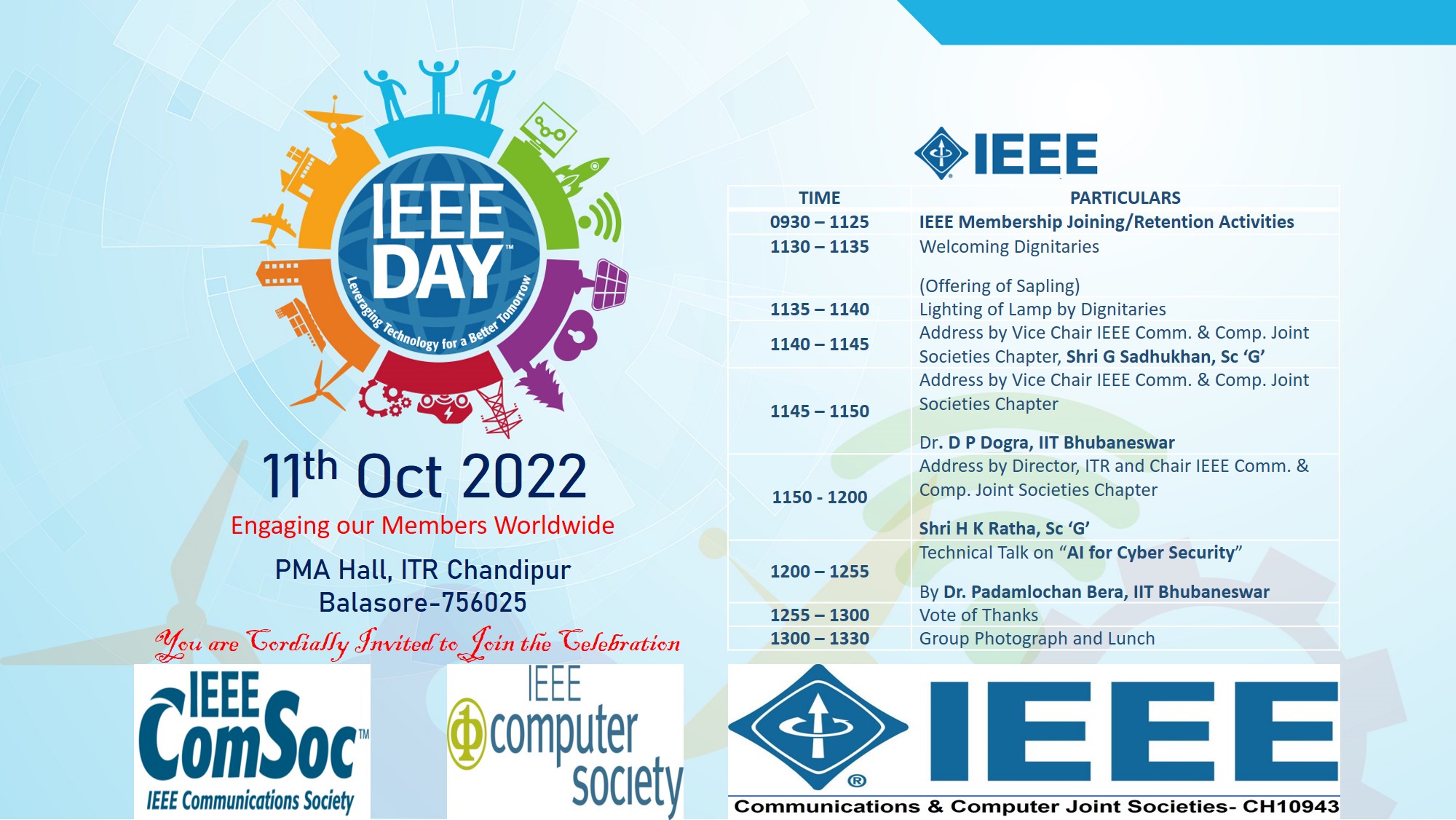 IEEE Day Celebration
---
Date and Time
Location
Hosts
Registration
---
Date: 11 Oct 2022
Time: 09:00 AM to 02:00 PM
All times are (UTC+05:30) Chennai
Add Event to Calendar
If you are not a robot, please complete the ReCAPTCHA to display virtual attendance info.

ITR
Chandipur
BALESHWAR, Orissa
India 756001
---
IEEE Day Celebration

Co-sponsored by

ITR Chandipur
Starts 19 September 2022 09:00 AM
Ends 09 October 2022 09:00 PM
All times are (UTC+05:30) Chennai
No Admission Charge
---
Speakers
Topic:
AI for Cyber Security
With the rapid growth of internet usage and advancement in cloud computing platforms, a large number of applications are developed across various domains such as education, financial services, healthcare, telemedicine, smart grid, and defense, where multiple collaborating parties from a diverse range of authorities under different management stores and share a large volume of data and provide fine-grained access to the data depending on requirements. Today data can be collected from anywhere at any time and shared across multiple service providers and users to improve the quality of service. In such collaborative, ubiquitous and dynamically changing computing and communication environment, it's a challenge to maintain confidentiality, integrity, and privacy of data and prevent critical system resources from various cyber security violations. This talk will highlight known and evolving cyber security threats in networks considering multiple applications. It will also cover how different AI techniques such as reinforcement learning, attention models and game theory can be used for proactive and reactive detection and prevention of such cyber threats.
Biography:
Dr. Padmalochan Bera is an Assistant Professor of Computer Science and Engineering at the School of Electrical Sciences, Indian Institute of Technology, Bhubaneswar. He has completed his B.E and M.E in Computer Science and Engineering from Jadavpur University, Kolkata, and a Ph.D. in Computer Science and Engineering from the Indian Institute of Technology, Kharagpur. The central area of his research is Network and System Security. He has more than 10 years of applied research experience in this domain. Dr. Bera's work essentially focuses on formal modeling and analysis of network configurations and security protocols for verification of additional safety and security constraints towards detecting and preventing threats in networks. He also works on designing processes and protocols for OpenFlow networks (Software Defined Networks) and Applied Cryptography. Dr. Bera lead the network of a security research group at IIT Bhubaneswar, consisting of 30 undergraduates, 12 postgraduates, and 5 doctoral students and project staff. Dr. Bera has a number of research funding from Govt. agencies (DRDO, SERB, Meity) and Industries (BEL, Cisco, Intel) on Security Assessment of Defense Networks, Cryptography and Software Defined
Networks. He has published more than 40 research papers in reputed journals and conferences. Dr. Bera served on the Editorial board and organizing committee in various journals and conferences. He is a senior member, of IEEE, and member, of ACM. Dr. Bera has research collaborations with various international academic Institutes such as Purdue University, University of North Carolina, University of Missouri, Oxford University, and Florida International University.
Address:IIT, Bhubaneswar, Bhubaneswar

Sri HK Ratha
of ITR Chandipur
IEEE Day Celebration
Biography:
He is the Director of ITR Chandipur and Chair of IEEE Communications and Computer Joint Socities-CH10943
Address:ITR, Chandipur, Balasore
---
Agenda
TIME

PARTICULARS

0930 – 1125

IEEE Membership Joining/Retention Activities

1130 – 1135

Welcoming Dignitaries

(Offering of Sapling)

1135 – 1140

Lighting of Lamp by Dignitaries

1140 – 1145

Address by Vice Chair IEEE Comm. & Comp. Joint Societies Chapter, Shri G Sadhukhan, Sc 'G'

1145 – 1150

Address by Vice Chair IEEE Comm. & Comp. Joint Societies Chapter

Dr. D P Dogra, IIT Bhubaneswar

1150 - 1200

Address by Director, ITR and Chair IEEE Comm. & Comp. Joint Societies Chapter

Shri H K Ratha, Sc 'G'

1200 – 1255

Technical Talk on "AI for Cyber Security"

By Dr. Padamlochan Bera, IIT Bhubaneswar

1255 – 1300

Vote of Thanks

1300 – 1330

Group Photograph and Lunch
---
IEEE Day
---
Media
---