Evolving Science and Technology Convention 2022
---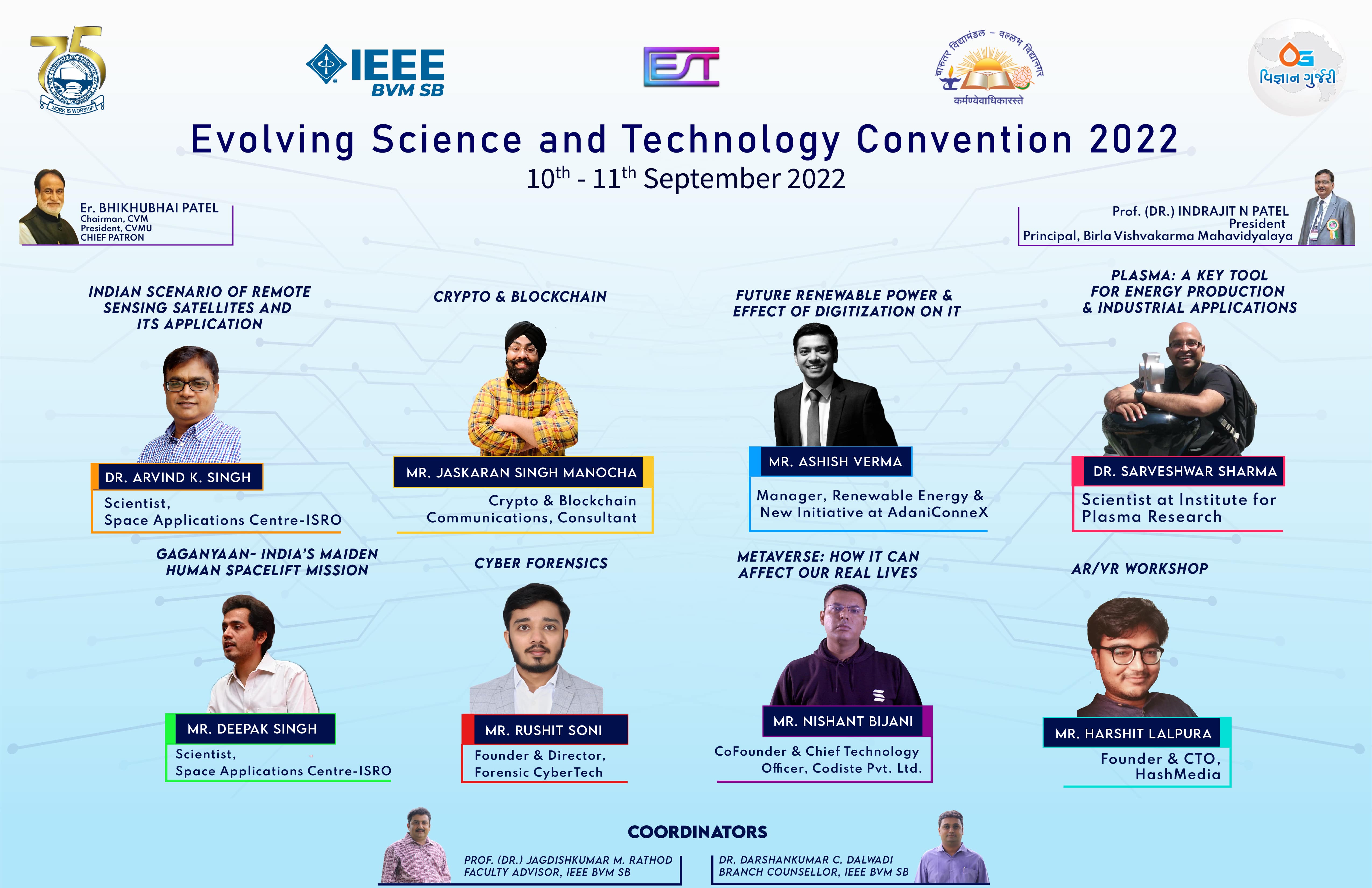 The Evolving Science and Technology Convention 2022, organised by IEEE BVM SB, took place on September 10th -11th, 2022. This convention focused on "EDGING TOWARDS A CONNECTED FUTURE" because there is no way to predict the future, and these technologies have the power to alter everything - our perspective the way task are carried, our methodologies and our outlook on life.
The momentous Evolving Science & Technology Convention 2022 (ESTC'22) ceremony was initiated by Drashti Gajjar and Harsh Shill, who invited the dignitaries on stage. Om Shukla, Chairperson of IEEE BVM SB gave welcome speech along with the floral welcome of the guests. Following this, Dr Darshan Dalwadi, Branch Counselor of IEEE BVM SB, glanced over the fantastic events previously held by IEEE BVM SB. Furthermore, Dr Jagdish Rathod elucidated the ESTC, which was held in the platinum jubilee of Birla Vishvakarma Mahavidyalaya. Dr. Indrajit Patel, Principal of Birla Vishvakarma Mahavidyalaya Engineering College, Er. Bhikubhai Patel, Chairman-Charutar Vidyamandal & President of CVM University. Er. Prashant Kungadiya, Guest of honour Er. Pravin Sersiya, chief guest for the function, graced the occasion by their prsesnce
Session 1: Gaganyaan- India's Maiden Human Spacelift Mission
Dr. Mukesh Shimpi started off by inviting Mr. Deepak Singh on stage. Mr. Deepak introduced Gaganyaan and how fascinated a human is, always working to satisfy curiosity Gaganyaan is ISRO's most ambitious project, he added. And their vision is to implement a sustained and affordable program to explore the solar system and beyond.
He explained Gaganyaan's requirements, the Launch Vehicle, CES, Infrastructure, and the Orbit Module. He further shares the different ways to save the Crew after they return to Earth. These included Integrated AirDrop Test (IADT) and Test Vehicle, both manned and unmanned. The ending remarks were given by Miss Drashti Gajjar, Membership Director, IEEE BVM SB.
Session 2: INDIAN SCENARIO OF REMOTE SENSING SATELLITES AND ITS APPLICATIONS
The session started by the introduction of speaker Dr. Arvind K Singh given by Dr. Mehfuza Holia. He started the session by interacting with the audience on the sustenance of Earth's environment. He emphasizes the increasing population issues, deforestation, adult, India's geopolitics, etc.
Afterwards, he brings up Remote Sensing, and its history, which has evolved from the first photograph, all the way back in 1839, to Radars that started in 1940, which work till day!
This technology is beneficial in predicting landslides and forest fires. He concludes the event by discussing Cadastral Mapping, Road networks – Useful for GPS purposes, and Change Detection – Which helps monitor and surveillance. Mr. Harsh Shill, R&D officer IEEE BVM SB extended a vote of thanks.
Session 3: CYBER FORENSICS
The session commenced with a welcome speech by Prof. Mayur Vegad sir and further introduced the speaker of the session Mr Rushit Soni and briefed him.
Mr Rushit Soni started the session by giving us an overview of his work experience and also showed us some memes related to cyber forensics to make the session interactive. Our expert also explained to us the technique of collecting shreds of evidence in cyber forensics.The session's expert then focused on digital forensics, which included identification, preservation, analysis, documentation, etc. He also discussed the types of cyber-related crimes and gave us all knowledge about digital forensic standards and guidelines.
The ending remarks were given by Ms. Isha Prasad, NPSS Secretary, IEEE BVM SB.
Session 4: CRYPTO AND BLOCKCHAIN
Dr. Tanmay Pawar, HoD, Electronics Department introduced the speaker, Mr. Jaskaran Singh Manocha, and to provide a quick overview of his professional background.
Beginning the workshop, Mr Manocha discussed the current debates around cryptocurrencies and clarified the differences between cryptocurrencies and blockchain. He placed a strong focus on the concepts of lateral thinking, DYOR (Do Your Research), and Web 3.0 technologies. Over 9000 crypto currencies have already been generated, and new ones are launched daily. On August 18, 2008, a person using the alias Satoshi Nakamoto announced the creation of Bitcoin. Crypto is a type of digital money that utilizes Blockchain technology. A blockchain is a linked list built with hash pointers instead of regular pointers, which is challenging to hack. Bitcoin is produced through mining and offers extremely transparent transactions. Out of 21 million bitcoins, 16 million have already been mined. After bitcoin, Ethereum, created by Vitalik Buterin in 2013, is the second-most popular cryptocurrency..
The vote of thanks was given by Mr. Swar Shah, Operations Manager, IEEE BVM SB.
Session 5: METAVERSE: HOW IT CAN AFFECT OUR REAL LIVES
The session commenced with Dr. Bhargav Goradiya, Vice-President BVM & Head,EC, introducing and briefing about the career and experience of the expert speaker of this session, Mr. Nishant Bijani.. He started the session by briefing the meaning and concept of the metaverse. He termed it a "virtual universe beyond imagination." He described the limitations of current technologies and social platforms: the centralization of data where the company has supreme authority over our data. He demonstrated his viewpoint by giving examples of various social media applications like Facebook, google mail, LinkedIn, etc., to make us understand the situation of what if they block our profile. He talked about various technologies, like AR/VR, blockchain, Babylon.json, etc. Ending remarks were given by Prof. Jagdish k. Chauhan, Electrical Department BVM.
Session 6: PLASMA: A KEY TOOL FOR ENERGY PRODUCTION AND INDUSTRIAL APPLICATIONS
The session commenced with a welcome speech by Dr. Darshan Dalwadi, Branch Counsellor, IEEE BVM SB. He further introduced the session's expert, Mr. Sarveshwar Sharma, and briefed him about his career and experience.
The expert started the session by briefing the audience about plasma and its fundamental physics. He explained the meaning of plasma and discussed various classifications of plasma, such as high-temperature plasma, low-temperature plasma, thermal plasma, etc.
Ending remarks were given by MS. Devansgi Suthar, Organizing Head ESTC'22.
Workshop: AUGMENTED REALITY/VIRTUAL REALITY WORKSHOP
The session commenced with a brief introduction to the Origin of Augmented Reality and Virtual Reality by Dr. Keyur Bhrahmabhatt, Head of the Information Technology department, and then invited Mr. Harshit Lalpura, Founder and CTO, Hashmedia.
A kick start to the presentation was carried out by computer graphics by Mr. Harshit Lalpura. A brief explanation of the types and operations of computer graphics like translation, rotation and scaling had been given. Also, perception of software for 2D and 3D graphics had given.
The supplementary session focused on Augmented Reality and its types. After a clear understanding of the basics of unity, students also performed hands-on as a practice session.
Closing Ceremony of ESTC 2022
The closing ceremony of Evolving Science and Technology Convention 2022 was started by Dr. Indrajit Patel, Principal BVM briefed about the process of going forward with ESTC'22, as well as appreciated all IEEE or non-IEEE members involved in the ESTC'22. Dr. Jagdish M. Rathod, Faculty Advisor, IEEE BVM SB gave a hand on Event Overview. Mr. Om Shukla, chairperson, of IEEE BVM SB gave the vote of thanks and congratulate the whole team of ESTC'22 with remarkable words for making a grand successful Event.
---
Date and Time
Location
Hosts
Registration
---
Start time: 10 Sep 2022 10:00 AM
End time: 11 Sep 2022 04:00 PM
All times are (UTC+05:30) Chennai
Add Event to Calendar
---
---
Media
---