The 6th Montreal Photonics Networking Event
---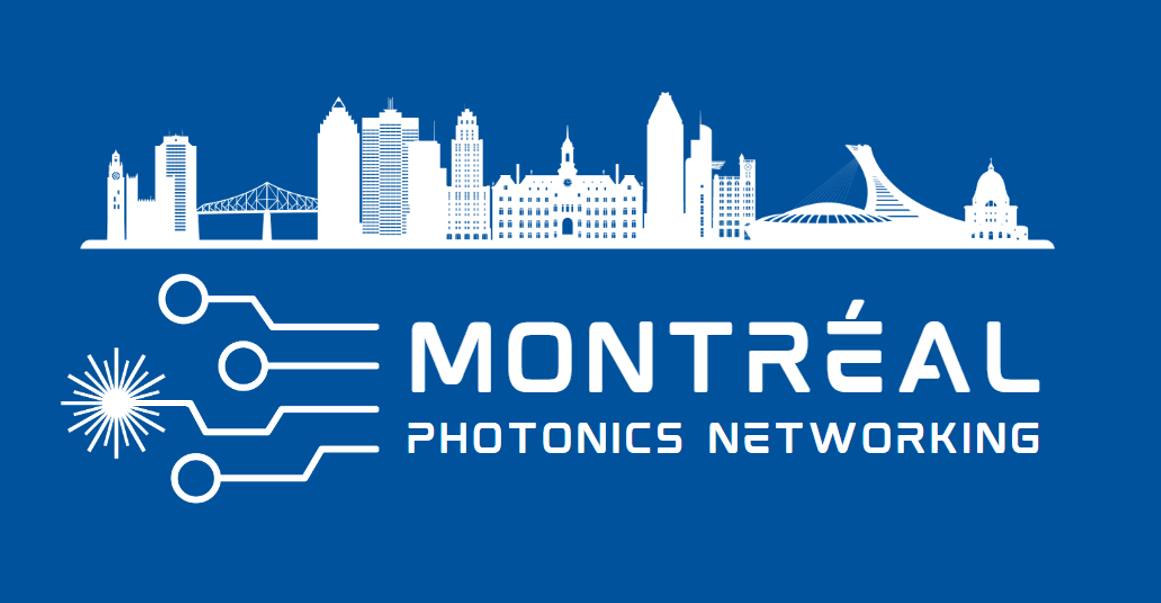 You are invited to attend the 6th Montreal Photonics Networking Event on Friday 2nd December 2022.
The event is free and four cash prizes of $250 each are available to eligible contributions. There are no registration fees.
---
Date and Time
Location
Hosts
Registration
---
Date: 02 Dec 2022
Time: 10:30 AM to 05:00 PM
All times are (GMT-05:00) Canada/Eastern
Add Event to Calendar
1220 Notre-Dame St W
Montréal, Quebec
Canada H3C 1K5

Building:

Pavillion E

Room Number:

SALON DES DIPLÔMÉS (E-2033)
---
Co-sponsored by

Optonique, TRACQ, Excelitas Technologies, ETS, INTRIQ, STARACOM, COPL, Numana

Survey:

Fill out the survey
Starts 28 September 2022 10:00 AM
Ends 01 December 2022 10:00 AM
All times are (GMT-05:00) Canada/Eastern
0 in-person spaces left!
No Admission Charge
Menu: Attendee, Presenter, Judge
---
Speakers
Philippe Babin
of Aeponyx
Topic:
AEPONYX en trois temps / AEPONYX : a story in three parts
Venez découvrir la petite histoire derrière AEPONYX, de ses premiers pas à aujourd'hui, des ses collaborations universitaires à son financement, de la création à l'exécution, et de l'un de ses co-fondateurs. Découvrez ensuite la technologie à base de puces en Nitrure de Silicium et de MEMS. Finalement, vous vous demandez que faire après vos études universitaires? Vous hésitez entre faire de la recherche, travailler en industrie ou encore vous lancer en affaire? Prenons le temps d'en jaser.
Come and discover the little story behind AEPONYX, from its first steps to today, from its university collaborations to its financing, from creation to execution, and from one of its co-founders. Then discover the technology based on Silicon Nitride and MEMS chips. Finally, you wonder what to do after your university studies? Are you hesitating between doing research, working in industry or starting up a business? Let's take the time to talk about it.
Biography:
Philippe Babin , PDG d'AEPONYX, a plus de 25 ans d'expérience dans le développement de produits et de marchés dans le domaine des télécommunications. Il a cofondé AEPONYX Inc et dirige la société. Avec son équipe, il développe et met sur le marché des circuits intégrés photoniques et des produits pour une large gamme d'applications. Philippe est titulaire d'un diplôme d'ingénieur électricien et d'un MBA de l'Université de Sherbrooke.
----
Philippe Babin , CEO of AEPONYX, has over 25 years of experience in product and market development in the telecommunication field. He co-founded AEPONYX Inc and leads the company. With his team, he develops and brings to market photonic integrated circuits and products for a broad range of applications. Philippe holds both an Electric Engineering degree and an MBA from the University of Sherbrooke.
---
Agenda
10:30-11:00: registration & poster set-up
11:00-12:00: Poster session #1 dedicated to Dr. Andrea Rovere
12:00 PM – 1:00 PM: Networking, lunch, & Chair Welcome
1:00 PM – 2:00 PM: Industry plenary speaker
2:00 PM – 3:00 PM: Montréal lab fair & poster session #2
3:00 PM – 4:00 PM: Student Speed-networking
4:00 PM – 4:30 PM: announcement of presentation competition winners and closing speech.
4:30 PM – 6:30 PM: Social networking
---