IEEE R1 and IEEE R10 Joint Collaboration Events: PRAKASH SHAKTI (PHOTONICS): OPPORTUNITIES AND CHALLENGES FOR ATMA-NIRBHAR BHARAT
---
IEEE R1 North Jersey Section and IEEE R10 UP Section Co-Sponsors Technical Events: Opportunities and Challenges in Photonics
---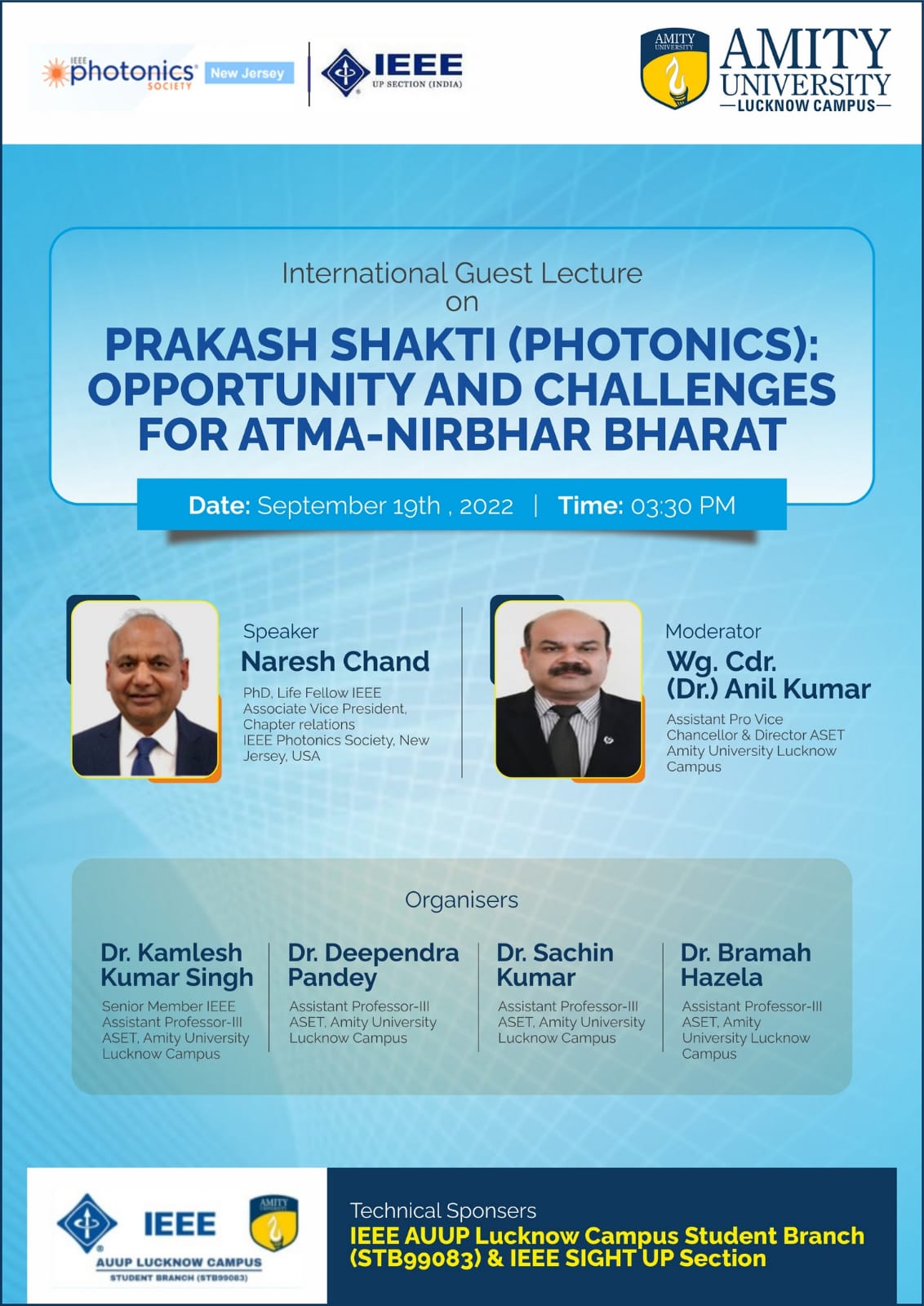 Talk on "Prakash Shakti (Photonics): Opportunities and Challenges for Atma-Nirbhar Bharat" by Dr. Naresh Chand, Associate VP, Chapter Relations, IEEE Photonics Society
---
Date and Time
Location
Hosts
Registration
---
Date: 19 Sep 2022
Time: 03:30 AM to 05:30 PM
All times are (GMT+05:30) Asia/Calcutta
Add Event to Calendar
Amity University Lucknow Campus, Lucknow, Uttar Pradesh, India
Amity University
Lucknow, Uttar Pradesh
India

Building:

Lucknow Campus
---
Co-sponsored by

Photonics Chapter, North Jersey Section, PHO36, MTT/APS Chapter of North Jersey Photonics society

Co-sponsored by

CH01178 - North Jersey Section Chapter, PHO36
Starts 01 September 2022 10:00 AM
Ends 19 September 2022 12:00 PM
All times are (GMT+05:30) Asia/Calcutta
No Admission Charge
---
Speakers
Dr. Naresh Chand
Topic:
PRAKASH SHAKTI (PHOTONICS): OPPORTUNITIES AND CHALLENGES FOR ATMA-NIRBHAR BHARAT
Biography:
Biography: Presently Dr. Naresh Chand represents IEEE and IEEE Photonics Society in multiple leadership roles. In September 2019, he retired from the US R&D Center of Huawei Technologies in NJ as Director where he was working on developing low-cost advanced technologies for Ultra-Broadband Optical Access Networks since 2011. Prior to this, he was an Engineering and Technology Fellow at BAE Systems (2003-11), Distinguished Member of Technical Staff at Agere Systems (2001-03), an MTS at AT&T/Lucent Bell Laboratories (1986-2000), and SSO at the Dept of Electronics (now MeitY), Government of India (1974-79). His areas of research include optical communication systems, devices, and materials. He has several firsts and world records to his credit. He has authored > 180 research papers and 15 patents (issued). In the Dept. of Electronics, Govt. of India, he was involved with the licensing and development of Electronic Component industry in India from 1974-79.
He did his M.Sc., Physics from Meerut University, M.Sc. (Tech) Electronics from BITS, Pilani with Gold Medal. On a British Commonwealth Scholarship, he did his M. Eng. and Ph.D. in EE from the University of Sheffield, UK. He also did 2 years of post-doctoral research at the University of Illinois, Urbana, IL.
Dr. Naresh Chand is a Life Fellow of IEEE and the founder of Prakash Bharati to promote Photonics in India.
Address: Associate Vice President IEEE Photonics Society, NJ, USA, NJ, New Jersey, United States
Email:
Address:United States
---
IEEE R1 North Jersey Section and IEEE R10 UP Section Co-Sponsors Technical Events: Opportunities and Challenges in Photonics
---