IX Congreso Internacional de Ciencia y Tecnología Aeroespacial (CICTA 2022)
---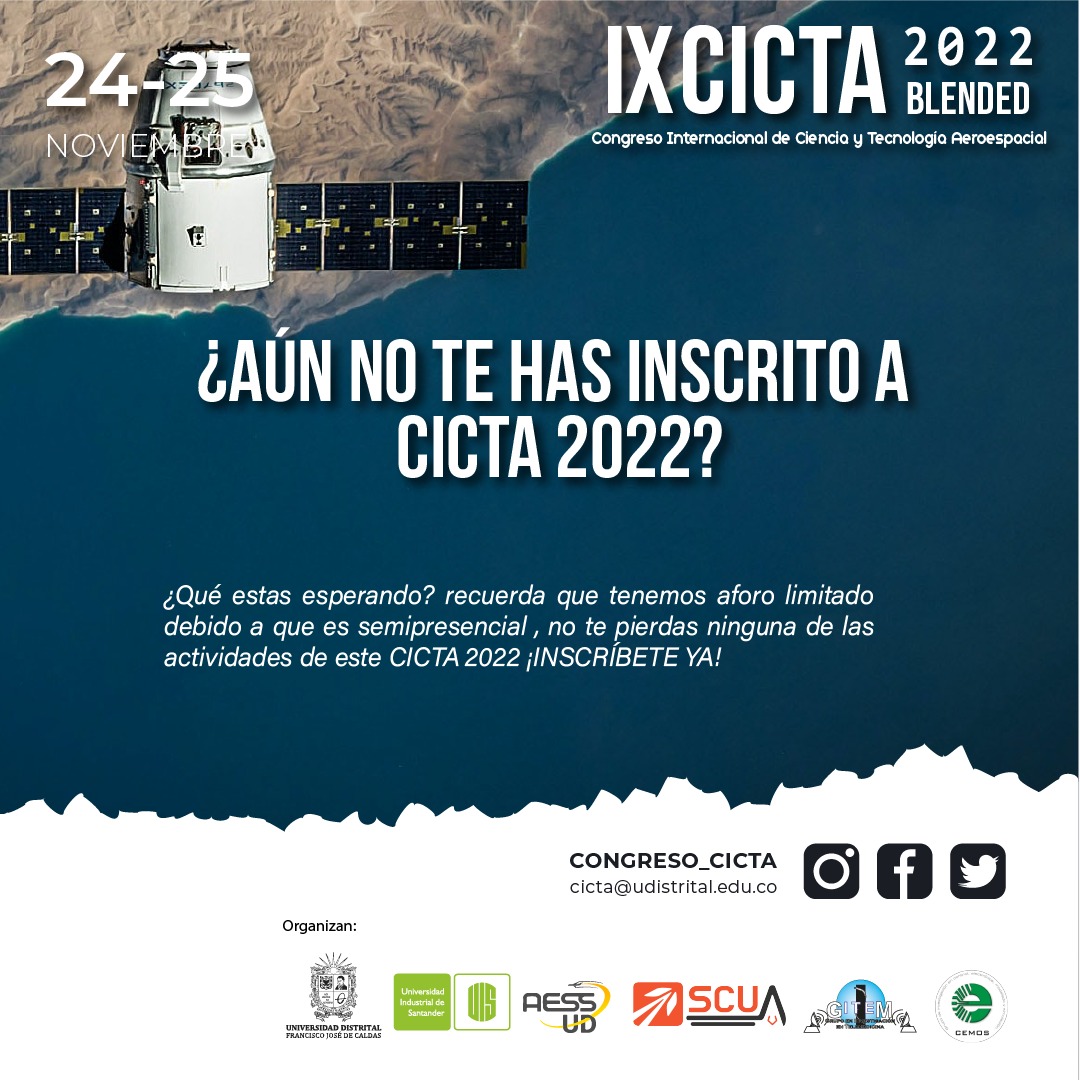 En nombre de la Universidad Distrital Francisco José de Caldas y la Universidad Industrial de Santander, junto con el grupo de investigación AESS UD perteneciente a la rama estudiantil IEEE UD y el Semillero de Cohetería UIS Aeroespacial - SCUA, tenemos el gusto de anunciar el lanzamiento del IX Congreso Internacional de Ciencia y Tecnología Aeroespacial CICTA 2022, los días 24 y 25 de Noviembre de 2022, en las instalaciones físicas de la Universidad Industrial de Santander y el campus virtual de la Universidad Distrital Francisco José de Caldas.
El IX Congreso Internacional de Ciencia y Tecnología Aeroespacial (CICTA 2022), es un espacio de intercambio científico sobre temáticas relacionadas con la tecnología aeroespacial y su papel protagónico para el avance de la humanidad además de sus implicaciones en diversos sectores industriales. Asimismo, como propósito, proporcionar un espacio de discusión en torno a la generación de un programa espacial Colombiano. El congreso se ha consolidado a nivel nacional e internacional mediante la participación activa de investigadores y profesionales, desde su creación en el año 2007 por la Universidad Distrital sede Bogotá hasta su última versión.
---
Date and Time
Location
Hosts
Registration
---
Start time: 24 Nov 2022 07:00 AM
End time: 25 Nov 2022 07:00 PM
All times are (UTC-05:00) Bogota
Add Event to Calendar
https://forms.gle/KLiCJW6TYB4VAMyc6
Carrera 32 N°29-31
Bucaramanga, Santander
Colombia
---
Event email: cicta@udistrital.edu.co

Co-sponsored by

Mariacamila Perdomo Mora

Survey:

Fill out the survey
---
Speakers

Giovanna Estefanía Ramírez Ruíz
Topic:
AVANCES EN LA TECNOLOGÍA AEROESPACIAL EN COLOMBIA
Biography:
Ingeniera electrónica , magíster en desarrollo y gerencia integral de proyectos, Piloto de aviación. Docente del programa de maestría en ingeniería aeroespacial de la Universidad San Buenaventura y de la Escuela Colombiana de Ingeniería Julio Garavito. Presidente del capítulo profesional Aerospace & Electronic Systems Society- AESS capítulo Colombia (2019-2021).Astronauta Análogo del Centro de Entrenamiento Aeroespacial de Polonia; Exbecaria del consorcio Global Espacial de Japón, Investigadora y desarrolladora de una misión espacial a través de un HeptaSat-satélite. Ha trabajado en la Dirección de Ciencia, Tecnología e Innovación y en la Escuela de Posgrados de la Fuerza Aérea Colombiana. Ha participado en diferentes proyectos de investigación nacionales e internacionales en cooperación con IEEE (Institute of Electrical and Electronics Engineers), UNISEC (University Space Engineering) y la Fuerza Aérea Colombiana. Tiene reconocimientos tales como: "Premio Mujeres de Éxito Colombia 2020" en la categoría Ciencia y Tecnología, Best Young professional IEEE 2019. Emprendedora del año 2018 ' con el premio JULIO GARAVITO', y Autora del invento "Genius Pamper". Reconocida como Joven Promesa por el COLPARMEX, y seleccionada como Recipiendaria de la Cátedra Internacional Galileo por el COLPARMEX.
Address:Distrito Capital de Bogota, Colombia

José Cornejo, SMIEEE
of Center for Space Emerging Technologies
Topic:
C-SET LA INCUBADORA CIENTÍFICA PIONERA EN PROYECTOS AEROESPACIALES EN LATINO AMÉRICA
Biography:
Senior Member IEEE, PhD(c) en Space Mechatronics, Posgrado en Robótica (MIT), MSc en Ingenieria Biomédica, Master of Business Administration. Ingeniero Mecatrónico. Consultor mundial en proyectos de Sistemas Robóticos. Speaker y Revisor Internacional en Journals y Conferencias Indexadas en Bases de Datos de alto prestigio. Ha publicado más de 40 Papers y cuenta con más de 400 citaciones. Fundador del Center for Space Emerging Technologies.
Address:United States
---