TRANSLATIONAL AI AND ENGINEERING in Health and Communication
---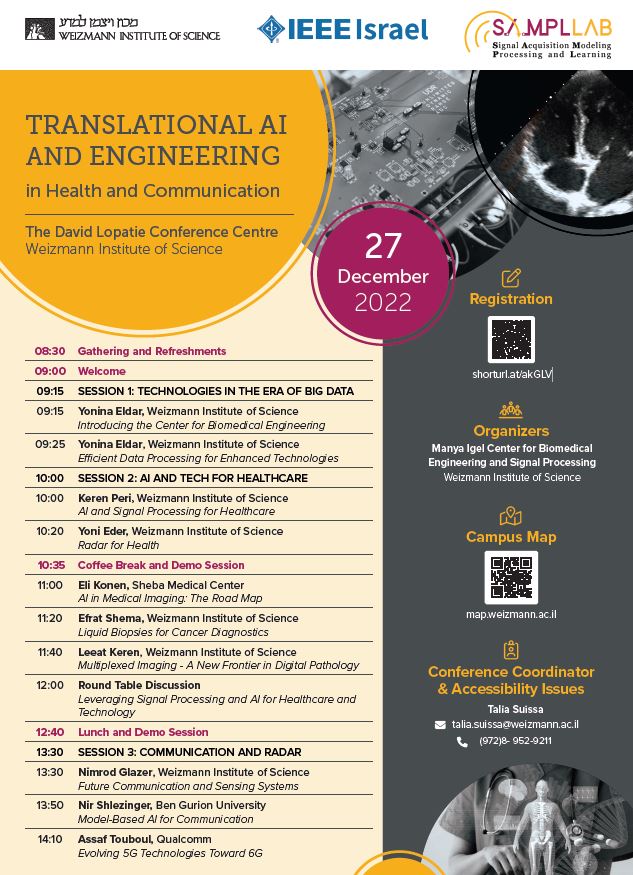 Dear All,
The SAMPL lab at the Weizmann Institute of Science, headed by Prof. Yonina Eldar, is pleased to invite you to a workshop on Translational AI and Engineering in Health and Communication.
The workshop will be held on Tuesday, December 27th, 2022, the David Lopatie Conference Center, Weizmann Institute of Science.
Participation is free, but please make sure to register, since the number of attendees is limited.
Kindly use this link to register.
Looking forward to seeing you there.
__________________________________________________________________
09:00 Welcome
09:15 SESSION 1: TECHNOLOGIES IN THE ERA OF BIG DATA
09:15 Yonina Eldar, Weizmann Institute of Science
Introducing the Center for Biomedical Engineering
09:25 Yonina Eldar, Weizmann Institute of Science
Efficient Data Processing for Enhanced Technologies
10:00 SESSION 2: AI AND TECH FOR HEALTHCARE
10:00 Keren Peri, Weizmann Institute of Science
AI and Signal Processing for Healthcare
10:20 Yoni Eder, Weizmann Institute of Science
Radar for Health
10:35 Coffee Break and Demo Session
11:00 Eli Konen, Sheba Medical Center
AI in Medical Imaging: The Road Map
11:20 Efrat Shema, Weizmann Institute of Science
Liquid Biopsies for Cancer Diagnostics
11:40 Leeat Keren, Weizmann Institute of Science
Multiplexed Imaging - A New Frontier in Digital Pathology
12:00 Round Table Discussion
Leveraging Signal Processing and AI for Healthcare and Technology
12:40 Lunch and Demo Session
13:30 SESSION 3: COMMUNICATION AND RADAR
13:30 Nimrod Glazer, Weizmann Institute of Science
Future Communication and Sensing Systems
13:50 Nir Shlezinger, Ben Gurion University
Model-Based AI for Communication
14:10 Assaf Touboul, Qualcomm
Evolving 5G Technologies Toward 6G
---
Date and Time
Location
Hosts
Registration
---
Date: 27 Dec 2022
Time: 08:30 AM to 03:00 PM
All times are (UTC+02:00) Jerusalem
Add Event to Calendar
Weizmann Institute of Science
map.weizmann.ac.il
Rehovot, Central District
Israel

Building:

The David Lopatie Conference Centre
---
---
---