IEEE San Diego Oceanic Engineering Systems Society (OESS) Chapter Joint Meeting
---
Drs. Peter Gerstoft and Venugopalan Pallayil speakers at IEEE San Diego Oceanic Engineering Society Chapter Joint IN PERSON SAN DIEGO Meeting
---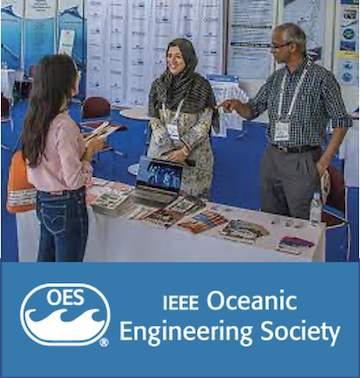 This late afternoon event has a least two tecnical speakers and a gathering of Oceanic Engineering Systems Society leaders with the San Diego Chapter, and follows a meeting of the Society's ExCom. The afternoon's two speakers are
Dr. Peter Gerstoft, Marine Physical Laboratory, Scripps Institution of Oceanography with "Machine learning for acoustic source localization in ocean acoustics"
Dr. Venugopalan Pallayil, Acoustics Research Lab, National University of Singapore
This chapter meeting is offered jointly with the AESS (Aerospace & Electronics Systems Society) whose technical interests include complex systems of air, space, land, and sea.
The San Diego Chapter of OES is one of its largest chapters by membership, with a great history and some amazing local activities in the technical community. It also welcomes members and interaction from throughout the vital Southern California BlueTech coastal region.
Chapters give OES members the valuable opportunity to engage with fellow oceans-interested engineers and professionals at locally-curated events. Chapters host technical talks, meetings, and social events to enable education, collaboration, and networking with fellow members and non-members alike. More chapter leadership volunteers are welcome? What does a chapter officer do? Organize local meetings and joint local meetings with the many San Diego chapters on the wide array of OESS-related topics.
---
Date and Time
Location
Hosts
Registration
---
Date: 13 Feb 2023
Time: 03:00 PM to 04:45 PM
All times are (UTC-08:00) Pacific Time (US & Canada)
Add Event to Calendar
Co-sponsored by

San Diego Section - Dr. Kathleen Kramer
Starts 15 January 2023 08:30 AM
Ends 13 February 2023 08:30 PM
All times are (UTC-08:00) Pacific Time (US & Canada)
No Admission Charge
---
Speakers

Dr. Peter Gerstoft
Topic:
Machine learning for acoustic source localization in ocean acoustics
Despite decades of development, acoustic source localization has been challenged by mis-locations. Instead, we learn the localizations directly from data using machine learning. After a mapping has been learned we test that the mapping generalizes well on test data. We demonstrate the approach in an ocean waveguide as a classification and a regression neural network, in a room acoustic setting we demonstrate how a neural network can alleviate multipath.
Biography:
Peter Gerstoft received the M.Sc. and the Ph.D. from the Technical University of Denmark, (in Structural Engineering) Lyngby, Denmark, in 1983 and 1986, respectively, and also a the M.Sc. from the University of Western Ontario, (in the Alan G Davenport Wind Engineering Group) London, Canada, in 1984. Since 1997 he has been with Marine Physical Laboratory, University of California San Diego. His research interests include global optimization, modeling and inversion of acoustic, elastic and electromagnetic signals.

Dr. Venugopalan Pallayil
Biography:
Venugopalan Pallayil, or Venu as he is popularly known among his friends, has a post graduate degree in physics and a Ph.D in Microwave Electronics both from Cochin University of Science and Technology, India. In 1998 he joined Acoustic Research Laboratory as a Research Fellow and currently is a Principal Research Fellow.He has been responsible for the successful completion of many projects in ARL, namely Ambient Noise Imaging (ROMANIS), Time Reversal Mirror and Digital Thin Line Towed Arrays. Apart from research activities, he also supports the lab as a Deputy Head, helping out the head of the lab on many fronts such as HR and finance management.
---