ENMAX Shepard Energy Centre tour (University students only event)
---
University students only event (Looking for carpooling volunteers now. Carpooling volunteers will be reimbursed.)
---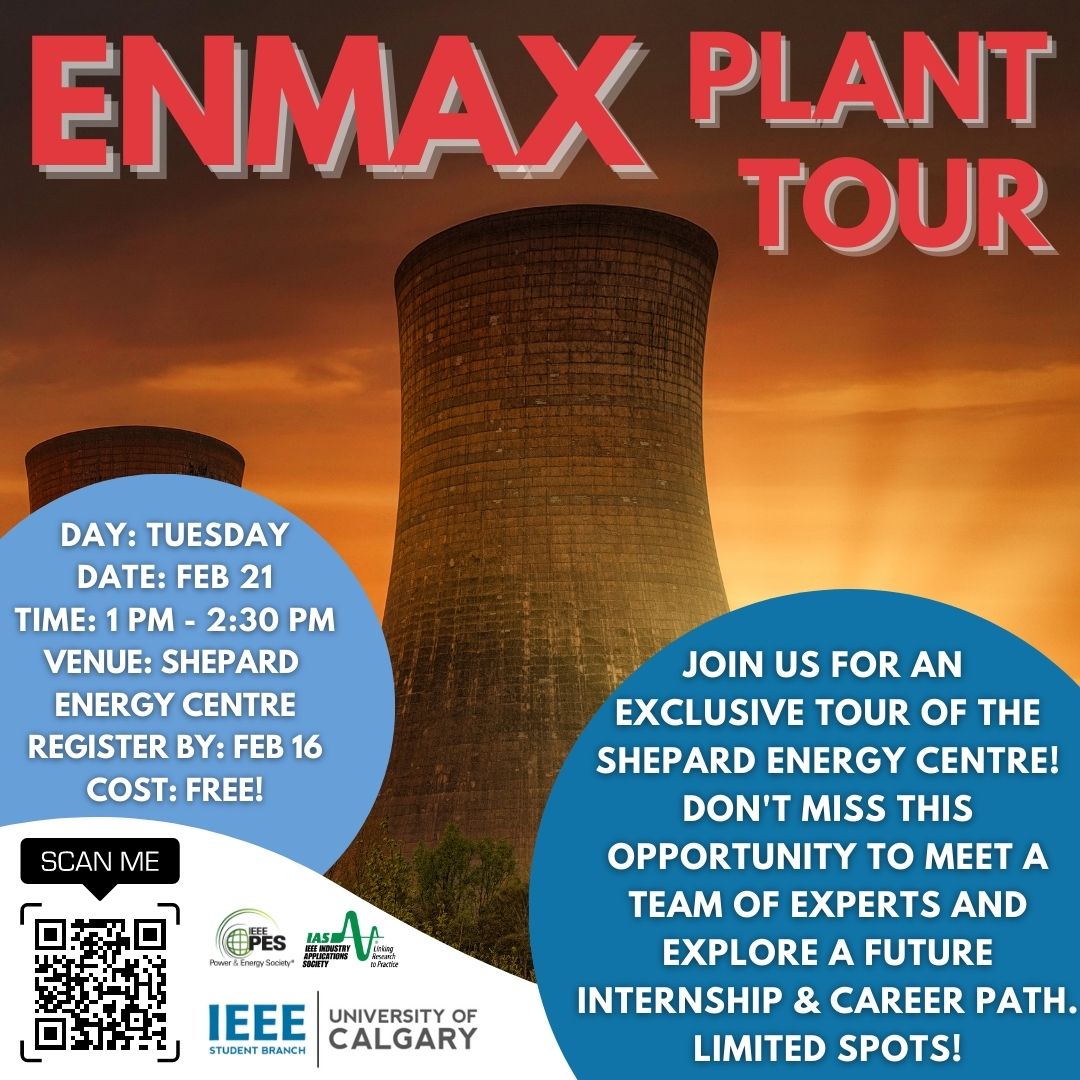 Are you a student at the University of Calgary interested in the learning about Alberta's largest natural gas power facility? ENMAX Shepard Energy Centre, a state-of-the-art power generation facility, is excited to invite you to an exclusive tour of thier plant.
During this tour, you will have the opportunity to see firsthand how ENMAX generates electricity combined-cycle technology, two natural gas-fuelled turbines and one steam turbine provide more than 860 megawatts (MW) of electricity to the provincial grid - enough to meet almost half of Calgary's current needs. You will also learn about the latest technologies and innovations in energy production and get a chance to ask any questions you may have to our team of experts.
This is a rare opportunity for students to gain insight into the inner workings of a successful company and understand the potential career opportunities in this field. Don't miss out, RSVP by February 18th, 2023 to reserve your spot. We look forward to welcoming you to ENMAX's Shepard Energy Centre.
Day: Tuesday
Date: February 21st, 2023
Time: 1 PM - 2:30 PM
Venue: ENMAX Shepard Energy Centre (9500 100 St SE, Calgary, AB T3S 0A2)
Register by: February 18th, 2023
Cost: FREE!
PPE: All attendees have flat walking shoes, Other PPE will be provided.
Agenda: Check below the description!
Travel: We encourage you to come to the location in your own. Transit options are available to arrive to the office. We can also provide carpooling, depending on first come first serve basis.
---
Date and Time
Location
Hosts
Registration
---
Date: 21 Feb 2023
Time: 01:00 PM to 02:30 PM
All times are (UTC-07:00) Mountain Time (US & Canada)
Add Event to Calendar
9500 100 St SE, Calgary, AB
Calgary, Alberta
Canada T3S 0A2

Building:

Shepard Energy Centre
---
Co-sponsored by

Subramanian Narayanan
Starts 23 January 2023 04:05 PM
Ends 18 February 2023 11:59 PM
All times are (UTC-07:00) Mountain Time (US & Canada)
1 in-person space left!
No Admission Charge
Menu: I can arrive on my own to the Shepard Energy Centre., I need a ride.
---
---
Agenda
1:00 PM - 1:30 PM: Conference room
1:30 PM - 2:30 PM: Shepard Energy Centre tour
---
Please register if you can provide a ride for other registrants. At the moment we have received a limited number of vehicles.
---