Innovation Day at Nokia Bell Labs
---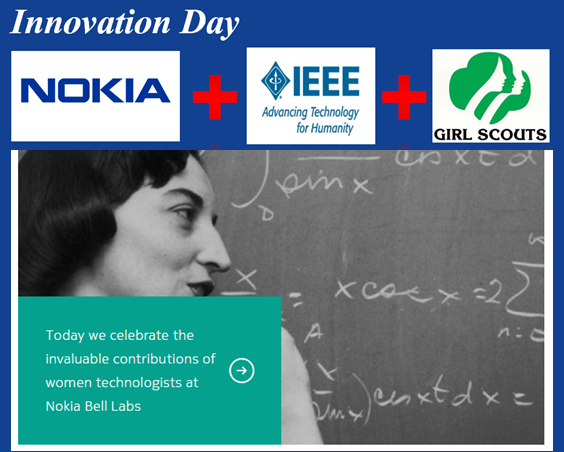 Join us for Innovation Day at Nokia Bell Labs — a day of career exploration, celebration of Women in STEM, guided history tour of innovation, also take part in a fun and challenging STEM project on March 25, 2023. Get a unique chance to learn from the experts of innovation and get a behind the scenes tour of some of the greatest technology advancements that have changed the world. This program will give our Girl Scout Juniors and Cadettes (Grades 4-8) a free guided tour of the Nokia Bell Labs Showcase and a chance to spark their own creativity as they create an innovation project of their own!
Often referred to as "The Idea Factory" or "The Crown Jewel," Nokia Bell Labs has an unparalleled history of innovation output. Researchers at Nokia Bell Labs have been behind or involved in nearly every critical technological milestone for the last nine decades.
Will you be the next great inventor?
---
Date and Time
Location
Hosts
Registration
---
Date: 25 Mar 2023
Time: 08:00 AM to 01:00 PM
All times are (UTC-05:00) Eastern Time (US & Canada)
Add Event to Calendar
Section pre-U co-chair: Craig Polk - craig.polk@ieee.org

Additional cosponsors: Antennas and Propagation Society, Circuits and Systems Society, Electron Devices Society, Engineering in Medicine and Biology Society, SIGHT, Vehicular Technology Society, Photonics Society

Co-sponsored by

Nokia Bell Labs
---
Speakers
Biography:
Thierry E. Klein is the President of Bell Labs Solutions Research at Nokia Bell Labs. His global multi-disciplinary team conducts fundamental and applied research focused on new Nokia value chains, business opportunities and ecosystems. Bell Labs Solutions Research pursues research and innovation into advanced technologies, architectures, systems and applications beyond Nokia's current product and solutions portfolio, including research into advanced sensing technologies, AI-based knowledge systems and fundamental algorithms, autonomous software and data systems, and integrated solutions and experiences.
Address:New Jersey, United States
---
Agenda
Volunteer arrival: 8am
On-site Registration: 9am-9:30am
Guest Speakers: 9:30am-10am
Project work and tours: 10am-1pm
---