Transformación Digital: Principios y Roadmap de implementación
---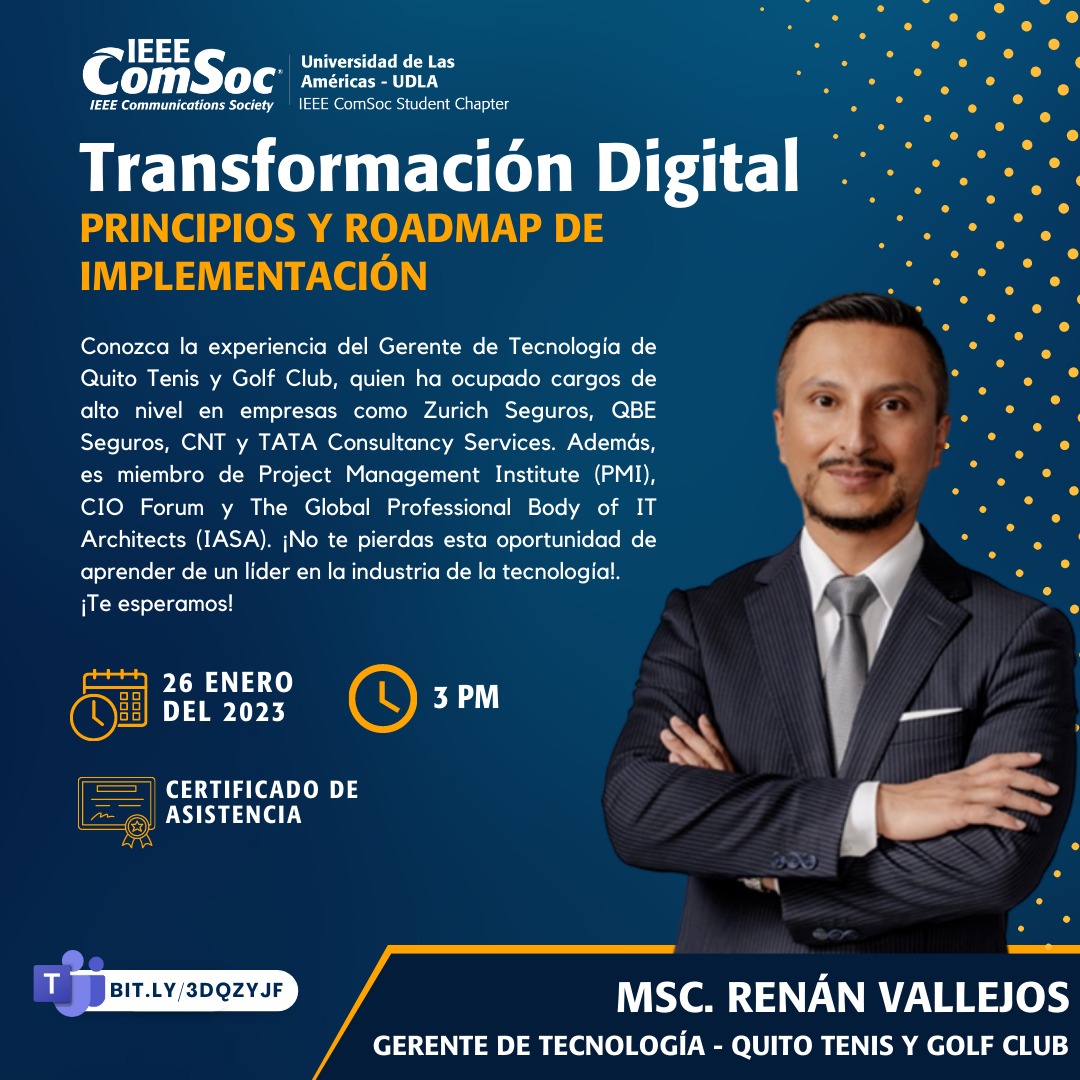 Transformación Digital: Principios y Roadmap de implementación
---
Date and Time
Location
Hosts
Registration
---
Date: 26 Jan 2023
Time: 03:00 PM to 05:00 PM
All times are (UTC-05:00) Lima
Add Event to Calendar
Estás invitado a una reunión de Teams.
Transformación Digital - Principios y Roadmap de Implementación
https://teams.microsoft.com/l/meetup-join/19%3ameeting_M2FhNzljZjItMTI2Yi00NTUyLTljMWUtYzNlM2JiMDU3M2Ji%40thread.v2/0?context=%7b%22Tid%22%3a%22585a4d92-db1d-4bbb-b5ac-c5299e3894e3%22%2c%22Oid%22%3a%2254e6923e-6383-4341-bcf1-8ec3585cfde5%22%7d
Pulsa en el vínculo o pégalo en un explorador para unirte.
---
Speakers
MSc. Renán Vallejos
Topic:
Transformación Digital
Biography:
Magíster Renán Vallejos, actual Gerente de Tecnología de Quito Tenis y Golf Club. Quien obtuvo su título de Ingeniero en Sistemas en la Pontificia Universidad Católica del Ecuador y el título de Magíster en Gerencia de Sistemas y Tecnología Empresarial en la Universidad de las Américas. Por otro lado, ha ocupado cargos de alto nivel en empresas como Zurich Seguros, TATA Consultancy Services, CNT y QBE Seguros. A su vez, se desempeña como miembro de Project Management Institute (PMI), CIO Forum y The Global Professional Body of IT Architects (IASA).
---