Overview of the Features and Functionalities of Modern Low Voltage AC Variable Frequency Drives
---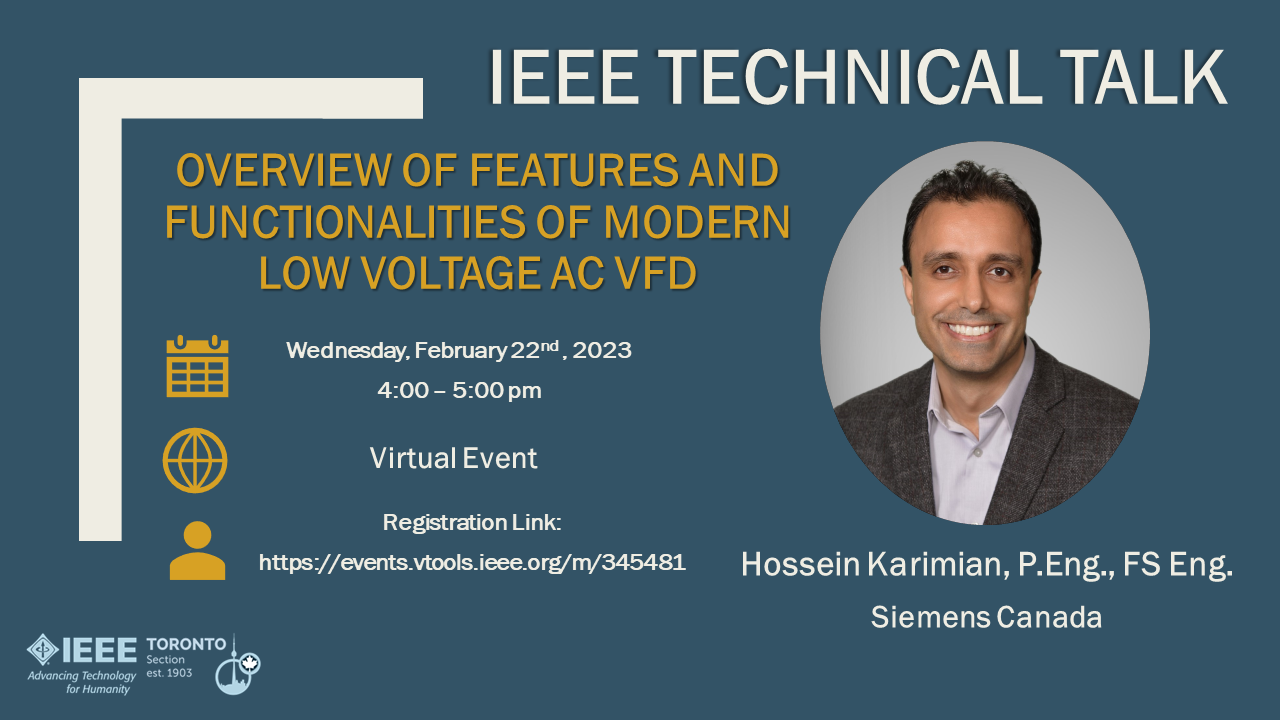 Join the IEEE Toronto Instrumentation & Measurement – Robotics & Automation Joint Chapter for a talk on The Features and Functionalities of Modern Low Voltage AC Variable Frequency Drives, presented by Hossein Karimian, P.Eng.
Wednesday, February 22, 2023, @ 4:00 – 5:00 PM
Abstract: Variable speed drives have opened numerous opportunities to improve productivity, efficiency, saving engineering time and costs.
They are effectively utilized in a wide range of applications in industries such as: fans, pumps and compressors, conveyors, compressors, mixers, grinders, saws, lifts, blowers, agitators, centrifuge...etc.
Depending on the application, the appropriate variable frequency drives can be selected and incorporated in the automation concept.
Hossein Karimian's talk will present advantages of Siemens low voltage SINAMICS VFD while discussing its performance, and innovative design.
---
Date and Time
Location
Hosts
Registration
---
Date: 22 Feb 2023
Time: 04:00 PM to 05:00 PM
All times are (UTC-05:00) Eastern Time (US & Canada)
Add Event to Calendar
Starts 29 January 2023 04:30 PM
Ends 21 February 2023 06:00 PM
All times are (UTC-05:00) Eastern Time (US & Canada)
No Admission Charge
---
Speakers

Hossein Karimian, P.Eng., FS Eng.
Biography:
Hossein Karimian started his career in 2000 working in the CNC retrofitting industry as a control specialist. He obtained his Master of engineering degree (electrical and computer) from Concordia University (Montreal) in 2013. Following his graduation, he pursued his career in the motion control industry and joined CSI, a Siemens solution provider in Burlington, as an Automation Engineer. Furthermore, he accepted the role of a Business Developer for Motion and Drive products at Franklin Empire Inc., Siemens Exclusive Distributor in GTA. He has been serving Siemens Canada as an application engineer for general motion control products since 2019.
In this role he's in charge of pre-sale and post-sales support of motion control products nationwide. His responsibilities include sizing applications, engineering and providing technical solution, configuration and commissioning support. He is a P.Eng License holder (Professional Engineering Ontario), and he received his Functional Safety Engineer certificate from TÜV Rheinland in 2021. Hossein Karimian also Served as a judge at FIRST Robotics competition, McMaster University, April 2019.
---