University of Iowa Computing Conference
---
University of Iowa Computing Conference Feb 24-25 University of Iowa
---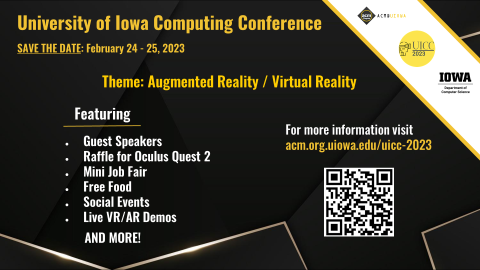 The Computer Science ACM member students at the University of Iowa, Iowa City, organized this conference.
4 speakers are scheduled. 1 Friday and 3 on Saturday. A no-tie job fair is from Noon - 2:30pm.
IEEE Cedar Rapids Section will be at the Saturday job fair -please stop by!

Registration: The UI Computing Conference registration link is below and closes February 20. This is to plan in-person attendance and food.
(You should be able to attend to only hear the talks and meet students and other attendees, if you miss the registration cutoff. )
---
Date and Time
Location
Hosts
Registration
---
Start time: 24 Feb 2023 05:00 PM
End time: 25 Feb 2023 05:30 PM
All times are (UTC-06:00) Central Time (US & Canada)
Add Event to Calendar
Adler Journalism Building
140 W Washington St
Iowa City, Iowa
United States 52240

Room Number:

Rotunda, AJB E120, E126, E105,
---
Co-sponsored by

IEEE Cedar Rapids Computer Chapter, Association for Computing Machinery - UI Chapter, University of Iowa Computer Science
---
---
Agenda
Event Website: https://acm.org.uiowa.edu/article/uicc-2023-conference-schedule
Friday, February 24, 2023
5:30pm Talk 1 (Keynote): Shambaugh, Main Library Joe Kearney
7:15pm Activity + Food: (Adler Journalism Building Rotunda + AJB E120 + AJB E126)
Saturday, February 25, 2023
11:00am Talk 2: (AJB E105) Dr. Karim Abdel Malek
12:00pm Lunch and Job Fair: (AJB Rotunda)
2:45pm Talk 3: (AJB E105) Dr. Eliot Winer
4:00pm Talk 4: (ABJ E105) Dr. Ruofei Du

5:15pm Closing Announcements: (ABJ E105)
5:30pm Activities + Food: (AJB E120 + AJB E126 + Rotunda)
Speakers Bios and Abstracts: https://acm.org.uiowa.edu/article/uicc-2023-speakers
---
"The UICC is hosted by the students and for the students to promote computing as a science and a profession."
---