AltaLink Substation tour (University students only event)
---
University students only event (Carpooling provided!)
---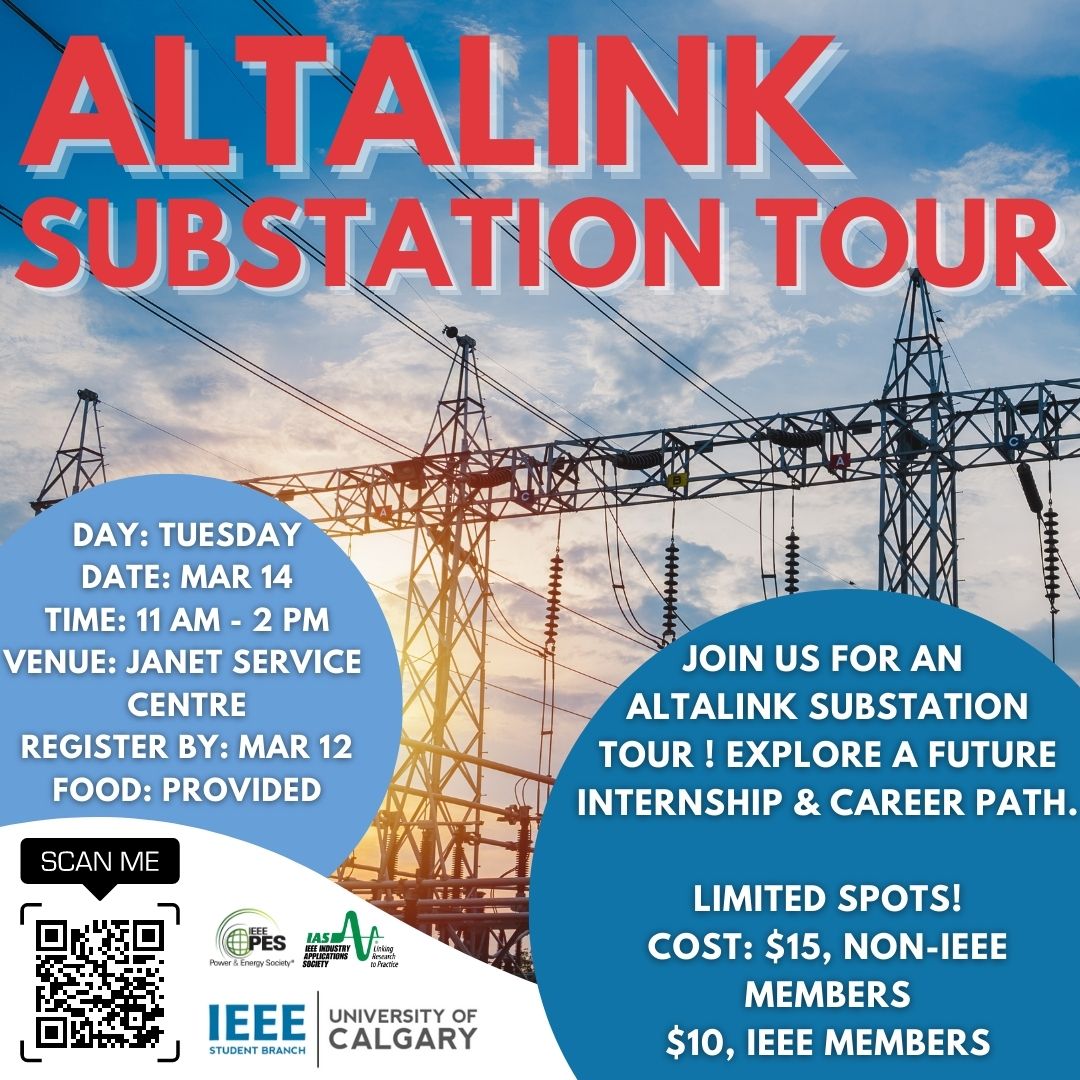 Are you a student at the University of Calgary interested in the learning about AltaLink's substations? AltaLink, one of Canada's largest electricity transmission Companies, is excited to invite you to an exclusive tour of their transmission facility and High Voltage Equipment Facility.
During this tour, you will have the opportunity to see firsthand how AltaLink's Janet Service Centre, at 74,465 sq. ft., was designed and built to service huge utility transformers in their high voltage Servicing Bay. You will also learn about the latest technologies and innovations in energy transmission and get a chance to ask any questions you may have to our team of experts.
This is a rare opportunity for students to gain insight into the inner workings of a successful company and understand the potential career opportunities in this field. Don't miss out, RSVP by March 12th, 2023 to reserve your spot. We look forward to welcoming you to AltaLink Substation tour.
Day: Tuesday
Date: March 14th, 2023
Time: 11 AM - 2:00 PM
Venue: Janet Service Centre (235205 Garden Rd, Rocky View County)
Register by: March 12th, 2023
Food: Lunch will be provided at the tour.
Travel: Carpooling provided!
Cost:
$15, NON-IEEE members
$10, IEEE members
PPE: All attendees must wear hard-toe boots/ steel-toe boots (this requirement could be relaxed, so please wear winter shoes), Other PPE will be provided.
Agenda: Check below the description!
Travel: We encourage you to come to the location in your own. Transit options are available to arrive to the office. We can also provide carpooling, depending on first come first serve basis.
---
Date and Time
Location
Hosts
Registration
---
Date: 14 Mar 2023
Time: 11:00 AM to 02:00 PM
All times are (UTC-07:00) Mountain Time (US & Canada)
Add Event to Calendar
235205 Garden Rd, Rocky View County
Calgary, Alberta
Canada T1X 1G5

Building:

Janet Service Centre
---
Starts 23 February 2023 09:30 AM
Ends 12 March 2023 11:59 PM
All times are (UTC-07:00) Mountain Time (US & Canada)
0 in-person spaces left!
Admission fee

?
---
---