Digital Health and Health Technology Assessment
---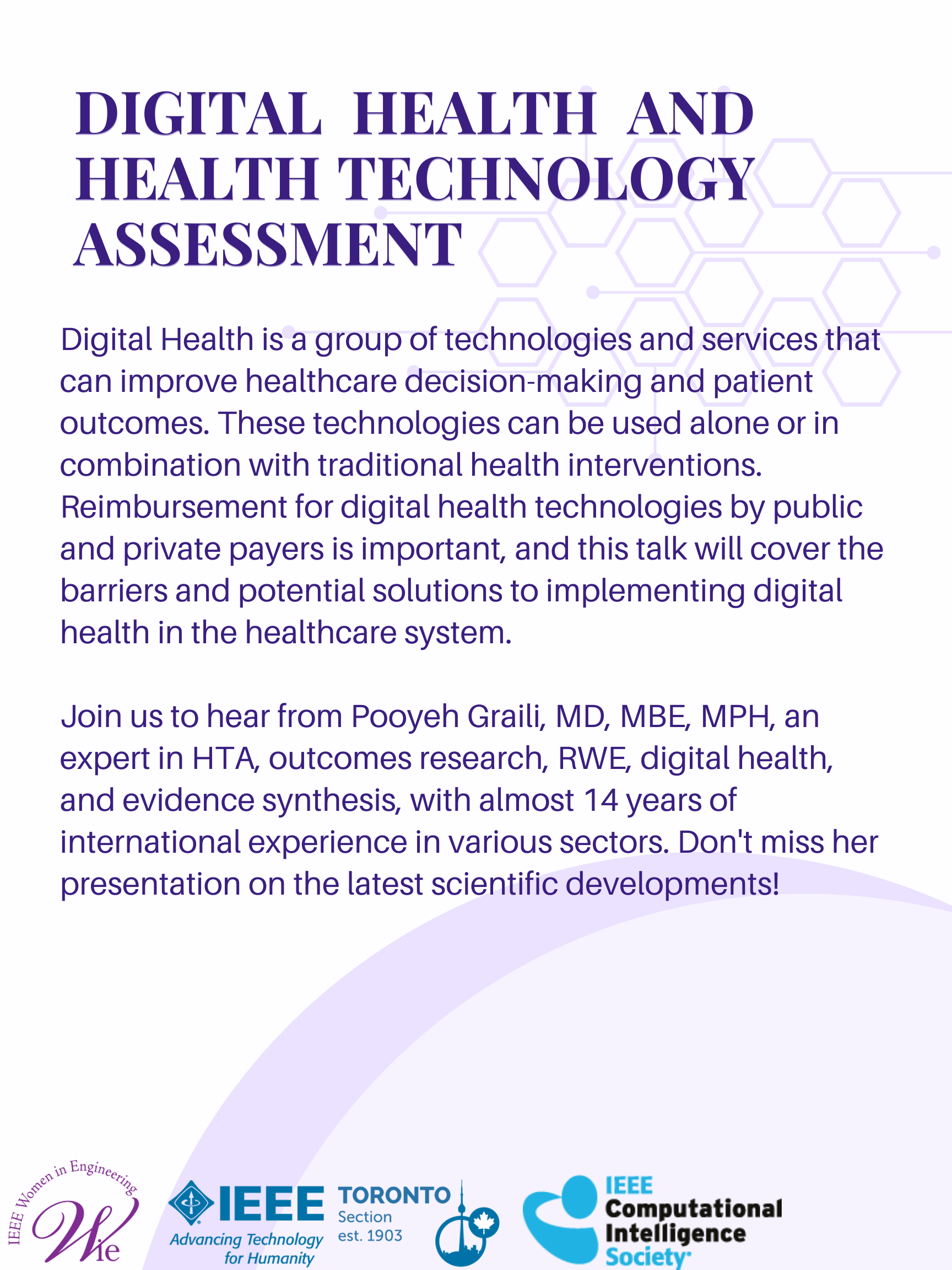 Digital Health and HTA (Health Technology Assessment) - Organized by the IEEE Computational Intelligence
Digital Health provides unique opportunities to strengthen health systems and includes a range of technologies and services. These services and technologies have increasingly been used in the health sector because of their impact on patient-centered outcomes and value in healthcare decision-making. Digital health technologies depending on the application, target groups, and outcomes, can be comparators of traditional health technologies or used as an add-on to increase the effectiveness of those health interventions. Such technologies need to be reimbursed by public and private payers sooner or later. This talk is about digital health reimbursement of health and digital health technologies, the barriers to using digital health, and some potential solutions in the health systems.
Keywords: Digital health, health technology assessment
---
Date and Time
Location
Hosts
Registration
---
Date: 29 Mar 2023
Time: 06:00 PM to 07:00 PM
All times are (UTC-05:00) Eastern Time (US & Canada)
Add Event to Calendar
Starts 16 March 2023 01:59 PM
Ends 29 March 2023 05:00 PM
All times are (UTC-05:00) Eastern Time (US & Canada)
No Admission Charge
---
Speakers
Dr. Pooyeh Graili
Topic:
Digital Health and HTA (Health Technology Assessment)
Biography:
Pooyeh Graili, an MD, MBE, MPH, is the Founder and Principal at Quality HTA and Visiting Researcher at Toronto Metropolitan University. Her expertise is in HTA, Outcomes Research, RWE, Digital Health, and evidence synthesis in a range of therapeutic areas. She has almost 14 years of experience within governmental organizations, pharmaceutical companies (market access and medical affairs), consulting firms, private clinics, and health care and research centers internationally (North America, Europe, and Asia). Her scientific experience includes publications and presentations on HTA, outcomes research, RWE, DH, AI, and health policy in peer-reviewed journals, congresses, symposia, and webinars.
---