The Global & Québec Photonics Industry Network
---
---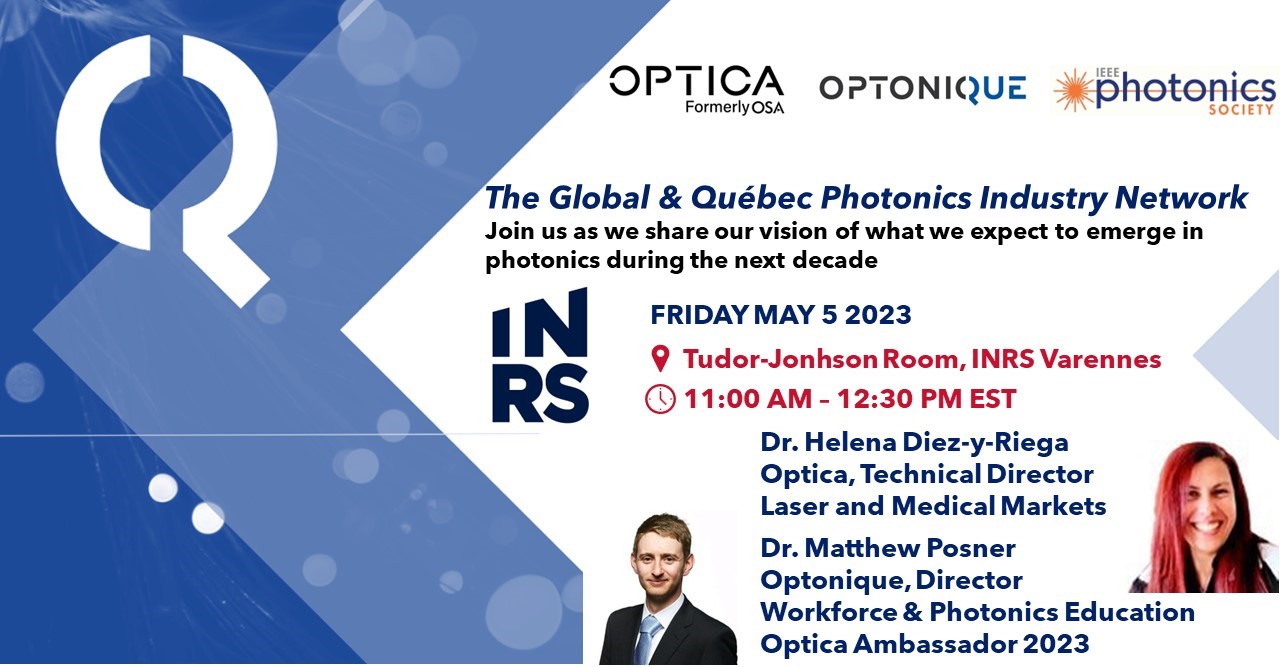 Join Dr. Helena Diez-y-Riega, Technical Director Laser and Medical Markets, Optica, and Dr. Matthew Posner, Director Workforce & Photonics Education, Optonique & Optica Ambassador 2023 to share perspectives, needs and opportunities on the photonics industry network in Québec and worldwide. The meeting will be followed by a networking session with catering.
---
Date and Time
Location
Hosts
Registration
---
Date: 05 May 2023
Time: 11:00 AM to 12:30 PM
All times are (UTC-05:00) Eastern Time (US & Canada)
Add Event to Calendar
Institut national de la recherche scientifique
1650 Boulevard Lionel-Boulet
Varennes, Quebec
Canada J3X 1P7

Building:

Campus Varennes

Room Number:

Tudor-Jonhson Room
---
For extra information, please contact Association OPTICA-SPIE optica-spie@inrs.ca

Co-sponsored by

INRS Optica-SPIE Student Chapter
---
Speakers
Dr Helena Diez-y-Riega
of Optica
Topic:
The Global Photonics Industry Network
Biography:
Helena Diez-y-Riega is Technical Director for Laser and Medical Markets at Optica. She has a research background at the Institute for Shock Physics (Washington State University) and at the Universidad de Los Andes in Venezuela, combining strong industry and academic backgrounds. Before joining Optica in 2022, she worked with instrument manufacturer Kratos Analytical Ltd at their HQ in Manchester, UK. The company is the world leader in X-ray photoelectron spectroscopy (XPS) and Shimadzu-branded MALDI mass spectrometry. She is fascinated by nano-sensors and their application in medical devices, with the potential to address an ever-growing demand for new drugs, therapies and early detection methods to improve general health and ensure a better quality of life. At Optica, she assists others in moving to the next level and if you are active in laser or medical markets, please connect here with her.
Dr. Matthew Posner
of Optonique
Topic:
The Québec Photonics Industry Network
Biography:
Matthew Posner is Director of Photonics Workforce and Education at Optonique, Quebec's photonic optics cluster of excellence. His expertise is in the fabrication of integrated circuits and photonic components for optoelectronic, sensory and quantum applications, as well as in the pedagogy and management of technical training and professional development programs. He is an active science communicator and is passionate about "getting science out of the lab." He is 2023 Global Ambassador for Optica, and holds advanced degrees in electronics and optoelectronics.
---