LIDERATECH | CÓMO AFRONTAR UNA ENTREVISTA DE TRABAJO EN INGLÉS
---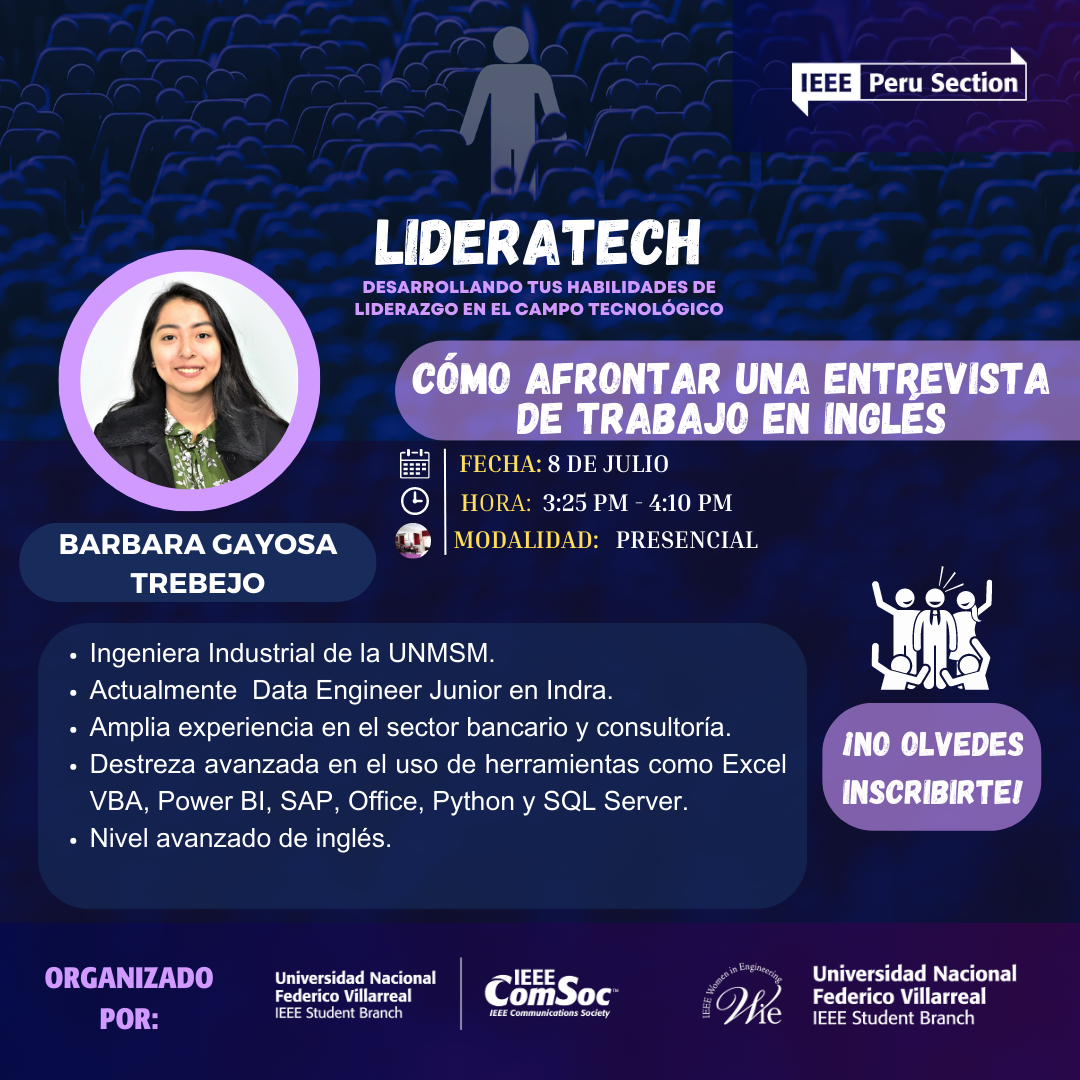 ᒪᎥᗪᗴᖇᗩ丅ᗴᑕᕼ: 𝐃𝐞𝐬𝐚𝐫𝐫𝐨𝐥𝐥𝐚𝐧𝐝𝐨 𝐭𝐮𝐬 𝐇𝐚𝐛𝐢𝐥 𝐢𝐝𝐚𝐝𝐞𝐬 𝐝𝐞 𝐋𝐢𝐝𝐞𝐫𝐚𝐳𝐠𝐨 𝐞𝐧 𝐨𝐥ó𝐠𝐢𝐜𝐨👩‍💻
📣 IEEE ComSoc UNFV y IEEE Women In Engineering UNFV - WIE UNFV tienen el agrado de invitarlos a nuestro próximo evento en conjunto llamado LIDERATECH 🫡, donde se utilizarán diversas charlas relacionadas con el crecimiento y desarrollo de tus habilidades de liderazgo tecnológico y habilidades blandas en el campo .
✅
Fecha: 8 de julio de 2023
🕡 Horario: 14:00 a 17:30
🏢 Lugar: Auditorio de la FISS UNFV (https://goo.gl/maps/oUhEbDoQ6SkMLNGR6)
ɪɴꜱᴄʀɪᴘᴄɪᴏɴᴇꜱ ᴀʙɪᴇʀᴛᴀꜱ!!
📌 Formulario: https://bit.ly/44tXxT3
Publicación en Facebook: https://bit.ly/3NWoWYw
---
Date and Time
Location
Hosts
Registration
---
Date: 08 Jul 2023
Time: 03:25 PM to 04:10 PM
All times are (UTC-05:00) Lima
Add Event to Calendar
AUDITORIO FIIS UNFV
LIMA, Lima
Peru
---
Starts 02 July 2023 10:00 PM
Ends 07 July 2023 12:00 AM
All times are (UTC-05:00) Lima
No Admission Charge
---
Speakers
GAYOSA TREBEJO
Topic:
CÓMO AFRONTAR UNA ENTREVISTA DE TRABAJO EN INGLÉS
Durante la sesión, se proporcionarán estrategias efectivas para abordar las preguntas comunes en una entrevista de trabajo, mejorar la fluidez en el inglés y transmitir una impresión positiva a los reclutadores. Los participantes aprenderán técnicas de comunicación, recibirán consejos sobre cómo resaltar sus fortalezas y experiencias relevantes, y practicarán ejercicios de simulación de entrevistas para ganar confianza y mejorar su desempeño.
Biography:
Ingeniera Industrial de la UNMSM.

Actualmente

Data Engineer Junior en Indra.

Amplia experiencia en el sector bancario y consultoría.

Destreza avanzada en el uso de herramientas como Excel VBA, Power BI, SAP, Office, Python y SQL Server.

Nivel avanzado de inglés.
---
Media
---