Why Ph.D.? – Breaking the myths and misconceptions about Ph.D. and a guide to become a successful researcher
---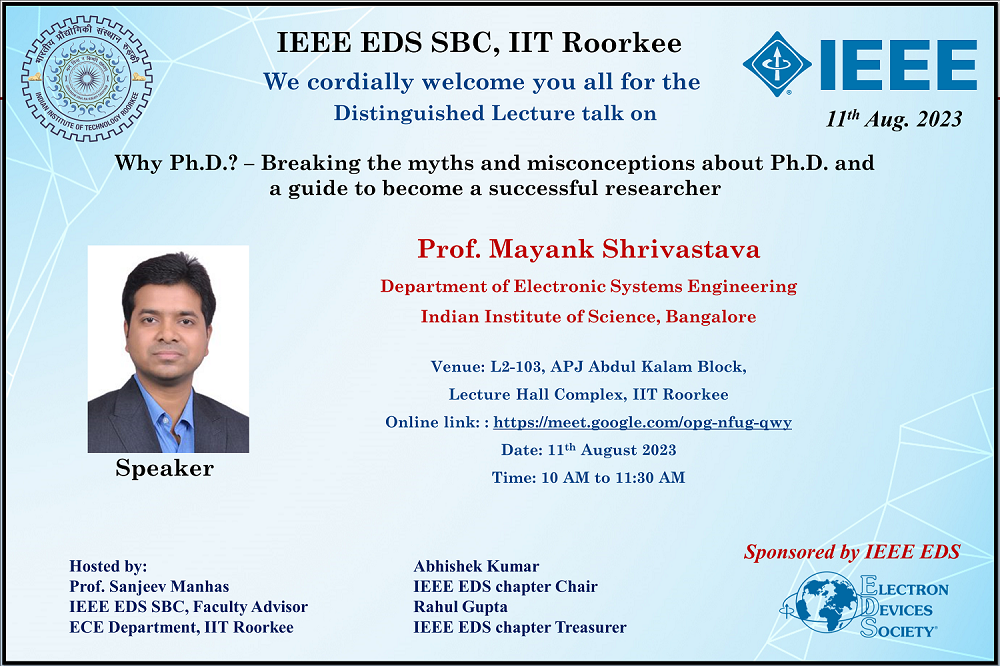 Studies have indicated several misconceptions about Ph.D., its journey, and opportunities post-Ph.D. This leads to students, despite having the ability, often not pursuing Ph.D. or many leaving India in search of Ph.D. opportunities elsewhere. Likewise, for young Ph.D. researchers also, it is important to clear misconceptions. We have embarked to address this by directly engaging with students. Keeping this in mind, in this talk, I will walk the students through (1) What is Ph.D., (2) What the general myths related to Ph.D. are, (3) Global opportunities, in general, post-Ph.D. in India, (4) Why one should do Ph.D., and in the end (5) Who should peruse Ph.D. More details of the content can be found here (first 20 mins): https://www.youtube.com/watch?v=gYJDlXW1TxA and here: https://lnkd.in/gcg3nBHY
---
Date and Time
Location
Hosts
Registration
---
Date: 11 Aug 2023
Time: 10:00 AM to 11:00 AM
All times are (UTC+05:30) Chennai
Add Event to Calendar
Online link: https://meet.google.com/opg-nfug-qwy
Roorkee, Uttaranchal
India 247667

Building:

APJ abdul kalam block, LHC

Room Number:

L2-103
---
---
Speakers
Topic:
Why Ph.D.? – Breaking the myths and misconceptions about Ph.D. and a guide to become a successful researcher.
Studies have indicated several misconceptions about Ph.D., its journey, and opportunities post-Ph.D. This leads to students, despite having the ability, often not pursuing Ph.D. or many leaving India in search of Ph.D. opportunities elsewhere. Likewise, for young Ph.D. researchers also, it is important to clear misconceptions. We have embarked to address this by directly engaging with students. Keeping this in mind, in this talk, I will walk the students through (1) What is Ph.D., (2) What the general myths related to Ph.D. are, (3) Global opportunities, in general, post-Ph.D. in India, (4) Why one should do Ph.D., and in the end (5) Who should peruse Ph.D. More details of the content can be found here (first 20 mins): https://www.youtube.com/watch?v=gYJDlXW1TxA and here: https://lnkd.in/gcg3nBHY
Biography:
Prof. Mayank Shrivastava is a faculty member at the Indian Institute of Science, Bangalore, and co-founder of AGNIT Semiconductors Pvt. Ltd. He is also instrumental in setting up a 300 Crore worth GaN prototyping Fab and leading a national effort on 2D material's technology hub. He received his Ph.D. degree from the Indian Institute of Technology Bombay (2010). For his Ph.D. work, he received Excellence in Research award and the Industrial Impact award from IIT Bombay in 2010. He is among the first recipients of the Indian section of the American TR35 award (2010) and the first Indian to receive IEEE EDS Early Career Award (2015). He is also an Editor of IEEE Transactions on Electron Devices. Besides, he is an IEEE Electron Device's Society (EDS) Distinguished Lecturer and an elected member of the IEEE EDS Board of Governors. He is the recipient of the prestigious DST Swarnjayanti Fellowship (2021), Abdul Kalam Technology Innovation National Fellowship from INAE-SERB (2021), and the VASVIK award (2021). He has received several other national awards and honors of high repute, like the National Academy of Sciences, India, (NASI) Young Scientist Platinum Jubilee Award – 2018; Indian National Academy of Science (INSA) Young Scientist Award - 2018; Indian National Academy of Engineering (INAE) Innovator Entrepreneur Award 2018 (Special commendation); Indian National Academy of Engineering (INAE) Young Engineer Award - 2017; INAE Young Associate (since 2017); Indian Academy of Sciences (IASc), Young Associate, 2018 – 2023; Ministry of Electronics & Information Technology (MeitY), Young Faculty Fellowship. Besides, he received best paper awards from several international conferences like Intel Corporation Asia academic forum, VLSI design Conference and EOSESD Symposium. Prof Shrivastava broadly works on applications of emerging materials like Gallium Nitride (GaN), atomically thin two-dimensional materials like Graphene and TMDCs, in electronic and electro-optic devices working closer to its fundamental limits (like the ability to handle extreme powers, ability to work at THz like ultra-high frequencies, or ability to compute information in unconventional ways). Currently, his group is developing few-atom thick devices & circuits, GaN-based ultra-high-power devices with high reliability, and devices/circuits for operation at THz frequencies. Besides, his group also works on developing novel ESD and High Voltage device concepts in advanced CMOS nodes. He held visiting positions in Infineon Technologies, Munich, Germany, from April 2008 to October 2008 and again from May 2010 to July 2010. He worked for Infineon Technologies, East Fishkill, NY, USA; IBM Microelectronics, Burlington, VT, USA; Intel Mobile Communications, Hopewell Junction, NY, USA; Intel Corp, Mobile and Communications Group, Munich, Germany between 2010 and 2013. He joined the Indian Institute of Science as a faculty member in the year 2013. Prof Shrivastava's work has resulted in over 190 peer-reviewed publications (47 of these papers are in IRPS and IEDM, the two most prestigious conferences of IEEE EDS, and around 100 are in journals such as IEEE T-ED) and 47 patents. Most of these patents are either licensed by semiconductor companies or are in use in their products.
Email:
Address:India
---