IEEE HTB Taenzer Grant Topics in Inclusion & Accessibility: Dr Raziq Yaqub
---
IEEE HTB Taenzer Grant Topics in Inclusion & Accessibility: Dr Raziq Yaqub
---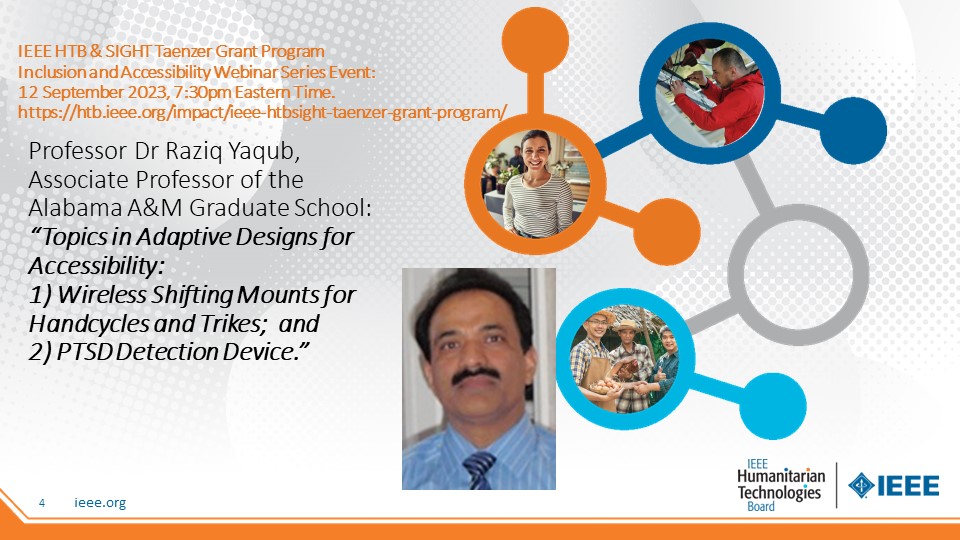 Professor Dr Raziq Yaqub, Associate Professor of the Alabama A&M Graduate School: "Topics in Adaptive Designs for Accessibility: Wireless Shifting Mounts for Handcycles and Trikes and PTSD Detection Device."
Wireless Shifting Mounts for Handcycles and Trikes
Background: Adaptive cycling provides freedom to individuals facing a wide range of physical disabilities; not only does it provide a means to recreate and stay active, but it is also a source of transportation for those that have lost the ability to drive. While there are many different styles of adaptive bicycles, such as upright handcycles, recumbent handcycles, recumbent trikes, tandem trikes, and more, many adaptations are added to create a better user experience and further reduce barriers.
PTSD Detection Device
Background: America's VetDogs provides enhanced mobility and renewed independence to veterans, active-duty service members, and first responders with disabilities, allowing them to once again live with pride and self-reliance.
While the service dogs are trained to support their owners when they exhibit PTSD symptoms visibly or audibly, the ideal situation is to stop the episode before it happens. America's VetDogs in partnership with BAE Systems is seeking to develop a device that monitors a spike in an individual's heart rate and blood pressure before a PTSD episode begins. The device should alert the service dog so it can in-turn provide the veteran with comfort.
---
Date and Time
Location
Hosts
Registration
---
Date: 12 Sep 2023
Time: 07:30 PM to 09:00 PM
All times are (UTC-05:00) Eastern Time (US & Canada)
Add Event to Calendar
Katherine Grace August is inviting you to a scheduled Zoom meeting.
Topic: IEEE Humanitarian Technologies Board Taenzer Grant Webinar Series
Time: Sep 12, 2023 07:30 PM Eastern Time (US and Canada)
Join Zoom Meeting
https://us02web.zoom.us/j/83163068179?pwd=QzJaSHdlMUhXSWFYTzZxSGhMM3Y4QT09
Meeting ID: 831 6306 8179
Passcode: 569960
---
One tap mobile
+19292056099,,83163068179#,,,,*569960# US (New York)
+13017158592,,83163068179#,,,,*569960# US (Washington DC)
---
Dial by your location
• +1 929 205 6099 US (New York)
• +1 301 715 8592 US (Washington DC)
• +1 305 224 1968 US
• +1 309 205 3325 US
• +1 312 626 6799 US (Chicago)
• +1 646 931 3860 US
• +1 669 444 9171 US
• +1 669 900 6833 US (San Jose)
• +1 689 278 1000 US
• +1 719 359 4580 US
• +1 253 205 0468 US
• +1 253 215 8782 US (Tacoma)
• +1 346 248 7799 US (Houston)
• +1 360 209 5623 US
• +1 386 347 5053 US
• +1 507 473 4847 US
• +1 564 217 2000 US
Meeting ID: 831 6306 8179
Passcode: 569960
Find your local number: https://us02web.zoom.us/u/kbEfZmVS5p
Co-sponsored by

IEEE Humanitarian Technologies Board Taenzer Grant Webinar Series Inclusion & Accessibility
Starts 19 August 2023 09:05 PM
Ends 12 September 2023 07:29 PM
All times are (UTC-05:00) Eastern Time (US & Canada)
No Admission Charge
---
Speakers

Professor Dr Raziq Yaqub
Topic:
IEEE HTB Taenzer Grant Topics in Inclusion & Accessibility: Dr Raziq Yaqub
Biography:
Dr. Raziq Yaqub is a dedicated Humanitarian as is evident from his pursuits, his remarkable career, and achievements. He has a distinguished background, spanning academia, US corporations, government agencies, and prestigious patent law firms. He holds a Ph.D. in Wireless Communication Systems from Tokyo, Japan, and an MBA in Marketing from New Jersey, USA. With 25 years of experience, he has made significant contributions in Cybersecurity, Wireless Communications, and Smart Grid.
Dr. Yaqub is recognized as an innovative thinker, with 80 issued and commercialized patents. Since 2014, he has been inducted into the New Jersey Inventors Hall of Fame for his outstanding contributions as an inventor. He has received numerous awards, including the "Excellence in Scholarship & Research 2019" from the President of AAMU, the "Innovator Faculty" award, the "Outstanding Engineering Educator" award, and the "Outstanding Engineer 2020" award from IEEE region-3
Currently, Dr. Yaqub serves as an Associate Professor, leading research in Cybersecurity, Wireless Communication, and Smart Grid. He is also a Research Professor at NASA Glenn Research Center, demonstrating his deep involvement in cutting-edge research. Throughout his career, he has held significant roles at Toshiba America Research, NIKSUN, and Tecvox, where he led impactful initiatives in 4G/LTE research, Cybersecurity training, and wireless charger development for the automotive industry. He also remained a consultant inventor for Wells Fargo, Quinn Emanuel, Haynes and Boone, Banner Witcoff, Fish & Richardson, and Perkins Coie.
Dr. Yaqub has played a crucial role in advancing standards and contributing to the scientific community. He has served as Chairman and contributor in esteemed standards organizations such as MWIF, 3GPP, IEEE, WiMAX, and OMA. Additionally, he has actively participated in academic accreditation as a lead member for the Accreditation Board of Engineering Technologies, Senator of Faculty Senate, and Chair of the Academic Standards Committee. Furthermore, he has utilized his expertise as an evaluator for technical papers, Ph.D. theses, patents, and grant proposals, showcasing his valuable contributions to the field.
In addition to his professional achievements, Dr. Yaqub possesses cultural competence and strong social skills cultivated through his experiences living in diverse countries and engaging with different communities. His fluency in English, Japanese, Hindi, and Urdu has not only broadened his understanding but has also enhanced his ability to effectively communicate and connect with individuals from various cultural backgrounds in global settings.
---
Agenda
7:30pm Host Introductions
Presentation by Professor Raziq Yaqub
Panel and Participant Discussion
---
IEEE HTB Taenzer Grant Topics in Inclusion & Accessibility: Dr Raziq Yaqub
---