BUILDING THE FOUNDATIONS FOR INTERNET OF THING- Part 1(Tech Info)
---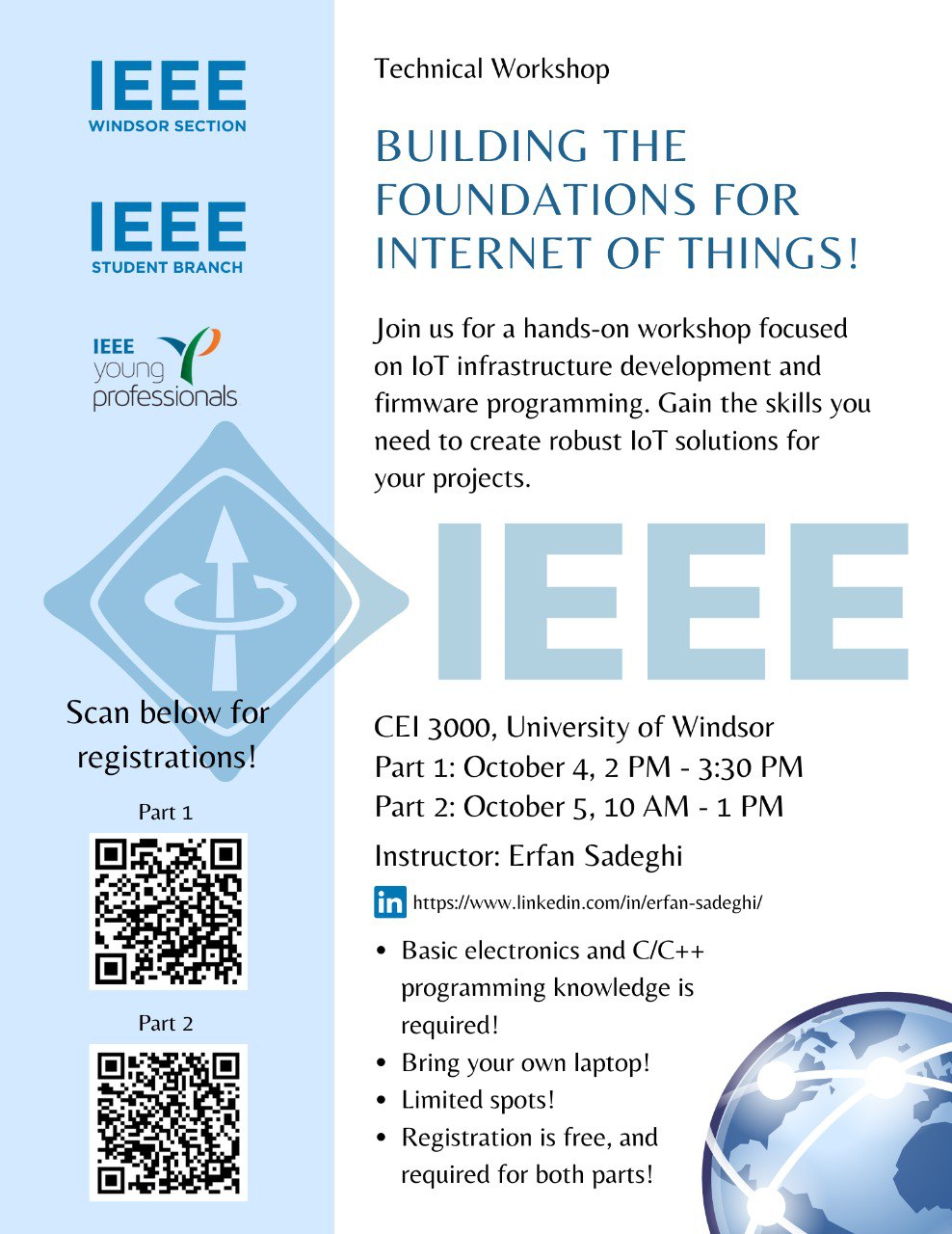 Join us for a hands-on workshop focus on loT infrastructure development and firmware programming. Gain the skills need to create robust loT solutions for your projects.
Workshop Overview:
- An introduction to IoT, protocols, and technologies.
- Learn the essentials of firmware development for IoT system integration, including programming languages, tools, and methodologies.
- Explore the techniques for controlling IoT modules.
- Understand the role of microcontrollers as the core components of IoT devices.
- Examine real-world applications of IoT and how firmware powers them.
- Gain hands-on experience in writing and deploying firmware for microcontrollers.
- Build a solid foundation for developing your own IoT projects.
This event includes two parts. It is necessary to attend part 2 to have a hands-on experience!
Registration link for Part2 :
Event Registration Form : vTools Events (ieee.org)
Space is limited! Only 12 spot is available!


---
Date and Time
Location
Hosts
Registration
---
Date: 04 Oct 2023
Time: 02:00 PM to 03:30 PM
All times are (UTC-05:00) Eastern Time (US & Canada)
Add Event to Calendar
Starts 19 September 2023 11:50 AM
Ends 02 October 2023 11:50 AM
All times are (UTC-05:00) Eastern Time (US & Canada)
0 in-person spaces left!
No Admission Charge
---
Speakers
Biography:
Erfan is a Ph.D. candidate in Electrical Engineering at the University of Windsor, specializing in power electronics and applied control, with a focus on battery characterization and management systems. With expertise in hardware design, embedded systems, firmware development, and IoT, he brings a wealth of knowledge to the IoT Workshop, where he shares his passion for cutting-edge technology and innovation with participants, empowering them to explore the limitless possibilities of IoT.
Address:Canada
---