The 7th Montreal Photonics Networking Event
---
---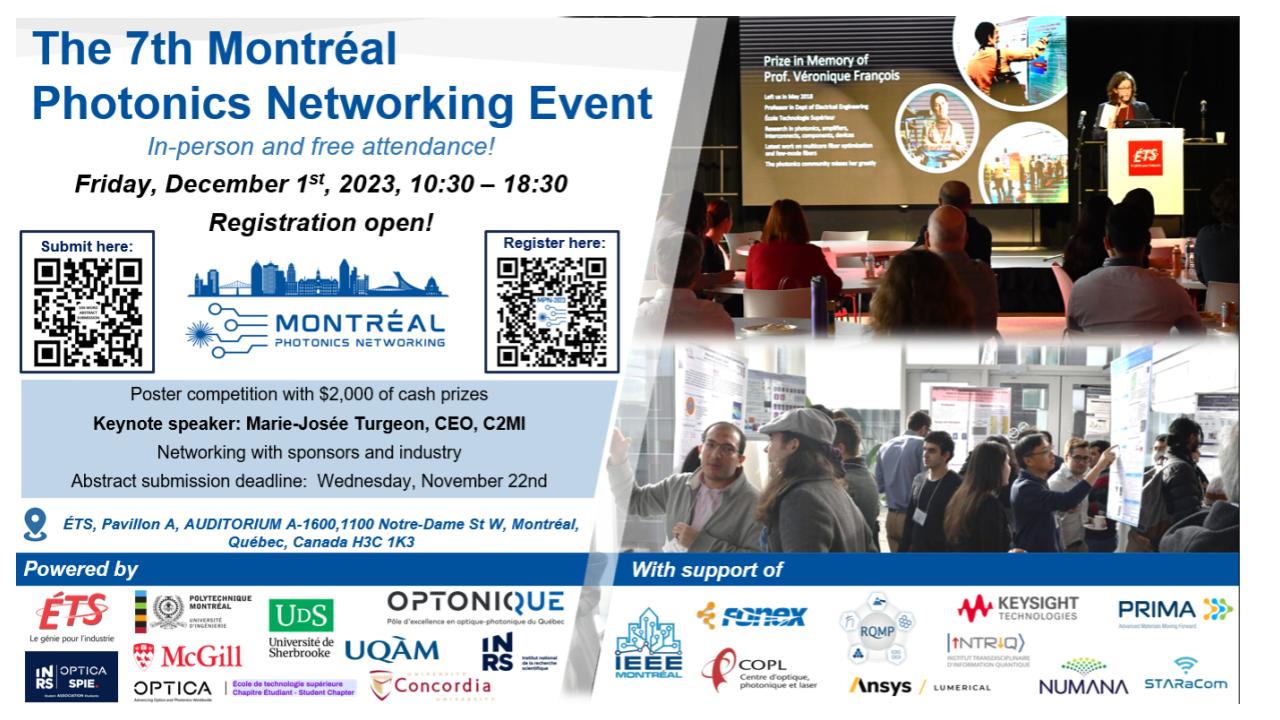 You are invited to attend the 7th Montreal Photonics Networking Event on Friday 1st December 2023.
The Montreal Photonics Networking event was formed in 2015 as an annual event to address the lack of a coordinated city-wide network for research student exchange. The event's mission is to bring together graduate students to (1) establish a way for students to discuss life as a photonics researcher, (2) enhance research synergies, and (3) connect with the industry for further career development.
-----------------
Le Montreal Photonics Networking Event a été créé en 2015 en tant qu'événement annuel pour répondre à l'absence d'un réseau coordonné pour les étudiant.e.s en recherche. La mission de l'événement est de rassembler les étudiant.e.s aux études graduées pour (1) permettre aux étudiant.e.s d'échange sur la vie de chercheur.e en photonique, (2) améliorer les synergies de recherche, et (3) rencontrer des représentant.e.s de l'industrie pour développer de nouvelles perspectives de carrière
---
Date and Time
Location
Hosts
Registration
---
Date: 01 Dec 2023
Time: 10:30 AM to 06:00 PM
All times are (GMT-05:00) Canada/Eastern
Add Event to Calendar
1100 Notre-Dame St W
Montréal, Quebec
Canada H3C 1K3

Building:

Pavillion A

Room Number:

AUDITORIUM A-1600
---
Thank you to our sponsors

Ecole de Technologie Supérieure.

Optonique.

ETS, Polytechnique and INRS Optica-SPIE student chapters.

COPL.

STARACOM.

INTRIQ.

RQMP.

PRIMA.

IEEE Montreal.

Fonex Data Systems Inc.

Keysight Technologies.

PreFab AI Photonics.

Numana.

Ansys-Lumerical.

PreFab AI Photonics.

DataFranca
Starts 20 September 2023 03:00 PM
Ends 29 November 2023 05:00 PM
All times are (GMT-05:00) Canada/Eastern
2 in-person spaces left!
No Admission Charge
Menu: Presenter (accepted poster only)
---
Speakers
Marie-Josée Turgeon
of C2MI
Topic:
Le C2MI : catalyseur de l'industrie technologique / C2MI : a catalyser of the technology industry
Biography:
Le C2MI est le plus grand centre de recherche et développement en microélectronique de l'Amérique du Nord. Depuis maintenant 11 ans le C2MI aide les entreprises d'ici à amener leur produit à un stade de commercialisation de façon accélérée grâce à son modèle unique de collaboration industrielle et académique, sa structure de PI et son parc d'équipement à l'état de l'art dans le domaine des MEMS, de l'assemblage avancé et de l'électronique imprimée. Venez voir comment ce centre bien de chez nous peut faire une différence dans notre tissu industriel, positionner le Québec dans la chaine d'approvisionnement des semiconducteurs de l'Amérique du Nord et vous pousser à relever des défis à la hauteur de vos ambitions.
Marie-Josée Turgeon, PDG du C2MI, a plus de 28 années d'expérience dans le domaine de la microélectronique au sein d'une PME, d'une grande entreprise et maintenant d'un centre de recherche. En effet, au C2MI depuis maintenant 7ans, Marie-Josée a le mandat de gérer cette infrastructure de haute technologie et propulser le Québec vers une position de choix dans la chaine d'approvisionnement des semiconducteurs de l'Amérique du Nord. Marie-Josée est ingénieure, titulaire d'un baccalauréat en génie chimique de l'Université Laval et d'un MBA de l'Université de Sherbrooke.
---
C2MI is North America's largest microelectronics research and development center. For the past 11 years, C2MI has been helping local companies bring their products to market faster, thanks to its unique model of industrial and academic collaboration, its IP structure and its state-of-the-art equipment in the fields of MEMS, advanced packaging and printed electronics. Come and see how this homegrown center can make a difference in our industrial ecosystem, position Quebec in the North American semiconductor supply chain, and challenge you to achieve your ambitions.
Marie-Josée Turgeon, CEO of the C2MI, has over 28 years' experience in the microelectronics field, working for SMEs, large corporations and now a research center. At C2MI for the past 7 years, Marie-Josée's mandate is to manage this high-tech infrastructure and propel Quebec to a position of choice in the North American semiconductor supply chain. Marie-Josée is an engineer with a bachelor's degree in chemical engineering from Université Laval and an MBA from Université de Sherbrooke.
---
Agenda
10:00-10:30: booth & poster set-up
10:30-11:00: registration general attendees
11:00-12:00: Poster session #1 dedicated to Dr. Andrea Rovere
12:00 PM – 12:40 PM: Networking, lunch
12:40 PM - 1:00 PM : Welcome by Chair (Auditorium A-1600)
1:00 PM – 2:00 PM: Industry plenary speaker (Auditorium A-1600)
2:00 PM – 3:00 PM: Poster session #2
3:00 PM – 4:00 PM: Student Speed-networking (Auditorium A-1600)
4:00 PM – 4:30 PM: announcement of presentation competition winners and closing speech (Auditorium A-1600)
4:30 PM – 6:30 PM: Social networking
---
Call for abstracts : https://forms.gle/XqJmXabWCJwYft7X9
---