Communications and Networking in LEO Mega-Constellations
---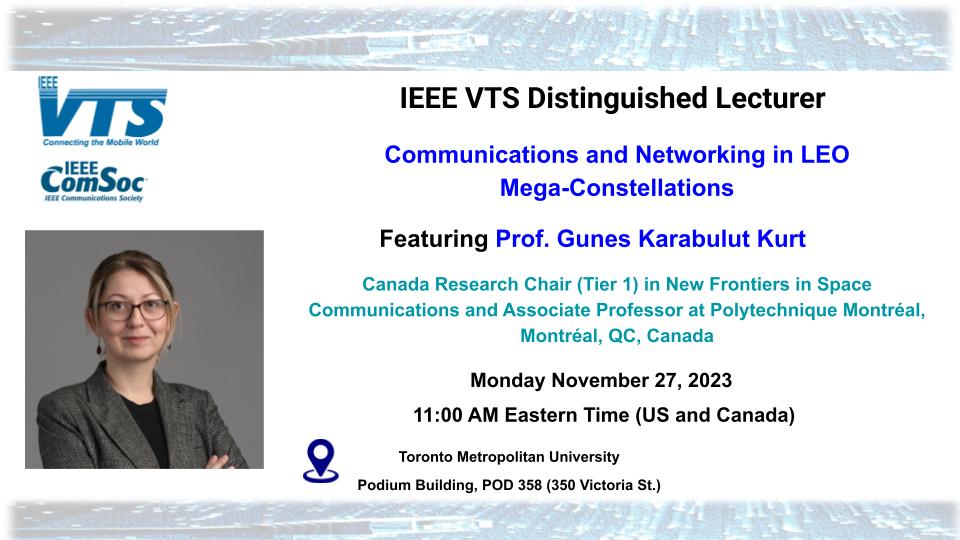 The emerging low Earth orbit (LEO) mega-constellation networks, planned to be composed of thousands of satellites, have the potential to connect all through their global footprint and bridge the long-existing digital divide. This talk will focus on the communications and networking aspects of these mega-constellations and their integration with the terrestrial networks. The associated communication and networking problems will be investigated along with potential remedies such as the use of distributed massive MIMO and high altitude platform station (HAPS) systems. The talk will conclude with an overview of the open issues and future research directions.
---
Date and Time
Location
Hosts
Registration
---
Date: 27 Nov 2023
Time: 11:00 AM to 12:00 PM
All times are (UTC-05:00) Eastern Time (US & Canada)
Add Event to Calendar
Toronto Metropolitan University, 350 Victoria Street
Toronto, Ontario
Canada

Building:

Podium (POD)

Room Number:

358
---
Starts 24 October 2023 11:00 PM
Ends 27 November 2023 10:00 AM
All times are (UTC-05:00) Eastern Time (US & Canada)
No Admission Charge
---
Speakers

Dr. Gunes Kurt
Biography:
Gunes Karabulut Kurt is a Canada Research Chair (Tier 1) in New Frontiers in Space Communications and Associate Professor at Polytechnique Montréal, Montréal, QC, Canada. She is also an adjunct research professor at Carleton University. Gunes received the B.S. degree with high honors in electronics and electrical engineering from Bogazici University, Istanbul, Turkey, in 2000 and the M.A.Sc. and the Ph.D. degrees in electrical engineering from the University of Ottawa, ON, Canada, in 2002 and 2006, respectively. She worked in different technology companies in Canada and Turkiye, between 2005 and 2010. From 2010 to 2021, she was a professor at Istanbul Technical University. Gunes is a Marie Curie Fellow and has received the Turkish Academy of Sciences Outstanding Young Scientist (TÜBA-GEBIP) Award in 2019. She is serving as the secretary of IEEE Satellite and Space Communications Technical Committee, the chair of the IEEE special interest group entitled "Satellite Mega-constellations: Communications and Networking" and also as an editor in different IEEE journals. She is a member of the IEEE WCNC Steering Board and a Distinguished Lecturer of Vehicular Technology Society Class of 2022. Her research interests include multi-functional space networks, space security, and wireless testbeds.
---