Predictive Engineering
---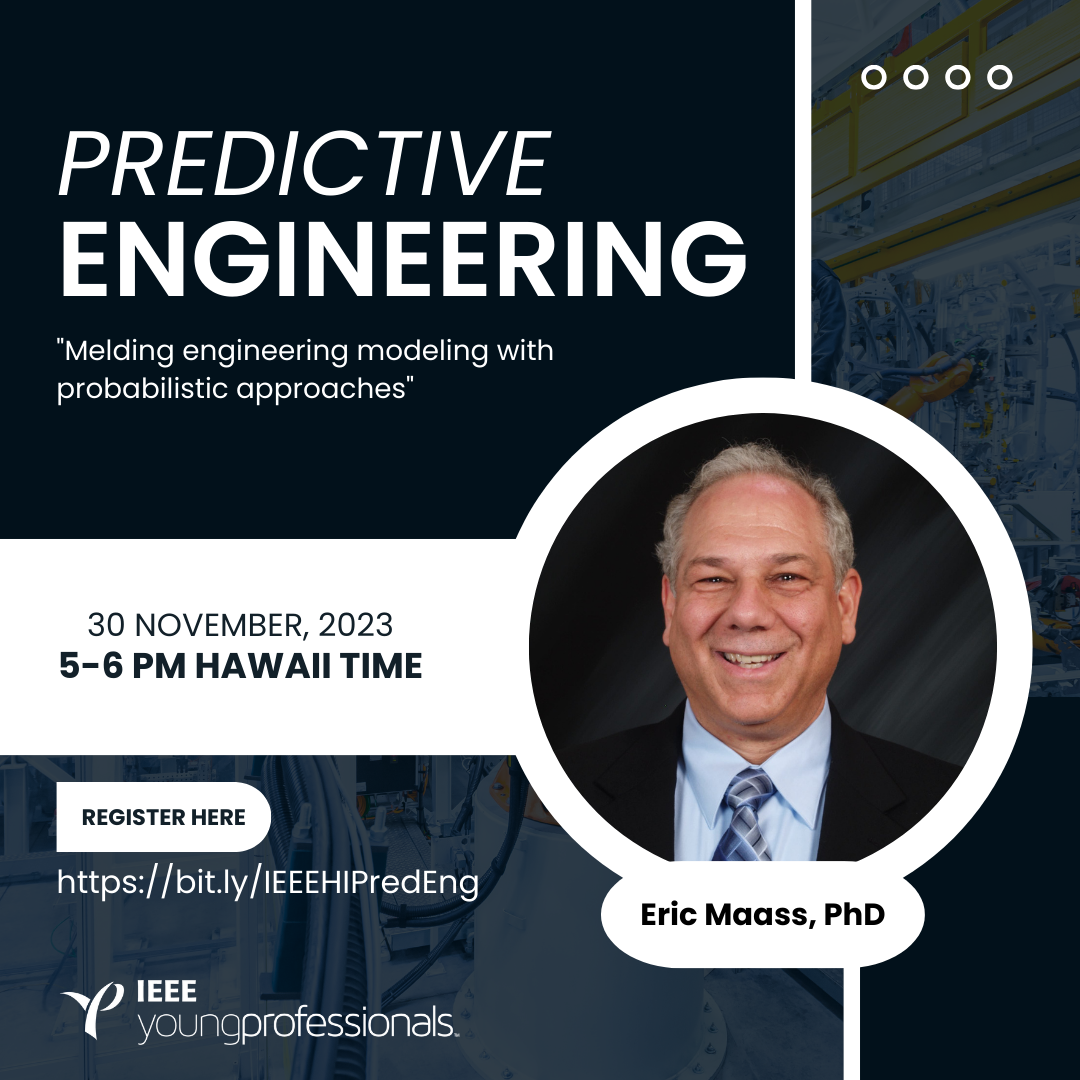 Engineers traditionally use deterministic modeling in their tasks, but challenges for developing and optimizing products and processes inspire us to venture beyond deterministic to probabilistic or stochastic modeling. The melding of engineering modeling with probabilistic thinking empowers engineers to develop confidence for ourselves, our customers and regulatory agencies that our products are likely to be successful and that we will flawlessly meet or exceed expectations over a comprehensive range of use conditions. Predictive engineering starts from measurable system level requirements, exploration and documentation of use conditions, and expanding on deterministic models with probabilistic modeling using Monte Carlo Simulation or Bayesian Networks to optimize the design and process. Probabilistic and stochastic modeling has provided competitive advantages for enterprises, for products, and for both experienced engineers and engineers early in their careers.
Event is organized by IEEE Hawaii YP, IAS, and WIE and co-hosted with several other organizations. Depending on the level of interest in this event, a follow on series with Six Sigma certification is possible.
---
Date and Time
Location
Hosts
Registration
---
Date: 30 Nov 2023
Time: 05:00 PM to 06:00 PM
All times are (UTC-10:00) Hawaii
Add Event to Calendar
If you are not a robot, please complete the ReCAPTCHA to display virtual attendance info.

Organized by IEEE Hawaii YP, IAS, and WIE.

Co-hosted by: multiple organizations as listed above.

Including: IEEE Region 6 YP
Starts 02 November 2023 12:00 PM
Ends 30 November 2023 04:00 PM
All times are (UTC-10:00) Hawaii
No Admission Charge
---
Speakers

Eric Maass, PhD
Biography:
Eric retired as Senior Director and Technical Fellow at Medtronic, leading and Coaching successful new product and technology development projects. Eric joined Medtronic in October 2009, after 30 years with Motorola in roles ranging from Research and Development through Manufacturing, to Director of Operations for a $160 Million business and Director of Design and Systems Engineering for the Wireless group of Motorola SPS.
Eric was a co-founder of Six Sigma, and had been the Lead Master Black Belt for DFSS at Motorola. His book, Applying DFSS to Software and Hardware Systems, provides clear step-by-step guidance on applying DFSS for developing innovative and compelling new products and technologies, while managing the business, schedule and technical risks. His newest book, "Flawless Launches – Profitable Products" shares methods that have led to very successful product launches.
Eric received his Bachelor's degree in Biological Sciences from the University of Maryland Baltimore County, his Master's degree in Biomedical and Chemical Engineering from Arizona State University and his PhD in Industrial Engineering from Arizona State University. Dr Maass also currently serves as an Adjunct Professor at Arizona State University, and served as chairman of the Industrial Advisory Board for the NSF-Sponsored B.R.A.I.N Industry/University collaborative research consortium. In his active retirement, he has been invited to provide training and consulting for 17 corporations.
---