Significant Changes to the 2016 Title 24 Energy Efficiency Standards, for Lighting/for Electrical Power Distribution
---
IEEE PES/IAS Chapter of Orange County Meeting Notification
---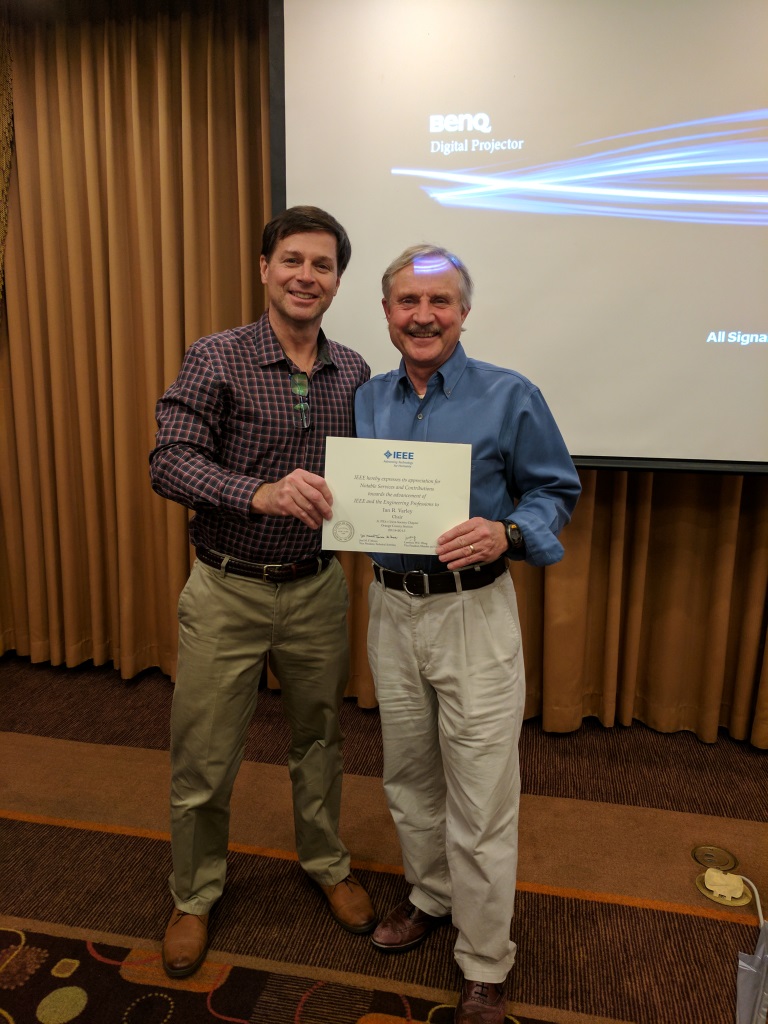 Monthly Meeting of the Orange County Chapter of The Power & Energy Society (PES) and the Industry Application Society (IAS)
The presentation is free and dinner can be purchased upon arrival, with choices: Chicken, fish, or vegetarian.
If purchasing meal: $30 for All attendees
Note: sub-charge of 2.75% for all major credit cards
Please specify dinner entree: Chicken, Fish, or Vegetarian
Agenda: 6:00 PM Dinner; 7:30 PM Presentation; 8:45 PM Wrap-Up
Reservations are highly appreciated (though not mandatory), by entering registration info below, or by contacting Hamid Sukar at ASukar@carollo.com
Chair: Roger Wilson; Independent Electrical Engineer, 949-285-5559, roger.wilson@ieee.org
Vice Chair: Ian Varley; Tri Alpha Energy, Inc., 562-706-7193 ivarley@trialphaenergy.com
Treasurer: Abdulhamid (Hamid) Sukar; Carollo Engineers, 714-593-5100 ASukar@carollo.com
Secretary: Brian Chee; AECOM 714-567-2617 brian.chee@aecom.com
Publicity: Robert Ryan; Rockwell Automation, 714-938-9037 rryan@ra.rockwell.com
---
Date and Time
Location
Hosts
Registration
---
Date: 16 Feb 2017
Time: 06:00 PM to 08:30 PM
All times are US/Pacific
Add Event to Calendar
7 Hutton Centre Dr
Santa Ana, California
United States 92707
---
ivarley@trialphaenergy.com

ASukar@carollo.com
Starts 01 February 2017 12:01 AM
Ends 16 February 2017 07:30 PM
All times are US/Pacific
No Admission Charge
---
Speakers

Joe Portera
Topic:
Significant Changes to the 2016 Title 24 Energy Efficiency Standards, for Lighting
Topic:
We will use a simple review of the significant changes in the 2013 Title 24 as a starting point to discuss the significant changes to the mandatory design requirements in the 2016 Title 24. We will cover the changes in Sections 130.1 (a) through (e), as well as changes to the requirements for retrofits, remodels, lighting power density, and power adjustment factors. We will also discuss how some manufacturers are responding to these codes with new products and options that comply with the new requirements.
Biography:
Mr. Portera has worked in lighting controls for 14 years for both, a manufacturer, and for manufacturers' reps in various states. Mr. Portera has been a lighting control specialist in California for eight years and has worked with members of the CEC and CLTC to gain an understanding of the Title 24 Code as it applies to lighting and lighting controls. Joe works on a daily basis to design title 24 compliant systems for all sizes of projects across a variety of industries including offices, retail, medical, educational, restaurant, laboratories, hospitality and more.

Prabu Shankar
Topic:
Significant Changes to the 2016 Title 24 Energy Efficiency Standards, for Electrical Power Distribution
We will review the changes to the 2016 edition of California Title 24 Electrical Power Distribution Systems, sections 130.5(a) and 130.5(b). We will also cover new mandatory requirements for Electrical Power Distribution System, section 110.11(a) Low-Voltage Dry-Type Distribution Transformers. Mr. Shankar will also discuss the various products available to meet the requirements we reviewed.
Biography:
Mr. Shankar has over 17 years of project management and electrical design experience. His experience includes the design of medium and low voltage power distribution, lighting and emergency systems for educational, entertainment and commercial facilities. Mr. Shankar received his B.Sc. in Electrical Engineering from Lakehead University, Canada. Mr. Shankar has been an officer for the IEEE/IAS Los Angeles Chapter multiple times and he served as the chapter's 2014 Chair. Currently, Mr. Shankar is working as an Application Engineer for General Electric (GE), supporting SoCal electrical engineering communities with assistance in design, specification and application of electrical distribution and control equipment.
---