IEEE ComSoc/SP and EMBS/CS Joint Chapters - Austin, Presentation on " A Wearable Microwave-Based Breast Cancer Detection System "
---
IEEE ComSoc/SP Austin Jointed with EMBS/Computer Austin Chapters
---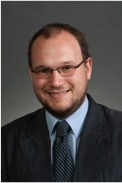 EMBS/CS in colaboration with ComSoc/SP is pleased to invite you to the upcoming monthly talk for April:
Topic:
" A Wearable Microwave-Based Breast Cancer Detection System "
By
Dr. Joshua D. Schwartz, Associate professor in the Engineering Science department at Trinity University in San Antonio, Texas
Abstract:
The gold standard for breast cancer screening is the mammogram, and yet this technology has key drawbacks. It is unpleasant and uncomfortable for the patient. It exposes patients to ionizing radiation and thus can only be used infrequently. It is a high-cost piece of clinical hardware that is neither portable nor easily deployed in remote or ill-equipped locations. There have been a number of efforts this past decade to seek alternative imaging and detection modalities. Our research group, like several others, has investigated the use of low power microwaves to interrogate the breast tissues. Unlike other groups, however, our team has focused on translating this concept away from benchtop hardware to a potentially portable, low-cost device that can be integrated into a bra. Our vision is of a "bra-and-laptop" system with costs controlled to the low 4-digit range and the potential to monitor the breast health of patients frequently, cheaply, comfortably, and anywhere. In this talk, I will discuss our team's progress towards this goal with an emphasis on my own efforts to improve the hardware aspects of such a system.
Bio:
Joshua D. Schwartz was born in Montreal, Canada in 1980. He received his bachelor's degree in 2003 and his Ph.D. in 2008, both from McGill University (Montreal) in electrical engineering. His dissertation work was carried out in the Photonics Systems Group at McGill under the supervision of Dr. David Plant. He carried out post-doctoral work from 2008-2010 with the Institut National de la Recherche Scientifique (INRS) in Montreal, Canada under the supervision of Dr. José Azaña.
He is currently (2010-) an associate professor in the Engineering Science department at Trinity University in San Antonio, Texas. He continues to actively collaborate in the microwave area and has interests in passive and active hardware design, analog circuits and signal processing, and the use of microwaves for medical imaging applications.
Dr. Schwartz was distinguished as the top graduating student in his program at McGill for both his bachelor's and doctoral degrees, in the latter case receiving the Governor General's Gold Medal, considered the highest academic honor in Canada bestowed upon a graduating scholar by an academic institution. He has authored or coauthored over 35 publications in scientific journals and peer-reviewed conference proceedings. Dr. Schwartz received the 2009 IEEE Microwave Prize for a paper on fully-electronic temporal imaging (a.k.a. "time-stretch") systems that did not use optical techniques. He also received in 2008 the Award of Excellence of the Academy of Great Montrealers for his dissertation work in this area. Recently (2016), Trinity University honored him with the Junior Faculty Award for Teaching and Scholarship.
Seat are limited. Please RSVP
Free F&B
..................................
For more information
Contact
email f.behmann@ieee.org
Chair EMBS/CS and ComSoc/SP Austin Chapters
---
Date and Time
Location
Hosts
Registration
---
Date: 19 Apr 2017
Time: 06:00 PM to 08:00 PM
All times are (GMT-06:00) US/Central
Add Event to Calendar
9505 Arboretum
Austin, Texas
United States 78729

Building:

AT&T Labs

Room Number:

#220
---
Starts 03 March 2017 12:00 AM
Ends 19 April 2017 04:00 PM
All times are (GMT-06:00) US/Central
No Admission Charge
---
---
Agenda
Agenda
6:00 p.m. Networking and Gathering
6:20 p.m. Call to Order, Announcement
6:30 p.m. Presentation
7:30 p.m. Q&A
8:00 p.m. Meeting Survey Feedback, Networking
---