IEEE Montreal Keynote Event: Cars of the Future
---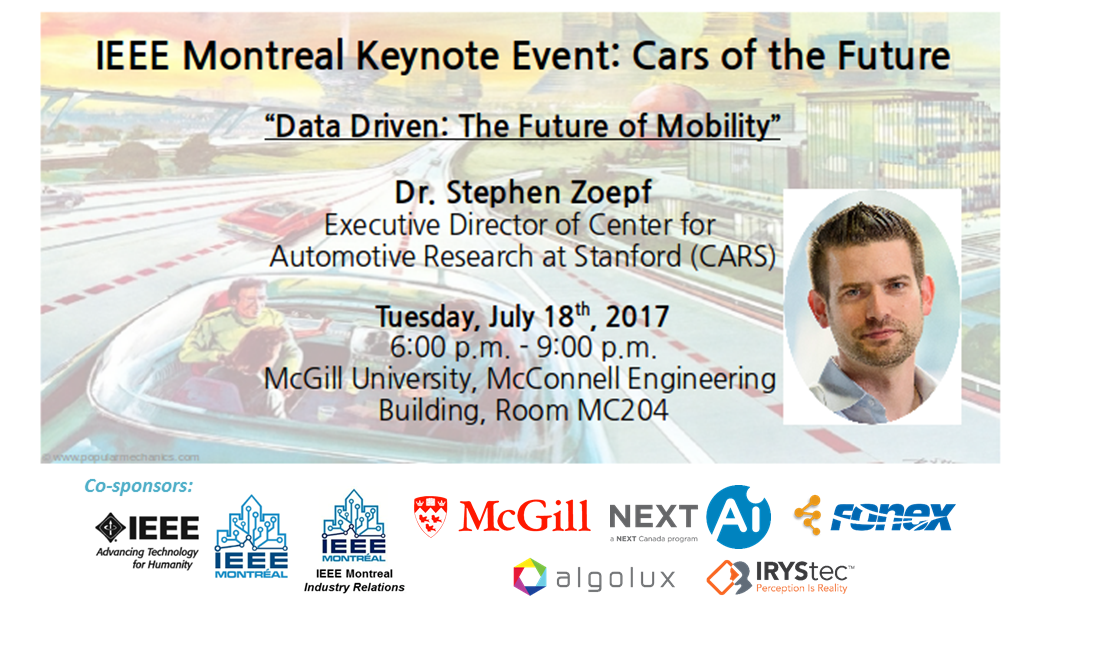 IEEE Montreal Section invites you to attend an invited keynote presentation about the future of self-driving cars. This special event is being organized by the IEEE Montreal Section to bring together IEEE Members, Academics, Industry, Public Sector, Students and Guests to network and enjoy an inspiring technical presentation and discussion. Refreshments will be served before the talk.
OIQ (Quebec Order of Engineers) members may claim this event for continuing education hours provided that it is related to the member's professional activities as defined in: OIQ Règlement sur la formation continue article 6. For OIQ hours, please include your email address and request OIQ hours on the registration page.
Abstract: The traditional automotive industry is rapidly evolving into a personal mobility industry as shared access begins to replace private sales, electric vehicles begin to replace gasoline, and automation begins to replace human driving ability. As these trends begin to shape the industry, the way that we use vehicles is also evolving, and traditional benchmarks and measures of success no longer apply. In this talk we will discuss specific ways in which the automotive fleet is changing and specific questions which automakers and suppliers should take into account in the next decade.
PLEASE REGISTER USING THE "LINK TO EXTERNAL REGISTRATION" BELOW ON THE RIGHT
---
Date and Time
Location
Hosts
Registration
---
Date: 18 Jul 2017
Time: 06:00 PM to 09:00 PM
All times are (GMT-05:00) America/Montreal
Add Event to Calendar
McGill University
3480 University Street
Montreal, Quebec
Canada H3A 2A7

Building:

McConnell Engineering Building

Room Number:

MC204
---
For additional information, please contact:

Amy Pinchuk
a.pinchuk@ieee.org
Chair of IEEE Montreal Section

Co-organized by IEEE Montreal Industry Relations Committee
---
Speakers

Stephen Zoepf
of Center for Automotive Research at Stanford (CARS)
Biography:
Dr. Stephen Zoepf is the Executive Director of the Center for Automotive Research at Stanford. He holds a Ph.D., M.Sc. and B.Sc. from MIT. He has eight years of experience in the automotive industry as an engineer and product manager at BMW and Ford, and previously led U.S. Department of Transportation efforts to integrate confidential data submissions efforts into national vehicle energy policy modeling. He was an ENI Energy Initiative Fellow, a Martin Energy Fellow, and a recipient of the Barry McNutt award from the Energy and Alternative Fuels Committees of the Transportation Research Board. His work has been covered in numerous popular press articles, initiated a Congressional probe, and has been lampooned in The Onion. You can follow him on Twitter at @StephenZoepf.
Stephen Zoepf
of Center for Automotive Research at Stanford (CARS)
Biography:
---
Agenda
6:00 p.m. - 6:45 p.m.: Registration and Networking
6:45 p.m. - 7:00 p.m.: The Quebec/Canadian Scene
7:00 p.m. - 8:00 p.m.: Keynote Presentation "Data Driven: The Future of Mobility" by Dr. Stephen Zoepf
8:00 p.m. - 9:00 p.m.: Discussion, Questions and Answers
---