Visita Técnica Guiada a LRA Radio Nacional.
---
ENTRADA GRATUITA CON INSCRIPCIÓN PREVIA - CUPOS LIMITADOS.
---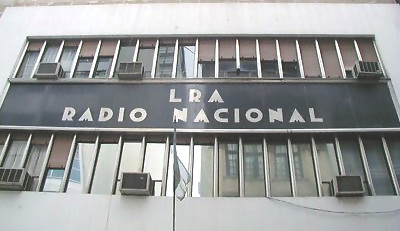 La actividad consistirá en una visita guiada por los estudios de la radio y la planta transmisora de FM que se ubica en el establecimiento, en donde se presentará y explicará el equipamiento utilizado en los mismos.
LRA Radio Nacional es una cadena de radio argentina perteneciente a la empresa estatal Radio y Televisión Argentina Sociedad del Estado. LRA Radio Nacional está compuesta por 50 emisoras que se distribuyen por todo el territorio de Argentina, siendo la cabecera LRA1 Radio Nacional Buenos Aires.
SE REQUIERE LLEVAR DNI.
---
Date and Time
Location
Contact
Registration
---
Date: 04 October 2017
Time: 03:45 PM to 05:30 PM
All times are America/Argentina/Buenos_Aires
Add to Google Calendar
Maipu 555
Buenos Aires, Distrito Federal
Argentina C1006ACE
---
Co-sponsored by

UTN.BA & LRA RADIO NACIONAL
---
---
Se solicita puntualidad, una vez iniciada la visita no se permitirá el ingreso de participantes demorados al edificio.

---