A History of the Inland Empire Electric Age: an IEEE Day Celebration and Young Professionals (YP) Affinity Group Kick Off Event
---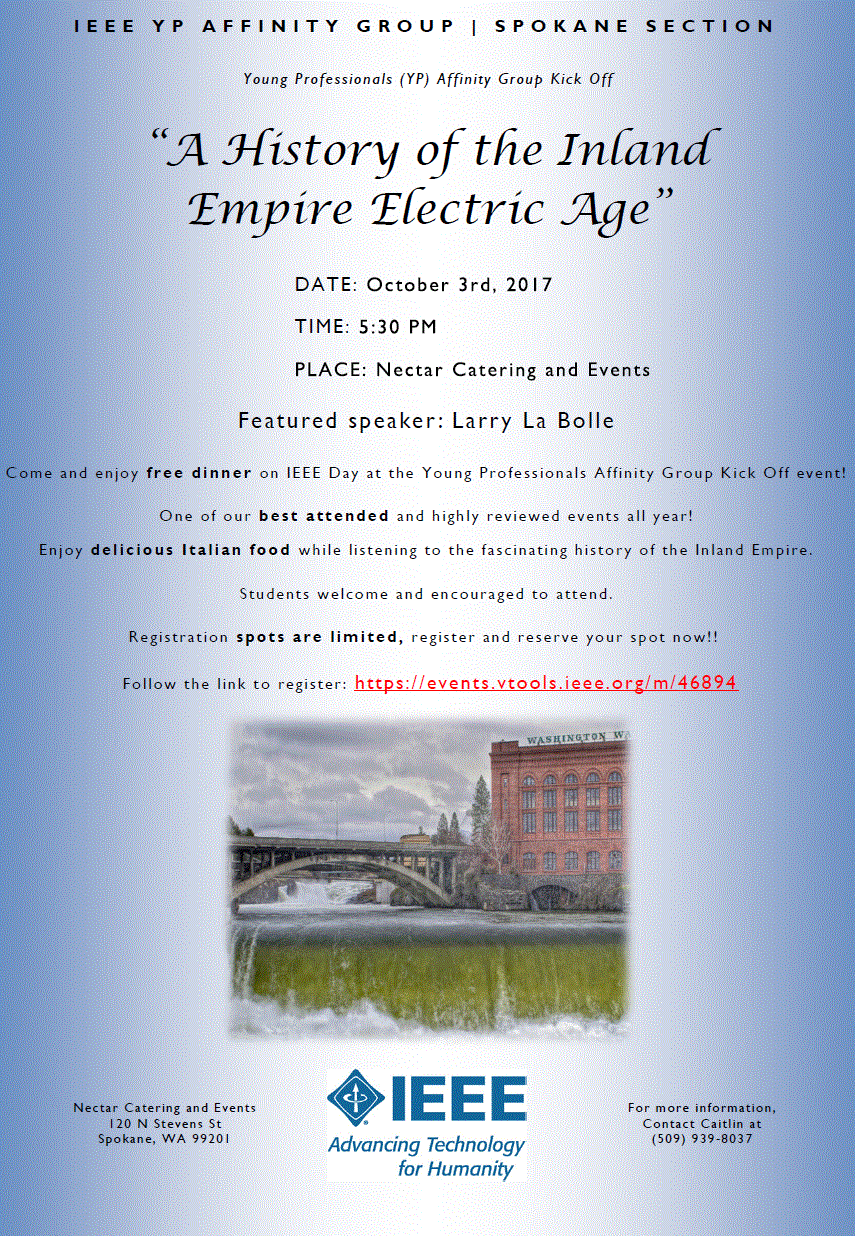 Come and enjoy free dinner on IEEE Day at the Young Professionals Affinity Group Kick Off event! Featured speaker is Larry La Bolle, who will give a presentation on the Electric Age of the Inland Empire. One of our best attended and highly reviewed events all year! Come enjoy a delicious Italian dinner while listening to the fascinating history of the Inland Empire. Students welcome and encouraged to attend. Registration spots are limited, register and reserve your spot now!!
~Agenda~
5:30pm: Doors Open
6:00pm: Dinner is Served *no-host bar available for those over 21
6:30pm: Speaker Starts
~More Information~
The meeting will feature a slide presentation by Avista's Larry La Bolle on the history of The Washington Water Power Company / Avista Corporation. More than just a discussion of the story of one utility company, the presentation mirrors the history of the development of the electric utility industry, and more specifically here in the Pacific Northwest. You will be surprised by the rapid development of new technologies early in the industry, such as electric vehicles, storage batteries and microgrids, and how the industry has turned once again to newer versions of these old approaches to electric service. The presentation also tells the story of the development of Public Power here in Washington and how the days of active competition between consumer and private utilities has given way to partnership and collaboration in modern times. Finally, the story touches on the major consolidation going on in the industry today, including the recently-announced planned sale of Avista to a major Canadian electric utility, Hydro One.
---
Date and Time
Location
Hosts
Registration
---
Date: 03 Oct 2017
Time: 05:30 PM to 08:00 PM
All times are US/Pacific
Add Event to Calendar
Starts 05 September 2017 04:00 PM
Ends 02 October 2017 12:00 PM
All times are US/Pacific
8 spaces left!
No Admission Charge
---
---