Photovoltaic Generation in Low Voltage Networks for Sustainable Energy Systems
---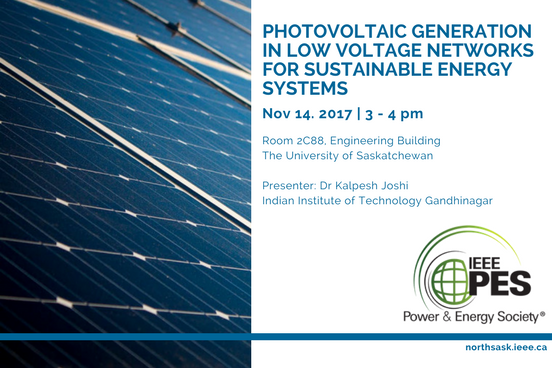 Electricity distribution networks were designed to deliver power unilaterally from central electricity generating plants to the customer load centers. With integration of photovoltaic generators close to the load centers, legacy distribution networks face multiple challenges. This seminar shall discuss problems such as over-voltages, overloads, increased losses, unbalance voltages, reactive power flow, and hyperactivity of voltage regulating devices due to increasing amount of PV generation in low-voltage networks. In the given context, role of battery energy storage systems becomes significant for alleviating these problems. A study based on a real-life example on effective utilization of battery storage system to improve the daily operations of low-voltage networks with high penetration of PV generation will be discussed. Major findings from the on-going work at University of Saskatchewan on techno-economic feasibility study to improve hosting capacity of remote feeders in Northwest Saskatchewan shall also be presented.
---
Date and Time
Location
Hosts
Registration
---
Date: 14 Nov 2017
Time: 03:00 PM to 04:00 PM
All times are Canada/Saskatchewan
Add Event to Calendar
57 Campus Drive
University of Saskatchewan
Saskatoon, Saskatchewan
Canada S7N 5A9

Building:

Engineering Building

Room Number:

2C88
Starts 05 October 2017 12:00 AM
Ends 14 November 2017 03:00 PM
All times are Canada/Saskatchewan
No Admission Charge
---
Speakers
Dr Kalpesh Joshi
Topic:
Photovoltaic Generation in Low Voltage Networks for Sustainable Energy Systems
Biography:
Dr Kalpesh Joshi received his M.Tech degree from Indian Institute of Technology Delhi, New Delhi in the year 2008 and PhD degree from Indian Institute of Technology Gandhinagar in December 2016. His PhD research was focused on analysis and optimization of low-voltage distribution networks with increasing penetration of photovoltaic generation. He has also worked on a grid-scale battery energy storage system project in Washington State University, Pullman, USA as a part of his PhD work. He has joined University of Saskatchewan as a post-doctoral fellow in June 2017.
---