IEEE Region 6, Southern Area Meeting
---
IEEE Region 6, Southern Area Meeting
---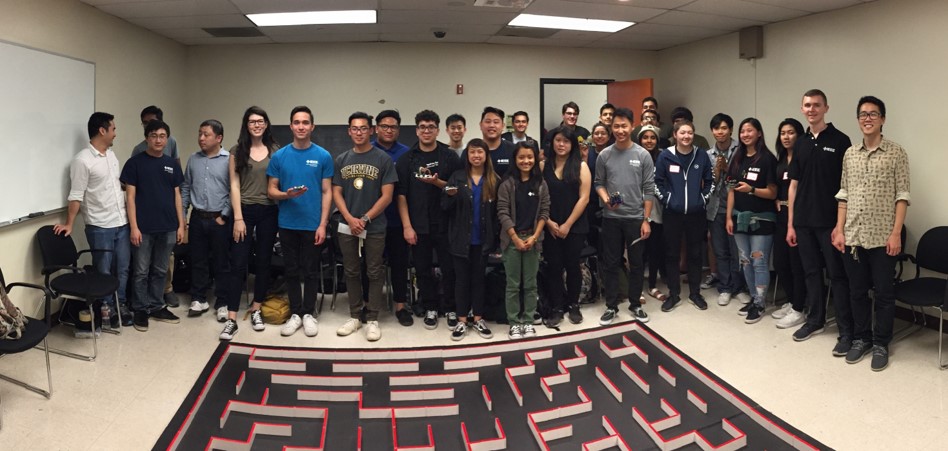 IEEE Region 6, Southern Area Meeting
Student design competition and Section Officer Training
Please go tothe registration page for more details
Region 6 Southern Area Meetings
You're invited to join the Region 6 Southern area meetings at the UCLA Campus. We'll provide training and discussions for section and student leaders. Networking time will be provided throughout Saturday. We will be at UCLA.
There will be a student design contest and micromouse competition
The building is Engineering IV, in the Shannon Room (Engineering IV 54-134), and the Tesla Room (Engineering IV 53-125) is down the hall and around the corner.
Parking Lot 9, the closest, will cost $12. Parking Lot 8, a little farther away, has self-service pay stations and ParkMobile (Zone 2508)
(Sign up for a lunch ticket if you plan to attend, so we can have a good headcount and contact information)
Directions From the 405 freeway (east or west)
Get off on Whilshire Blvd, and head east. Turn left onto Westwood blvd, and proceed to the information kiosk and ask for a parking lot near the Engineering IV building
https://www.eventbrite.com/e/ieee-region-6-southern-area-meeting-tickets-43060893291
---
Date and Time
Location
Hosts
Registration
---
Date: 07 Apr 2018
Time: 09:00 AM to 04:00 PM
All times are America/Los_Angeles
Add Event to Calendar
---
---
Agenda
Start Agenda Presentor
8:30 Arrival and Sign In ---
9:00 Introduction .............................Charlie Jackson
9:15 Training Module 1- Section Chair David E. Gonzalez
9:35 Training Module 2- Awards .........Loretta Arellana
9:55 Break ---
10:00 Region 6 Information ..............KathleenKramer
10:20 Student Branch Information .....Walter Iu
10:30 Director Elect Candidates .........Keith Moore
11:15 SusTech ................................Sevada Isayan
11:25 GHTC ....................................Ed Perkins (TBD)
11:35 Rising Stars ...........................Alberto Tam Yong
11:45 Networking ---
12:00 Lunch ---
13:00 IEEE USA Updates .................Tom Coughlin
13:20 Industry Forums ..................Tom Coughlin
13:40 Training Module 4- treasurer ..Charlie Jackson
14:00 Wrap Up
---
IEEE Region 6, Southern Area Meeting
---