IEEE ComSoc Distinguished Lecture on Mobility Handover and 5G at University of Pretoria
---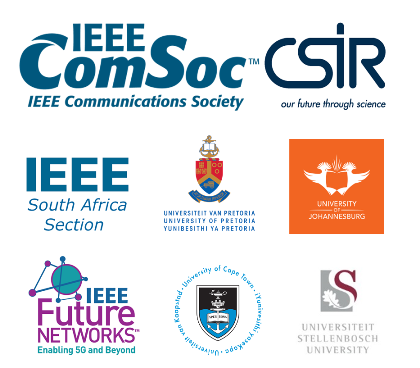 IEEE Distinguished Lecture "Mobility Handover Optimization Framework and IEEE 5G Initiative"
This open-for-public talk brought to South Africa by IEEE ComSoc, CSIR and UP offers an opportunity to learn about the developments in networking and participate in the discussions on ultra fast, secure and cost-efficient 5G for South Africa. Please REGISTER in below as the seat are limited.
Venue: University of Pretoria (UP),

Main campus (Hatfield), Auditorium(1-5), Carl Emily Fuchs




Institute for Microelectronics (CEFIM), Lynnwood Road, Hatfield, Pretoria, South Africa

Date:

Monday, 17 September 2018,

Time:

15:30- 16:30 (talk)
Topic:
Mobility Handover Optimization Framework and IEEE 5G Initiative
As mobile networks continue to grow and converge with the Internet, new wireless devices and their use are outnumbering the use of fixed network. Mobility management needs to meet the requirements of existing and emerging network technologies and applications. It may be supported in different layers of the network protocol stack. At the IP layer, Mobile IP, an IP-based mobility management, has the advantage of being applicable in any IP-based network, but is faced with many deployment challenges. Numerous variants of Mobile IP have been proposed to address these challenges in different network environments. Research in mobility management has become more active, especially with the mobile networks continuing to evolve from hierarchical towards more flattened network and densification of wireless networks. This talk presents the basics, recent advances, and future directions for mobility protocols at various layers (e.g., network, transport and application). This talk then provides taxonomy of existing mobility protocols, illustrates an abstract mobility model that can be used to support various handoff scenarios. Various handoff optimization methodologies will be explained supported by experimental and simulation results. This talk cites a few deployment scenarios to describe applicability of mobility protocols to various network environments. Finally, the talk goes through the best practices for mobility management and provides some research directions.
This event is a part of a series of IEEE events held in South Africa:
IEEE SDN/NFV Workshop, CSIR Pretoria, 18 Sep 2018 https://events.vtools.ieee.org/m/176742
IEEE Distinguished Lectures Tour
"Mobility Handover Optimization Framework & IEEE 5G Initiative" on 17 Sep
"Security in SDN/NFV & 5G Networks" on 21 Sep
The events are being registered for ECSA CPD (Continuous Professional Development) points. The number will be announced soon.
---
Date and Time
Location
Hosts
Registration
---
Date: 17 Sep 2018
Time: 03:30 PM to 05:00 PM
All times are (UTC+02:00) Pretoria
Add Event to Calendar
University of Pretoria
Carl Emily Fuchs Institute for Microelectronics (CEFIM),
Pretoria, Hatfield, Gauteng
South Africa 0001

Building:

Department of Electrical and Electronic Engineering,

Room Number:

Auditorium(1-5)
---
Starts 04 September 2018 01:42 PM
Ends 17 September 2018 03:20 PM
All times are (UTC+02:00) Pretoria
No Admission Charge
---
Speakers

Dr Ashutosh Dutta
Topic:
Mobility Handover Optimization Framework and IEEE 5G Initiative
Biography:
Dr. Ashutosh Dutta is currently Senior Wireless Communication Systems Research Scientist at Johns Hopkins University Applied Physics Labs (JHU/APL). Most recently he served as Principal Member of Technical Staff at AT&T Labs in Middletown, New Jersey.
His career, spanning more than 30 years, includes Director of Technology Security and Lead Member of Technical Staff at AT&T, CTO of Wireless at a Cybersecurity company NIKSUN, Inc., Senior Scientist in Telcordia Research, Director of Central Research Facility at Columbia University, adjunct faculty at NJIT, and Computer Engineer with TATA Motors.
He has more than 90 conference and journal publications, three book chapters, and 30 issued patents. Ashutosh is co-author of the book "Mobility Protocols and Handover Optimization: Design, Evaluation and Application," published by IEEE and John & Wiley, and which has recently been translated into Chinese.
Ashutosh served as the chair for IEEE Princeton / Central Jersey Section, Industry Relation Chair for Region 1 and MGA, Pre-University Coordinator for IEEE MGA and vice chair of Education Society Chapter of PCJS. He co-founded the IEEE STEM conference (ISEC) and helped to implement EPICS (Engineering Projects in Community Service) projects in several high schools. Ashutosh currently serves as the Director of Industry Outreach for IEEE Communications Society and is the founding co-chairs for IEEE 5G initiatives. He also serves as IEEE Communications Society's Distinguished Lecturer for 2017-2018. Ashutosh serves as the general co-chair for the premier IEEE 5G World Forum. He was recipient of the prestigious 2009 IEEE MGA Leadership award and 2010 IEEE-USA professional leadership award.
Ashutosh obtained his BS in Electrical Engineering from NIT Rourkela, India, MS in Computer Science from NJIT, and Ph.D. in Electrical Engineering from Columbia University under the supervision of Prof. Henning Schulzrinne. Ashutosh is a Senior member of IEEE and ACM.
---
Agenda
Agenda

15:00-15:30: Registration & refreshment

15:30: Welcome and introductions

15:40 – 16:20: Distinguished Lecture : Dr. Ashutosh Dutta

16:20 – 16:30: Questions and discussions

16:30: closure
---