SPS Atlanta Distinguished Industry Lecture @ GTRI - Radar Adaptivity: Antenna Based Signal Processing
---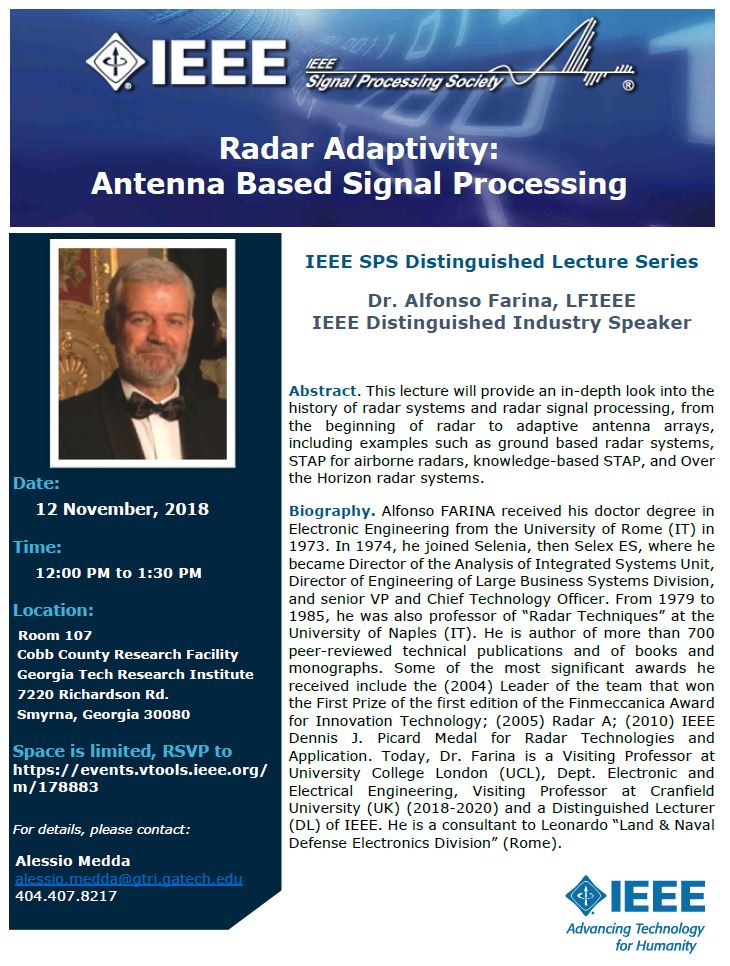 The Atlanta Signal Processing Chapter is honored to host Distinguished Industry Speaker Dr. Alfonso Farina for a Seminar on Radar technologies at GTRI.
This event is co-sponsored with the Atlanta AESS Chapter.
Dr. Farina will provide an in-depth look into the history of radar systems and radar signal processing, from the beginning of radar to adaptive antenna arrays, including examples such as ground based radar systems, STAP for airborne radars, knowledge-based STAP, and Over the Horizon radar systems.
The IEEE SP Distinguished Industry Speaker (DIS) Program provides means for chapters to have access to individuals who are recognized experts with a background in industrial applications in the signal processing area and are well versed in the ongoing issues and activities in industry.
Dr. Farina has more than 30 years of experience in radar systems and radar signal processing in both industry and academia. His achievements are recognized internationally with more than 700 peer reviewed publications and some very prestigious awards, including the IEEE Dennis J. Picard Medal for Radar Technologies and Application in 2010 and the appointment to International Fellow of the Royal Academy of Engineering, U.K. in 2005.
https://en.wikipedia.org/wiki/Alfonso_Farina
Parking at the CCRF GTRI Research Facility is limited but available without charge.
IEEE SPS ATLANTA Facebook page: https://www.facebook.com/IEEESPSATL/
---
Date and Time
Location
Contact
Registration
---
Date: 12 Nov 2018
Time: 11:45 AM to 01:30 PM
All times are US/Eastern
Add Event to Calendar
7220 Richardson Rd
Smyrna, Georgia
United States 30080

Building:

GTRI Cobb County Research Facility

Room Number:

Bldg 1 - 107
For details, please contact:

Alessio Medda

404.407.8217

Co-sponsored by

Atlanta AESS Chapter
Starts 15 October 2018 11:33 PM
Ends 12 November 2018 01:00 PM
All times are US/Eastern
No Admission Charge
---
---
Agenda
11:45 AM - 12:00 PM - Lunch
12:00 PM - 1:00 PM - Lectrue: Radar Adaptivity: Antenna Based Signal Processing (Introduction by Dr. Bill Melvin)
1:00 PM - 1:30 PM - Q&A and Reception to Follow
---