Seminario para profesionales sobre Conceptos y Bases del Sistema de Potencia y Mercado Eléctrico
---
Conozca cómo funciona los sistemas eléctricos de potencia, también cómo se regula y comercializa la Energía Eléctrica en Panamá, ante los retos actuales de las tecnologías del futuro.
---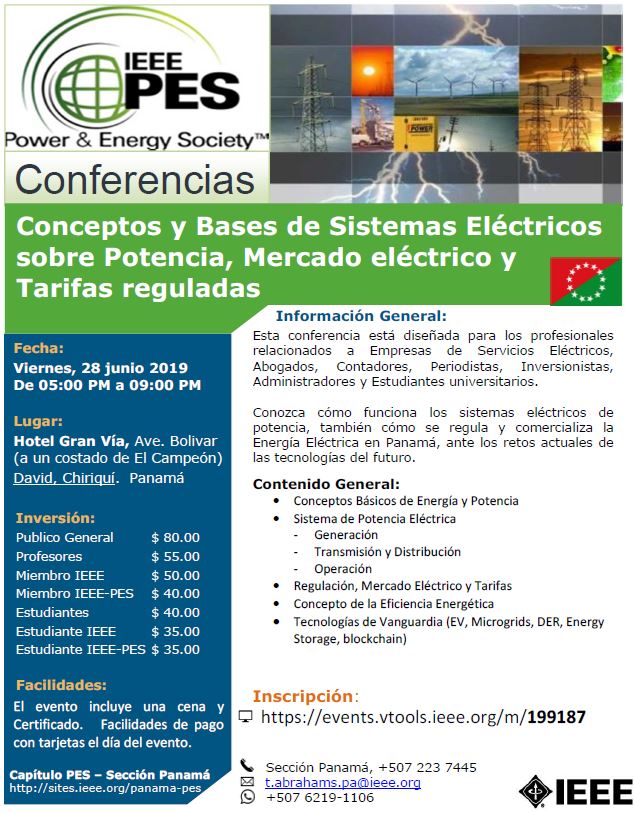 Ante el inminente cambio en las regulaciones y el mercado eléctrico, debido a las metas de cambio climático, las nuevas tecnologías de generación y operaciones de redes eléctricas que impulsan un futuro más limpio y eficiente, hemos desarrollado un tema de conferencias para promover el conocimiento de este importante campo de la ciencia, la economía y la sociedad.
Esta conferencia está diseñada para los profesionales relacionados a Empresas de Servicios Eléctricos, Abogados, Contadores, Periodistas, Inversionistas, Administradores, Estudiantes universitarios y público general. Y esperamos darle una perspectiva técnica, que les ayude a tener una visión para mejorar sus planes administrativos, financieros y profesionales, ante el más importante recurso de la modernidad, la "Electricidad".
---
Date and Time
Location
Hosts
Registration
---
Date: 28 Jun 2019
Time: 05:00 PM to 09:00 PM
All times are (GMT-05:00) America/Panama
Add Event to Calendar
Avenida Bolivar
A un costado del almacén El Campeón
David, Chiriqui
Panama

Building:

Hotel Gran Via
---
Starts 15 May 2019 03:44 PM
Ends 28 June 2019 11:59 PM
All times are (GMT-05:00) America/Panama
No Admission Charge
---
---
Agenda
Conceptos Básicos de Energía y Potencia
Sistema de Potencia Eléctrica
Generación
Transmisión y Distribución
Operación
Regulación, Mercado Eléctrico y Tarifas
Concepto de la Eficiencia Energética
Tecnologías de Vanguardia (EV, Microgrids, DER, Energy Storage, blockchain)
---
Este evento incluye Cena, certificado de participación y facilidades de pago con tarjeta de crédito, débido y ACH.
---
Media
---