Symposium on Schottky barrier MOS devices
---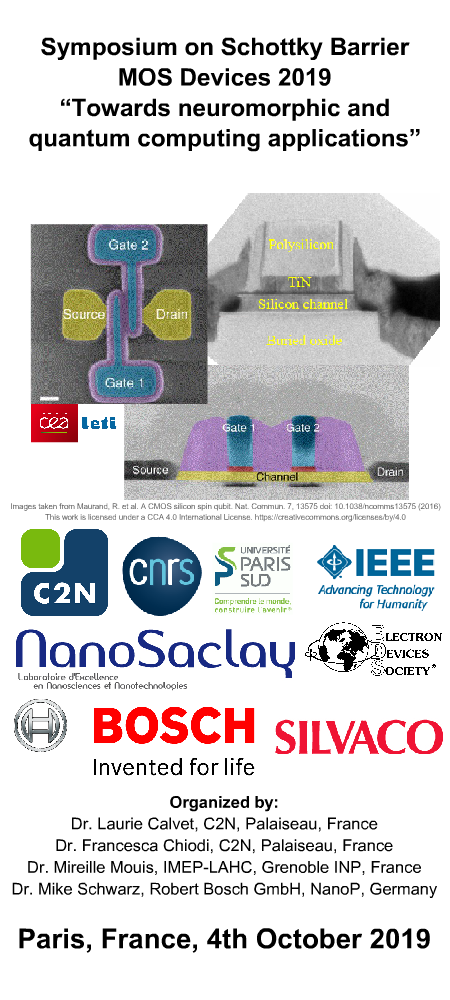 Symposium on Schottky Barrier MOS (SB-MOS) devices at the Amphi Bloch at Orme des merisiers (Route de l'Orme, Saint-Aubin), France. This is the third meeting of an enthusiastic group of Schottky barrier researchers and this year it is sponsored by LabexNanoSaclay, the IEED EDS French chapter, IEEE Young Professionals Germany, the Robert Bosch GmbH and Silvaco Inc. This year the theme of the symposium is "Towards neuromorphic and quantum computing applications".
Further information available at https://ssbmos.blogspot.com/
---
Date and Time
Location
Hosts
Registration
---
Date: 04 Oct 2019
Time: 08:30 AM to 05:30 PM
All times are Europe/Paris
Add Event to Calendar
Co-sponsored by

LabexNanoSaclay, IEED EDS French chapter, Robert Bosch GmbH, Silvaco Inc.
Starts 01 September 2019 09:00 AM
Ends 02 October 2019 11:00 AM
All times are Europe/Paris
No Admission Charge
---
---