IEEE ComSoc Argentina Open Webinar
---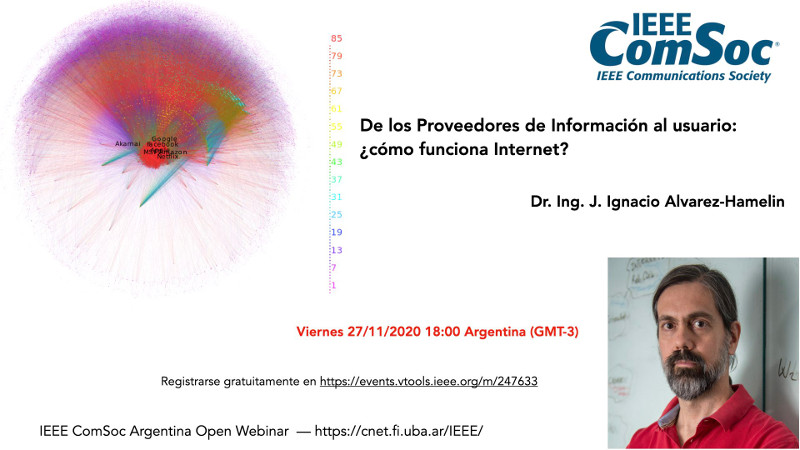 Seminarios mensuales sobre comunicaciones brindados por profesionales en Argentina. Se realizan en idioma castellano y son abiertos.
---
Date and Time
Location
Hosts
Registration
---
Date: 27 Nov 2020
Time: 06:00 PM to 07:00 PM
All times are (GMT-03:00) America/Buenos_Aires
Add Event to Calendar
If you are not a robot, please complete the ReCAPTCHA to display virtual attendance info.

Paseo Colon 850
Buenos Aires, Distrito Federal
Argentina C1063ACV
---
https://cnet.fi.uba.ar/IEEE/

Co-sponsored by

Univerisdad de Buenos Aires, Facultad de Ingeniería
Starts 09 November 2020 02:22 PM
Ends 27 November 2020 05:00 PM
All times are (GMT-03:00) America/Buenos_Aires
No Admission Charge
---
Speakers
Topic:
De los Proveedores de Información al usuario: ¿cómo funciona Internet?
El uso de Internet está dominado por los proveedores de contenido, tales como sistemas búsqueda, mapas interactivos, sistemas de tránsito en tiempo real, música, videos, traducciones, telemetría, etc. ¿Cómo hacen estas aplicaciones para servir su contenido de manera eficiente en una red global? La respuesta de esta pregunta nos lleva a abordar la complejidad de la organización de Internet y la interacción de sus protocolos que permiten a este gigante sistema distribuido cumplir con esta desafiante misión, que poco a poco se transforma en crítica.
Biography:
J. Ignacio Alvarez-Hamelin es Profesor de la Universidad de Buenos Aires e Investigador CONICET. Dirige el grupo de Redes Complejas y Comunicación de Datos (CoNexDat) en la Facultad de Ingeniería. Se desmpeña además como Subsecretario de Planinficación de Investigación y Doctorado. Sus temas de interés son
Sistemas Complejos
Internet: protocolos de ruteo, y modelado de su topología
Tráfico en redes de datos: análisis de sus características estadísticas (autosimilar)
Redes ad-hoc: protocolos de ruteo
---
Agenda
18:00 Presentación a cargo de José Ignacio Alvarez-Hamelin (ComSoc Argentina Chair)
18:05 De los Proveedores de Información al usuario: ¿cómo funciona Internet? (J. Ignacio Alvarez-Hamelin)
18:50 Preguntas y comentarios
---