CURSO VIRTUAL: APLICACIÓN DEL NATIONAL ELECTRICAL SAFETY CODE
---
Nota Importante: Es necesario inscribirse y abonar el 10% al 25 de septiembre para asegurar su inicio del curso. Los manuales y norma NESC cuentan con un 30% de descuento de comprarlo por medio de IEEE Seccion Panamá, es indispensable contar con manual en mano o digital para su participación en los módulos.
---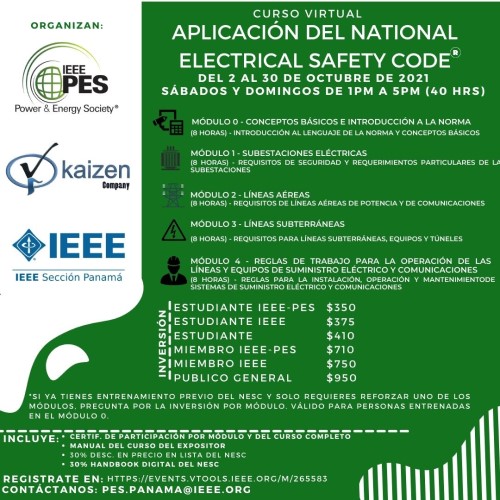 Este curso es parte de un programa de cinco módulos. Este curso puede ser tomado parcial ( recomendable dominar módulo cero para esta opción) o completo, y tiene el objetivo de que el participante obtenga:
•Pleno dominio del tema de seguridad eléctrica en subestaciones.
•Reconocer las funciones y objetivos de la buena operatividad de las subestaciones y líneas de alta tensión.
•Entender los requerimientos de las líneas aereas y subterráneas de potencia.
•Entendimiento de los requisitos para la operación del suministro eléctrico.
•Obtener pleno conocimiento de las normativas vigentes.
•Preparación para el diseño, mantenimiento e inspección de estos sistemas.
Adicionales:
•Cargos adicionales por uso de yappy o transferencias del exterior no están incluidas en el monto del curso intensivo.
---
Date and Time
Location
Hosts
Registration
---
Date: 30 Oct 2021
Time: 01:00 PM to 05:00 PM
All times are America/Panama
Add Event to Calendar
If you are not a robot, please complete the ReCAPTCHA to display virtual attendance info.

---
Starts 10 March 2021 08:10 PM
Ends 29 September 2021 11:55 PM
All times are America/Panama
Admission fee

?
---
---
Agenda
Duración: 40 horas de clase, Sabados y domingos del mes de octubre de 1pm a 5pm.
---
Este evento es en co-patrocinio con la reconocida capacitadora Kaizen Company.
---