CURSO VIRTUAL: FORMACION EN SISTEMAS PUESTA A TIERRA Y PROTECCION CONTRA DESCARGAS ATMOSFERICAS
---
Nota Importante: Es necesario inscribirse y abonar al 27 de septiembre para asegurar su inicio del curso con manual en mano. De hacerlo luego de esta fecha, tendrá que esperar la llegada del manual luego de haber iniciado las primeras clases. Los manuales podrán ser retirados en nuestras oficinas de IEEE Seccion Panamá.
---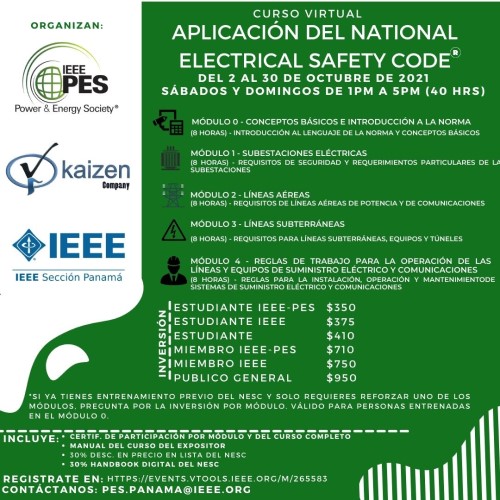 Este curso es parte de un programa de tres niveles. Este curso es el nivel 1 y tiene el objetivo de que el participante obtenga:
•Pleno dominio del tema de seguridad eléctrica.
•Reconocer las funciones y objetivos de un sistema de puesta a tierra.
•Establecer los parámetros que determinan una resistencia de PAT.
•Entender los esquemas de conexión a tierra.
•Entendimiento de la formación del rayo y su eventual protección.
•Seleccionar los materiales adecuados para una correcta instalación.
•Obtener pleno conocimiento de las normativas vigentes.
•Preparación para el diseño e inspección de estos sistemas.
Servicios Adicionales:
•Para optar por un Certificado de Competencia (acreditación) requiere aprobar el examen final y un costo adicional de $200 dolares.
---
Date and Time
Location
Hosts
Registration
---
Date: 30 Oct 2021
Time: 01:00 PM to 05:00 PM
All times are America/Panama
Add Event to Calendar
If you are not a robot, please complete the ReCAPTCHA to display virtual attendance info.

---
Starts 10 March 2021 08:10 PM
Ends 07 May 2021 11:55 PM
All times are America/Panama
No Admission Charge
---
---
Agenda
Duración: 32 horas de clase, Sabados y domingos del mes de mayo de 1pm a 5pm.
---
Este evento es en co-patrocinio con la reconocida capacitadora Kaizen Company.
---