Publicando en IEEE: Entendiendo las políticas y los procesos internos así como la importancia de la escritura.
---
Atenta invitación para escuchar a la Dra. Ilse Cervantes quien es Editor-in-Chief de la revista IEEE Latin America Transactions
---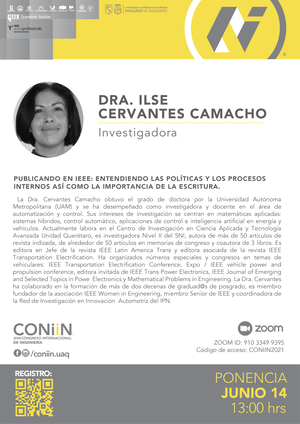 En el marco del XVII Congreso Internacional de Ingeniería CONIIN (https://coniinuaq.wordpress.com/) el Grupo de Afinidad Young Professionals de la Sección Querétaro tienen el honor deinvitarle a la siguiente CONFERENCIA MAGISTRAL
En esta plática conoceremos algunas de las políticas más importantes de la editora IEEE para garantizar la calidad de los trabajos que publica, así como de las revistas que edita. Discutiremos algunos de los problemas más comunes que conducen al rechazo de un artículo y algunos consejos para incrementar sus posibilidades de publicación. Analizaremos el papel de la escritura en la aceptación de artículos y algunas estrategias y metodologías más exitosas de escritura de artículos.
Se dará constancia de participación para quienes llenen el formulario que se enviará al finalizar la charla.
---
Date and Time
Location
Hosts
Registration
---
Date: 14 Jun 2021
Time: 01:00 PM to 02:00 PM
All times are Mexico/General
Add Event to Calendar
---
Speakers

Dra. Ilse Cervantes Camacho
Biography:
La Dra. Cervantes Camacho obtuvo el grado de doctora por la Universidad Autónoma Metropolitana (UAM) y se ha desempeñado como investigadora y docente en el área de automatización y control. Sus intereses de investigación se centran en matemáticas aplicadas: sistemas híbridos, control automático, aplicaciones de control e inteligencia artificial en energía y vehículos. Actualmente labora en el Centro de Investigación en Ciencia Aplicada y Tecnología Avanzada Unidad Querétaro, es investigadora Nivel II del SNI, autora de más de 50 artículos de revista indizada, de alrededor de 50 artículos en memorias de congreso y coautora de 3 libros. Es editora en Jefe de la revista IEEE Latin America Trans y editora asociada de la revista IEEE Trans Transportation Electrification. Ha organizados números especiales y congresos en temas de vehiculares: IEEE Transportation Electrification Conference, Expo / IEEE vehicle power and propulsion conference, editora invitada de IEEE Trans Power Electronics, IEEE Journal of Emerging and Selected Topics in Power Electronics y Mathematical Problems in Engineering. La Dra. Cervantes ha colaborado en la formación de más de dos decenas de graduad@s de posgrado, es miembro fundador de la asociación IEEE Women in Engineering, miembro Senior de IEEE y coordinadora de la Red de Investigación en Innovación Automotriz del IPN.
Address:Queretaro de Arteaga, Mexico
---
Young Professionals de la Sección Querétaro
---