IEEE ComSoc Argentina Open Webinar
---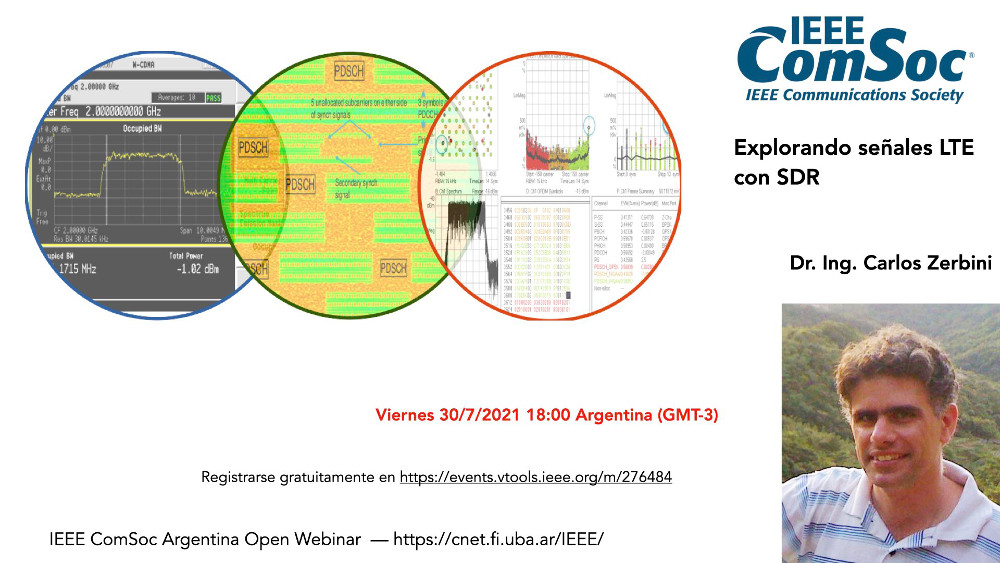 Seminarios mensuales sobre comunicaciones brindados por profesionales en Argentina. Se realizan en idioma castellano y son abiertos.
---
Date and Time
Location
Hosts
Registration
---
Date: 30 Jul 2021
Time: 06:00 PM to 07:00 PM
All times are (GMT-03:00) America/Buenos_Aires
Add Event to Calendar
https://cnet.fi.uba.ar/IEEE/

Co-sponsored by

UTN - Córdoba
Starts 02 July 2021 10:00 AM
Ends 30 July 2021 05:00 PM
All times are (GMT-03:00) America/Buenos_Aires
No Admission Charge
---
Speakers
Topic:
Explorando señales LTE con SDR
Las técnicas de radio definida por software (SDR) permiten hoy implementar una gran variedad de sistemas de comunicación sobre una misma plataforma de hardware, realizando procesamiento digital de la señal (DSP) en software o en hardware reconfigurable. Esto abre amplias posibilidades para la enseñanza, la investigación y el desarrollo de sistemas de comunicaciones digitales inalámbricas. Entre las aplicaciones de la SDR, se encuentra la medición de señales complejas, abarcando desde el espectro de la señal modulada hasta la recuperación y análisis de la información transportada. En esta presentación, se revisarán primero las técnicas de SDR.
Biography:
Carlos Zerbini es Ingeniero en Electrónica y Doctor en Ciencias de la Ingeniería. Entre 2009 y 2017 fue becario doctoral y miembro del Laboratorio de Comunicaciones Digitales (LCD) en la Universidad Nacional de Córdoba, y desde 2009 es Docente Investigador del Grupo de Investigación y Transferencia en Electrónica Avanzada (GInTEA) de la Universidad Tecnológica Nacional, Facultad Regional Córdoba. Entre sus intereses de investigación se encuentran la optimización de redes de datos, diseño en lógica reconfigurable (FPGAs), instrumental y técnicas de medición en electrónica, y sistemas de comunicaciones basados en radio definida por software (SDR).
---
Agenda
18:00 Presentación a cargo de José Ignacio Alvarez-Hamelin (ComSoc Argentina Chair)
18:05 Explorando señales LTE con SDR (Carlos Zerbini)
18:50 Preguntas y comentarios
---