July'21 SusTech Talk: IEEE MOVE Community Outreach Program
---
SusTech 2022 is hosting talks on Sustainability leading up to the virtual conference:
April 21-23, 2022. https://ieee-sustech.org/
---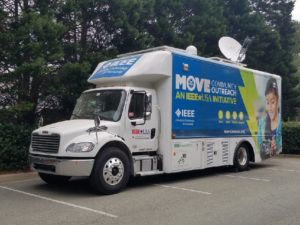 MOVE Community Outreach is an emergency relief program committed to assisting victims of natural disasters with short-term communications and power solutions. These temporary emergency relief provisions help those affected stay connected and make sure they can access the help they need. Services include phone charging, internet & communications support, and lighting to disaster victims.
When not deployed for natural disasters, MOVE volunteers conduct community outreach and facilitate learning opportunities for students and the general public in the areas of Science, Technology, Engineering, and Math (STEM). They have been as far west as Texas, and as far north as New York to get students excited about STEM.
---
Date and Time
Location
Hosts
Registration
---
Date: 27 Jul 2021
Time: 06:00 PM to 09:00 PM
All times are (UTC-08:00) Pacific Time (US & Canada)
Add Event to Calendar
If you are not a robot, please complete the ReCAPTCHA to display virtual attendance info.

Co-sponsored by

SusTech 2021 and Coastal Los Angeles Section Life Member Affinity Group
Starts 04 July 2021 11:10 AM
Ends 27 July 2021 04:00 PM
All times are (UTC-08:00) Pacific Time (US & Canada)
No Admission Charge
---
Speakers

Grayson Randall
Topic:
IEEE MOVE Community Outreach Program
Biography:
Grayson Randall is an IEEE senior member and the IEEE MOVE Operations lead. Grayson is responsible for the IEEE MOVE truck and associated equipment that is deployed to disasters to support emergency communications. Grayson is also on the IEEE Future Directions Committee and is active in Region 3 activities. Grayson has a background in digital communications, robotics, public safety and emergency response.
---
Agenda
Talk starts at 6:00 PM
---