EDS/SSC - Desafíos de confiabilidad en dispositivos MOS y circuitos integrados de radiofrecuencia
---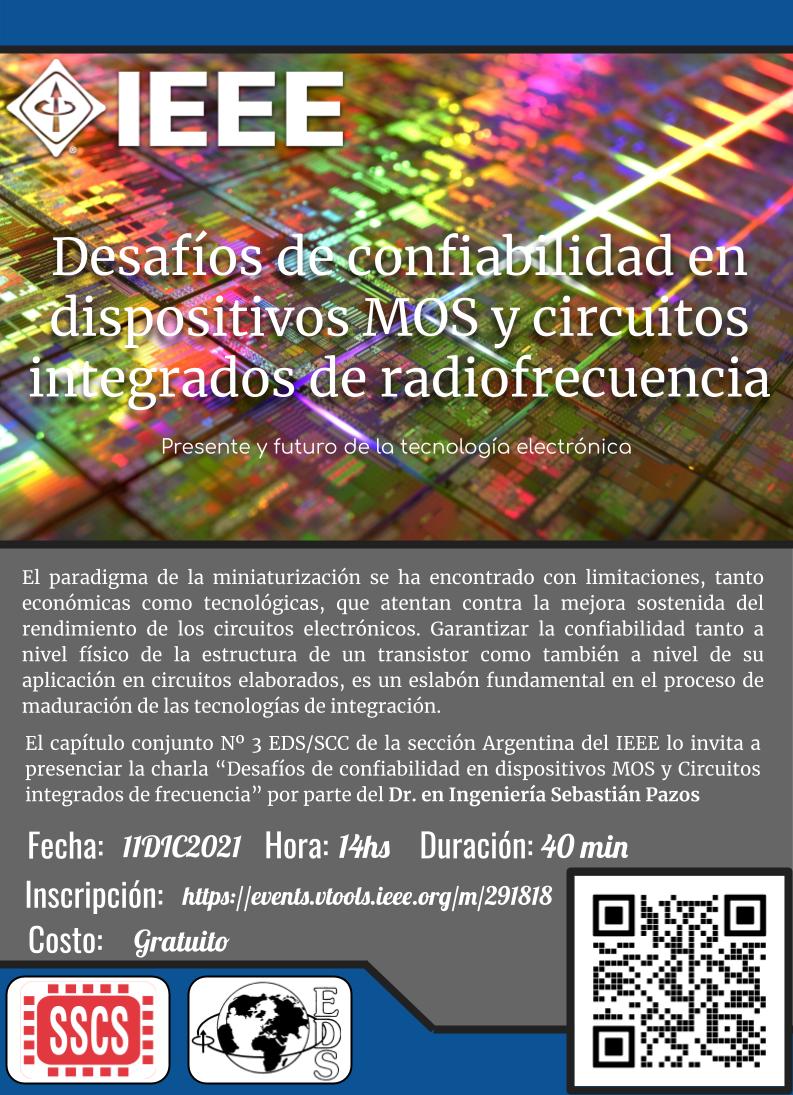 Invitacion
El capítulo conjunto Nº 3 EDS/SCC de la sección Argentina del IEEE lo invita a presenciar la charla "Desafíos de confiabilidad en dispositivos MOS y Circuitos integrados de frecuencia" por parte del Dr. en Ingeniería Sebastián Pazos
Abstract
El paradigma de la miniaturización se ha encontrado con limitaciones, tanto económicas como tecnológicas, que atentan contra la mejora sostenida del rendimiento de los circuitos electrónicos. Garantizar la confiabilidad tanto a nivel físico de la estructura de un transistor como también a nivel de su aplicación en circuitos elaborados, es un eslabón fundamental en el proceso de maduración de las tecnologías de integración.
La charla, discutirá sobre la confiabilidad de dispositivos y circuitos de estado sólido, puntualmente para aplicaciones de radiofrecuencia, a través de dos ejes centrales del presente y futuro de la tecnología electrónica.
---
Date and Time
Location
Hosts
Registration
---
Date: 11 Dec 2021
Time: 02:00 PM to 02:40 PM
All times are (GMT+03:00) Etc/GMT-3
Add Event to Calendar
En el dia de la fecha se enviara el link de la reunion al email de registro,
Para el evento se usara la platarforma Google Meet.
La charla de dictara en idioma Español.
Starts 01 December 2021 12:00 PM
Ends 11 December 2021 01:00 PM
All times are (GMT+03:00) Etc/GMT-3
No Admission Charge
---
Speakers
Dr. Sebastián Pazos
Biography:
Sebastián Pazos es Ingeniero en Electrónica (2017) y Dr. en Ingeniería por la UTN.BA (2021), desenvolviéndose como becario CONICET en el Laboratorio de Nanoelectrónica. Actualmente es Investigador Postdoctoral en King Abdullah University of Science and Technology (KAUST)
Address:Buenos Aires, Argentina
---
Agenda
Primer Eje
El primer eje se centra a nivel de los dispositivos, puntualmente el estudio del fenómeno de ruptura dieléctrica y generación de defectos en estructuras Metal-Óxido-Semiconductor basadas en sustratos de alta movilidad y óxidos de alta permitividad, como grandes candidatos a reemplazar al silicio en aplicaciones de alto rendimiento. Se recorrerán técnicas experimentales para el estudio de la degradación eléctrica acelerada de dispositivos y se compartirán resultados del modelado del fenómeno de ruptura y atrapamiento de carga.
Segundo Eje
El segundo eje lleva el estudio de estos aspectos a un mayor nivel de integración, con el análisis del impacto sobre la confiabilidad a nivel de circuitos del envejecimiento de los Transistores de Efecto de Campo Metal-Óxido-Semiconductor, puntualmente en circuitos integrados monolíticos de radiofrecuencia. Se discutirá el impacto de los fenómenos de degradación bajo condiciones de funcionamiento en bloques fundamentales CMOS de Radiofrecuencia, como amplificadores de potencia y osciladores controlados por tensión. Se expondrán herramientas novedosas para optimizar el rendimiento de estos circuitos bajo una exploración del espacio de diseño consciente de la confiabilidad, metodologías de simulación avanzadas y arquitecturas de amplificadores de potencia de RF robustos frente al envejecimiento para aplicaciones críticas.
---
Media
---