Characteristics of Successful Tech Hubs and Start-ups
---
Lessons from the Origin and Growth of Silicon Valley
---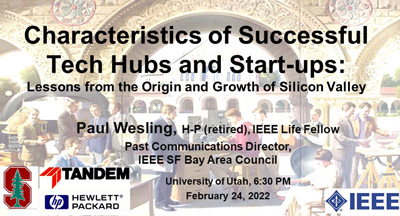 COVID-19 Notice:
We ask that standard social distancing practices are employed by all attendees. This means staying more than 6 feet away from other attendees. Avoid shaking hands or other means of contact. The University of Utah has a MASK guidlines in effect. Masks will be STRONGLY ENCOURAGED in order to attend the event and we ask that you observe wearing them, even if properly social distanced. You will find more about COVID-19 and CDC guidelines at https://www.cdc.gov/coronavirus/2019-ncov/your-health/about-covid-19.html . You will find the current university COVID-19 Guidelines at: https://coronavirus.utah.edu/ . The State of Utah also provides its own guidance at: https://coronavirus.utah.gov/ . Thank you for observing these guidances!

---
Date and Time
Location
Hosts
Registration
---
Date: 24 Feb 2022
Time: 06:30 PM to 07:30 PM
All times are (UTC-07:00) Mountain Time (US & Canada)
Add Event to Calendar
Virtual Attendance information will be provided 1 week from the event date to Registrants. Any non-standard or special requests for the information can go through the past and current YP Affinity Group Chairs or Section Chairs
The event will be hosted at the University of Utah's Sorensen Molecular Biotechnology Building (SMBB) in the main auditorium. This will be the Auditorium on the right if you enter through the west facing doors. It will be on the left if you enter through the south facing doors.
Google Maps Link: Sorensen Molecular Biotechnology Building
Parking at The University of Utah:
Read and use provided resources very carefully. The IEEE Utah Section is not responsible for fines, tickets or consequences of parking illegally on the campus.

A map photo has been attached to the event. However if that does not diplay for you; you will find a campus map on the University Web Page. In the left menu you will find a drop series of entries with respective drop downs where you can find parking. Parking in the regular A,E,U lots is not free! An Evening-A pass is $5 (you will need to create an account in advance, but this is the best way https://utah.t2hosted.com/Account/Portal). There is a lot directly west of SMBB that is likely to be enough for all attendants. In the unlikely event that this lot is full there is further parking north of SMBB. If you are NOT new to the campus then it is the standard concept: Avoid signs that say reserved for permit XX, lots not listed above in bold, Handicap Accessible (without permit) and similar reserversions. If you are still confused or need more information Parking Services at the U can give you a map and directions. Their website is https://commuterservices.utah.edu/ and their phone number is (801) 581-6415. Please do not hesistate to contact them in case of confusion.

Limited parking for last minute arrivals:
For last-minute arrivals, they can use Pay-by-phone stalls (a few each are available in the SMBB, MEB, and WEB lots) these are $2/hour. These are limited in number so please do not rely on their availability. The app is available for free on the Google Play Store or the Apple App Store.
Alternative to University Parking. UTAH TRAX
You will find the Red has University stops within walking distance of the SMBB. It is a helpful alternative to navigating Salt Lake City, The university and avoid parking situations while attending the event. You will find information and fare information of Utah Trax (Red Line) at https://www.rideuta.com/Services/TRAX.
A map has also been attached to the files list of this event for your convenience!
36 S Wasatch Dr #3100
Salt Lake City, Utah
United States 84112

Room Number:

Auditorium - 1st Floor
---
Utah Section YP Affinity Group:

* Eric Ayers (Past YP Chair; Event Organizer)

Utah Section:

* Dan Donahoe (Past Chair)

* Shanker Shrestha (2022 Chair)
Starts 16 December 2021 11:00 PM
Ends 24 February 2022 03:30 PM
All times are (UTC-07:00) Mountain Time (US & Canada)
No Admission Charge
---
Speakers

Paul Wesling, Hewlett-Packard (retired)
Topic:
Characteristics of Successful Tech Hubs and Start-ups:
Silicon Valley is commonly acknowledged as the tech capital of the world. When most people think of the Valley, they probably recall semiconductors, personal computers, software, biotech and self-driving cars. How did Silicon Valley come into being, and what can we learn? The story goes back to local Hams (amateur radio operators) trying to break RCA's tube patents, Stanford "angel" investors, the sinking of the Titanic, WW II and radar, and the SF Bay Area infrastructure that developed -- these factors pretty much determined that the semiconductor and IC industries would be located in the Santa Clara Valley, and that the Valley would remain the world's innovation center as new technologies emerge, and become a model for innovation worldwide.
This talk will give an exciting and colorful history of development and innovation that began in Palo Alto in 1909. You'll meet some of the colorful characters – Cyril Elwell, Lee De Forest, Bill Eitel, Charles Litton, Fred Terman, David Packard, Bill Hewlett, Bill Shockley and others – who came to define our worldwide electronics industries through their inventions and process development. You'll understand some of the novel management approaches that have become the hallmarks of its tech startups. Many of these attributes can be found, to greater or lesser extent, in other technology hubs; however, the SF Bay Area has five generations of experience, as well as a "critical mass" of talent, making it difficult for others to catch up. The key attributes will be illustrated and analyzed, for consideration by other tech hubs, and for entrepreneurs interested in creating their own start-ups.
Biography:
Paul Wesling has observed the Valley for decades as an engineer, executive, resident, and educator. He received degrees in electrical engineering and materials science from Stanford University, then worked locally at companies including Lenkurt Electric, Sperry-Univac, and Amdahl, joining Tandem Computers in Cupertino in 1985. Paul retired from HP in 2001, then served as "Mr. IEEE" for the San Francisco Bay Area for 10 years. He is a Life Fellow of the IEEE. As vice president of publications for the IEEE Electronics Packaging Society for 22 years, he supervised four archival journals and a newsletter. He received the IEEE's Centennial Medal, the Board's Distinguished Service award, the Society Contribution Award, the IEEE's Third Millennium Medal, and the EPS Society's Presidential Recognition Award. He edits the IEEE/ASME/SEMI Heterogeneous Integration Roadmap for prediction of technology directions in electronics packaging.
Email:
---
Agenda
Introductions
Main Talk
Q&A
Networking
---
Brought to you by the IEEE Utah Section YP Affinity Group and Distinguished Lecturer Paul Wesling! Hosted by the University of Utah IEEE Student Chapter.

---
Media
---