5G Standardization, New Radio and Next-Generation Core
---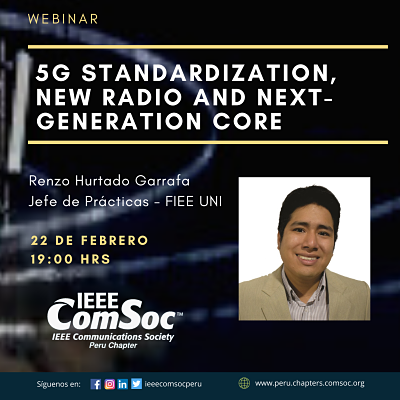 Webinar
---
Date and Time
Location
Hosts
Registration
---
Date: 22 Feb 2022
Time: 07:00 PM to 08:00 PM
All times are (GMT+05:00) Etc/GMT-5
Add Event to Calendar
---
Speakers

Renzo Hurtado
of Universidad Nacional de Ingeniería
This presentation provides a detailed status of the standardisation of 5G, New Radio and Next Generation Core in 3GPP and studies for the definition of the radio access and system architecture for 5G. In addition, the key points of IMT-2020 and its impact on the society will be discussed.
Biography:
Professional with experience in the field of telecommunications in 3G/4G/5G networks and digital technologies. Master in Data Management from the University of Barcelona, and currently studying for a Master in Telecommunications Engineering at the National University of Engineering.
He currently works at the Faculty of Electrical and Electronic Engineering UNI, was Technical Leader at ZTE Corporation and Semi Senior Platform Analyst at Claro Peru.
Email:
Address:Lima, Lima, Peru
---