Human-machine Interaction for Mental and Behavioral Health Care (2022 Rochester Section Joint Chapters Meeting)
---
---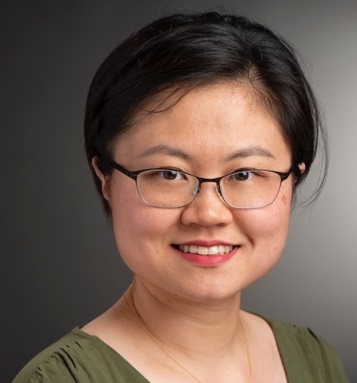 CHAPTER TECHNICAL PRESENTATIONS SESSION 1 (4:30 – 5:15 PM):
B. Human-machine Interaction for Mental and Behavioral Health Care
Prof. Jenny Zheng, RIT
The IEEE Engineering in Medicine and Biology Society Rochester Chapter
is proud to present Prof. Jenny Zheng
at our Section's joint chapters meeting (JCM) on April 26, 2022.

Reservations are required to attend the technical sessions, reception, dinner and keynote presentation.
To attend this event, please register at:
IEEE Rochester Section Joint Chapters Meeting
---
Date and Time
Location
Hosts
Registration
---
Date: 26 Apr 2022
Time: 04:30 PM to 05:15 PM
All times are (GMT-05:00) US/Eastern
Add Event to Calendar
If you are not a robot, please complete the ReCAPTCHA to display virtual attendance info.

Kodak Center
210 West Ridge Road
Rochester, New York
United States 14621

Building:

Bldg. 28

Room Number:

Conference Room
---
---
Speakers
Topic:
Human-machine Interaction for Mental and Behavioral Health Care
Human-machine interaction (HMI) refers to the interaction between human users and an interactive machine, such as a robot, virtual reality, and smart mobile device. HMI technologies have been designed for physical health for decades. In recent years, the fast-evolving interactive technologies enable machines to understand and influence human users on a level that was never possible, opening the door to using HMI for mental and behavioral assessment and intervention. In this talk, Dr. Zheng will introduce her work on HMI for children with Autism Spectrum disorder (ASD) as examples to demonstrate the state-of-the-art research and future directions.
Biography:
Dr. Zhi Zheng received her B.S. (2008) in Biomedical Engineering and her M.S. (2011) in Pattern Recognition and Intelligent Systems from Xidian University. Then she received her M.S. (2013) and Ph.D. (2016) in Electrical Engineering from Vanderbilt University. She joined RIT in Aug. 2019 as an assistant professor of Biomedical Engineering. Dr. Zheng's research emphasizes the integration of robotics, virtual reality, computer vision, machine learning, and psychology, with a focus on machine intelligence. The overarching goal of her research is to explore new paradigms of human-machine interaction (HMI) to help people in their daily life and design reliable assistive systems for mental health care.
Address:Department of Biomedical Engineering, Rochester Institute of Technology, New York, United States
---
Agenda
CHAPTER TECHNICAL PRESENTATIONS SESSION 1 (4:30 – 5:15 PM):
B. Human-machine Interaction for Mental and Behavioral Health Care
Prof. Jenny Zheng, RIT
IEEE Engineering in Medicine and Biology Society
---